EDIT: We found her!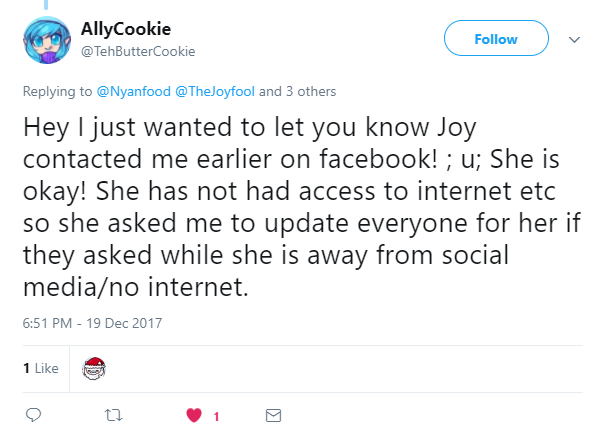 [SOLVED] Help us find Joyfool!EDIT: We found her!
Thanks a lot for everybody who helped us. <3



and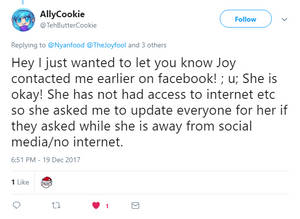 ~~~
(Twitter link below!)
Hey guys! Please help me out. This is a bit of a special request but I am looking for help to find

Joyfool

!
Joy lives in an area in Puerto Rico which was affected by hurricane Maria about three months ago. Ever since there hasn't been any update by her. It's even more worrisome that her last journal talks about the hurricane and about how scared she is. Joy was a very kind and cheerful person who always managed to make me smile. However, I can't really tell how close I was to her or if there is someone so close to her that he knew her real name or at least what happened to her. If someone of you knows anything please reach out to me! I am looking for her together with

Nyanfood

.
If you really happen to have any information make sure to contact us
Shiranova
and I are looking for the artist
Joyfool
whose most recent appearance was in September, in Puerto Rico,
just before Hurricane Maria hit
.
We currently were able to obtain the address of a PO box she had from an acquaintance of hers and I will be making a call at some point soon.
If you have any information about her, such as her real name or whereabouts or anything,
please note Shiranova on DA
or
DM me on twitter.

Otherwise, it'd be really helpful if you could share
Shiranova's Journal
or retweet our
twitter search thread
.
Please do not post her private information (if you have it) somewhere public.
While trying to search for her, we would like to respect her privacy as much as possible.
Thank you!