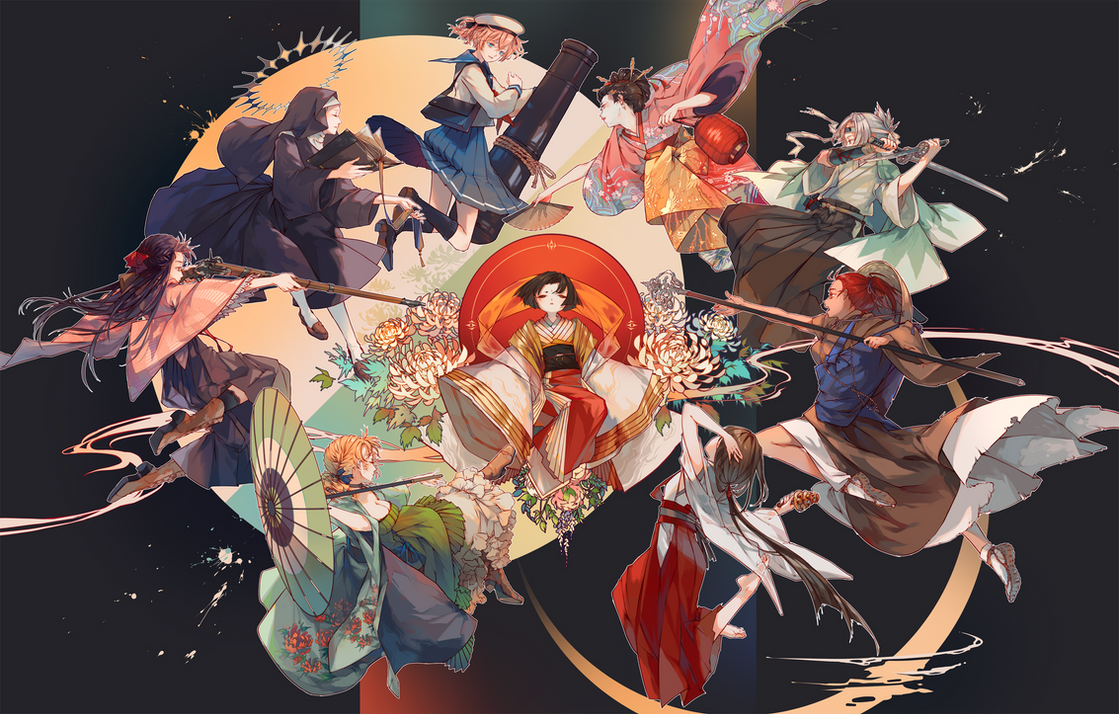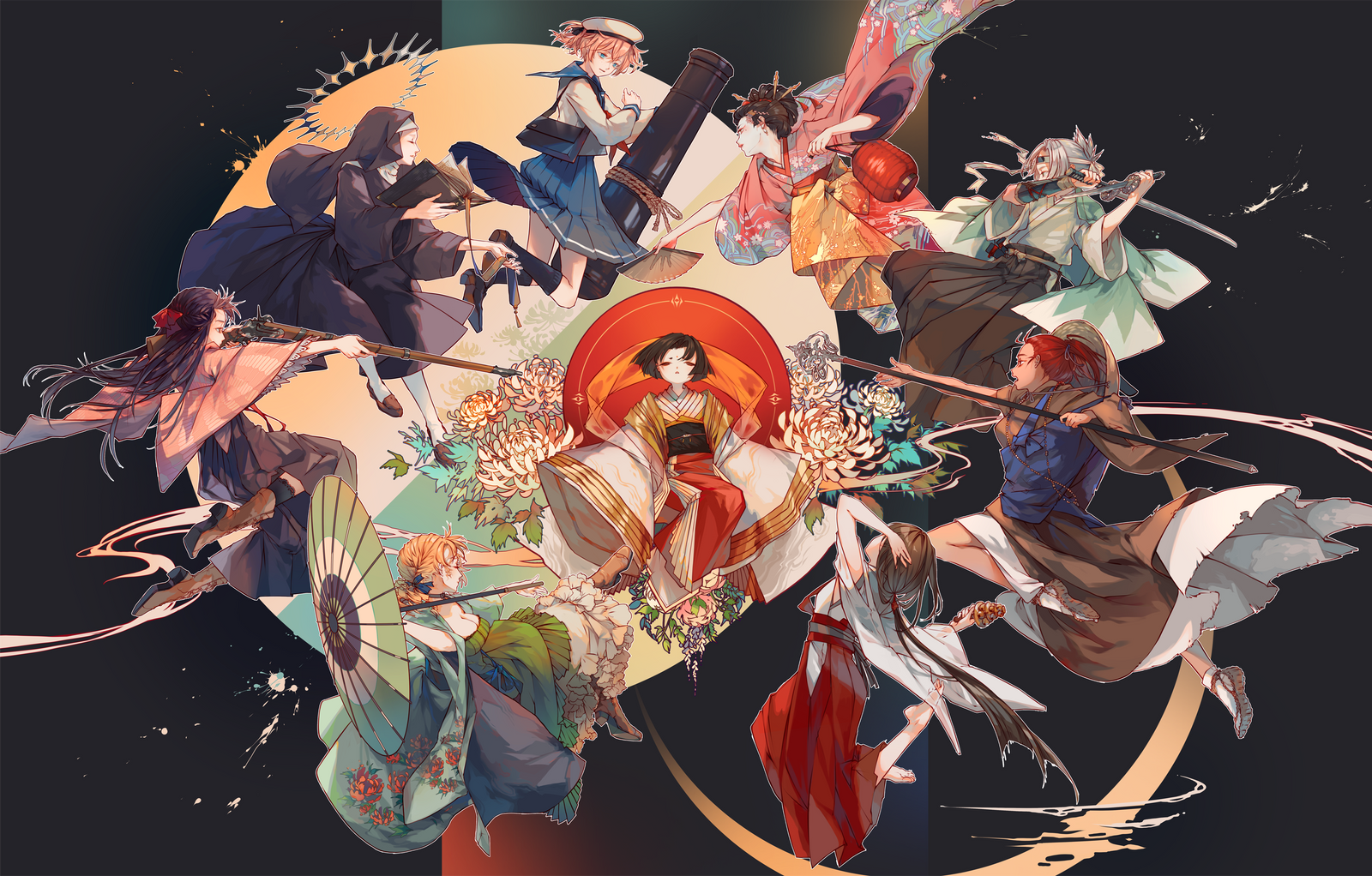 Watch
あの時代に, 花帰葬を
The final years of the Bakumatsu era spelled the death of many things: the Tokugawa Shogunate, the ban on Christianity, the insignificance of the imperial household, the opening of borders to trade. Occidental met Oriental and new practices replaced old. In Japan, Geisha came into fashion, replacing Oiran on the hanamachi. In Europe, women in kimono posed for painters the likes of Tissot and Monet. Kimono patterns met Victorian silhouettes. Did they know what the Meiji Restoration meant for the West's fascination with Japan today? But surely, it was a most colorful funeral to offer the Edo era.
Get ready for some trivia~
This piece was done for the Anime Boston art contest for 2018, with the theme being "Tales of the Shogunate." I picked the end of the Tokugawa Shogunate as my primary subject and looked at it from a romanticized non-Japanese view. I was a bit worried when I put together this design that some people would interpret it as a vanity image and tell me that it's shameful to glorify bloodshed, but I think when we do art, we have to draw from what we feel and interpret on the inside.
I don't claim to understand people I've never met but I read the stories left behind by them. Various types of people fought for various reasons and envisioned different "Japans" worth fighting for. Death wasn't shameful. To die fighting for a cause wasn't something to be ashamed of. In honor of that, I wanted to highlight the future that was obtained without disgracing the future that was not obtained.
I wanted to capture the chaotic feeling of East-Meets-West that signaled a turbulent change in the world, where Japan affected the West and the West affected Japan. To do so, I fashioned this piece off of Buddhist, Shinto, and Christian paintings, using a combination of organic and inorganic compositions that indicate the clash of the European Renaissance and the Orient's aesthetic inclinations towards naturalness. I actually ended up doing a lot of research for this piece!
For example, the rifle is based off of a real Dutch rifle from the time. At the time, the only port open to trading with the west was Dejima, which the Dutch used as a trading post. I originally wanted to draw pistols, which were Japanese-made -- and Japan was one of the finest makers of firearms at that time -- but this Dutch rifle fit the composition better for my needs.
There was also a heavy ban of Christianity at the time, so much that Dutch traders were confiscated of all their religious articles before they were allowed to port and none of them could hold services onshore at Dejima. The nun is thus drawn directly opposite to the Buddhist monk and the Shinto priestess, with her halo facing them.
The result of opening trade with the west fed increasing Japonism in Europe. In regards to the painters I mentioned, I must also mention their models. In that era, for a woman to model for a painter was a very private matter. If you were not the painter's spouse or had an intimate relationship with the painter, then it was considered an occupation low in morals. For men it was slightly different (though still a low occupation), but for women, it was said that even prostitutes would only resort to modeling as a lower priority than selling their bodies. Thus I drew the lady with the parasol modeled after how I imagined prostitutes of the era.
There are five flowers present in this piece! The prostitute has red peonies on her kimono, which is a little ironic since red peonies signify honor, wealth, and love, but as she symbolizes "trade" rather than, well,
her
trade, it wasn't intended to mean her quality of life but rather how the west treated Japanese symbolism. The Chrysanthemums flanking the central figure are called "Kiku" and are Japan's national flower (or considered to be so by many due to it being the imperial family's crest). They're white, which is a funerary color. Beneath her are garden roses, a western flower. The Oiran (in pink, top right) has ume (plum) flowers on her obi and sakura on her kimono, both of which are flower signifying Spring.
I did not like drawing the triangles on the Shinsengumi uniform. During the process (I was streaming), I complained about it, saying "I'm going to murder the person who designed the Shinsengumi uniform." That was when
Eeni
piped up and said "Kamo Serizawa designed the uniform!" To which I said, "Yeah! I'm going to find that guy and murder him." To which she said, "He was murdered in his sleep." So I guess someone got there before I did.
Thanks for reading all that! I can't say I liked working on this piece very much. I think I would have liked more time to balance the composition and explore color use instead of just using what I already knew how to use, but I was happy with not having to do any color corrections at the very end.
Daily Deviation
Given 2018-10-07