Christmas gift for you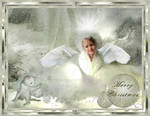 Credit you find here:
nudagimo.deviantart.com/art/Ch…







I wish all of you out there a very Merry Christmas.
May all your dreams and wishes come true and may God bless you.
I would like to thank you for your kindness and your friendship. I'm very honoured for the interest in my works.
Thank you, too for including my art works in your amazing features and for the wonderful comments to my images you gave me.
Thank you for all the invitations to join the groups I'm in now.
Thank you, too for the wonderful gifts,

s,

,

s, watches, notes and points I've got. I never expected such a support.
I much appreciated and I'm very grateful for this.

My very special thanks goes to

Thank you very much, dear Cindy

for your help, your friendship and your great support you've given to me. Not everybody would have done, what you did for me!!!! BIG


I wish all of you a peaceful and harmonious Yule. Stay all in good health and spend a very good time together with your loved ones.































































































































I hope I didn't forget anybody, if so, I apologize for this and ask you for a message.







Yours Birgit