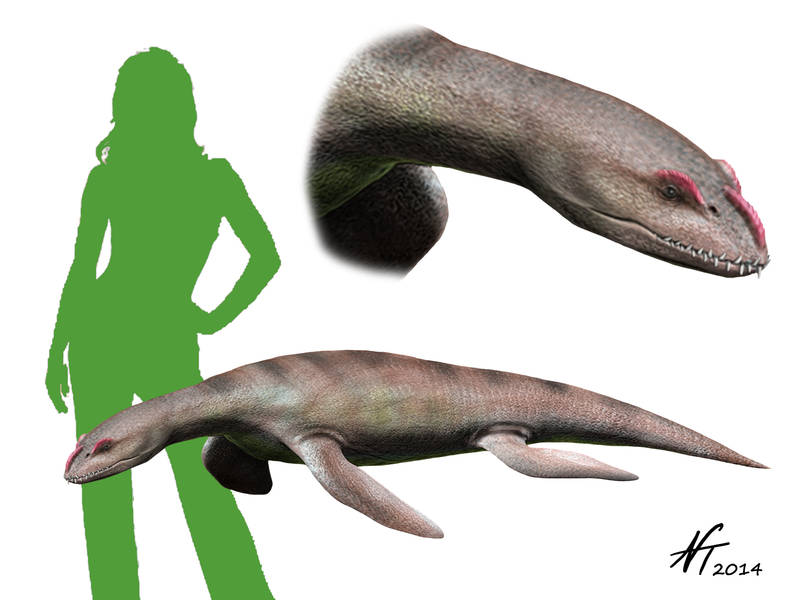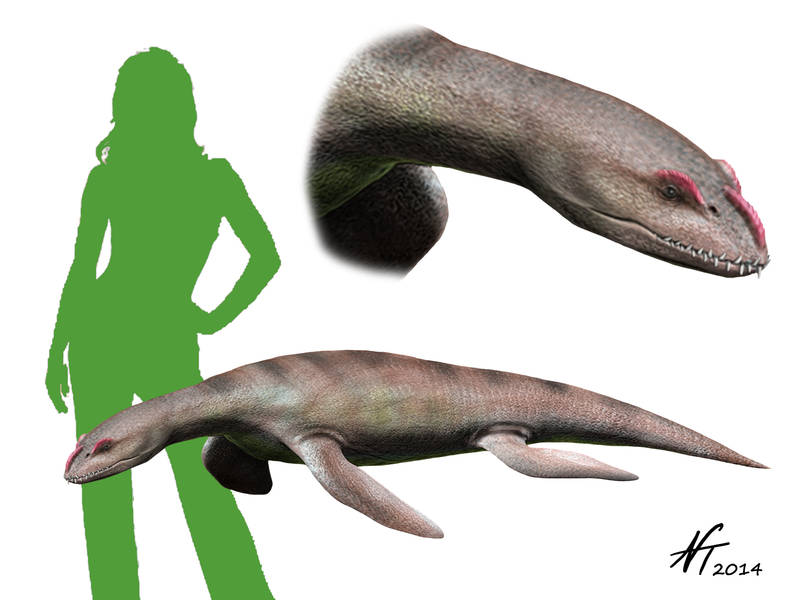 Watch

Wow, it's perfect wrestling size!
Reply

Nice. Is it one of these freshwater plesiosaurs?
Reply

Nice work! Is this the opalized specimen known as Dave?
Reply

Reply

Doh, meant Eric, don't know where I got Dave from!

I've seen the specimen in person and it's very cool, but I don't recall noticing those funny ridges on the head. Are there other specimens that preserve these, or is my memory just that bad?

The diorama accompanying the specimen certainly didn't portray it with them.
Reply

The ridges are not very apparent on the fossil but have been described in the original paper. They are also represented on the diorama displayed at the museum but not as prominently than in the one that came out in the press release (look closely). The one thing I am unsure is the size of the animal. The original paper puts it at 2.5 m but when I scale the size of the skull with the picture of the entire skeleton I came up to something more like 1.8 m. Since you've seen the specimen in person, you might be able to tell.
Reply

1.8 meters sounds more like what I saw, perhaps the 2.5 meter estimate accounts for missing material. And when I aw it, it was on display at a small rock and gem shop/museum in Sydney, that must have been its temporary home. The diorama they had there just made them look like generalized little plesiosaurs, granted this was over five years ago.

Reply

See, everything over here has always been historically weird so all of our weird stuff is perfectly normal!

That one has an air of future turtle about it. But man another one with those teeth.
Reply

Reply

Reply

Wait... this is known from an almost complete opalised skeleton? Any images?
Reply

The original paper only shows picture of the skull but the rest of the remains are mentioned. The fossil is on display at the Australian Museum of Sidney and somebody posted a picture of it here (you have to scroll down close to the bottom of the page):
donsmaps.com/dinosaurs.html
Reply

It looks very cute
Plesiosaur are my classic favorite dinosaur
Please do Australovenator and Rhoetosaurus, too. They're Aussie dinos
Reply

Plesiosaurs aren't dinosaurs btw. Have to read the paper for Australovenator or Rhoetosaurus...
Reply

So, you're drawing Aussie dinosaurs and plesiosaurs right now?
Reply

Plesiosaurs technically aren't dinosaurs, or even archosaurs (in case you don't know the same group of reptiles that includes crocodilians and pterosaurs) - instead they are a part of their own group called Sauropterygians (which are actually more closely related to lizards than dinosaurs). Don't feel bad though - it's a common mistake (like how people call pterosaurs dinosaurs as well).
Reply

Sorry for my mistake
Not anything ending in -saurus is a dinosaur. The crested lizard (Hydrosaurus amboinensis) from my country is not even a dinosaur even though it ends in -saurus

If plesiosaurs aren't dinosaurs, so my classic favorite dinosaur would be Albertosaurus!
Reply