Now that I have a steady flow of orders coming in I decided to make a commission info Journal for anyone interested in commissioning me for plushies.
Will make
pokemon, digimons, anime/game/comic/cartoon fanart, original characters
***Note about original characters: I will not make an OC that doesn't belong to the commissioner unless the owner of the OC sends me a note giving their consent.***
I respectfully reserve the right to refuse commissions.
PAYMENT
-Payment can be completed via paypal
-To be waitlisted $20 deposit is required
-When making payments put in the description what the commission is.
-The commissioner may pay full price at time of order or pay in installments.
-Full payment is require before plush is shipped.
-If you must cancel your commission, know that the deposit is non-refundable once the plush production is started.
COMMISSION SLOT INFO
best places to message me either on my etsy www.etsy.com/shop/MidnightCosp…, facebook www.facebook.com/MidnightCospl…, or tumblr midnightcosplay.tumblr.com/ask. Specific pricing is confidential and will not discuss in comments
Form:
character wanted: (picture reference please, especially if there are multiple versions of the character out there)
size: (in inches)
specific requests: (wired, specific style, etc)
payment method: (paypal or money order)
address: (full street address and zip code required for shipping estimate)
SHIPPING INFO
-Shipping and handling costs are not included in the base price and will be calculated on a case by case basis
TURNAROUND
-Plushies can take anywhere from 1-8 weeks to be completed depending upon complexity of the design.
-I try to work in the order of my commission list, but sometimes I may deviate a little.
-If there is a deadline you want it by PLEASE LET ME KNOW via message!
-Priority pricing is negotiable
-I cannot promise to meet all deadlines
PRICES
These are base prices per character to use as guidelines for my rates. However, each commission will be priced on a case by case basis. Please contact me with the details and I will provide you with a personalized quote.

Small plushies
4 inches to 8 inches tall or long
$50-$80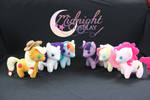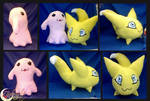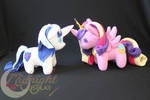 Medium plushies
10 inches to 14 inches tall or long
$100-$120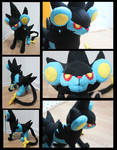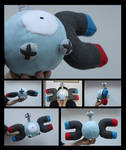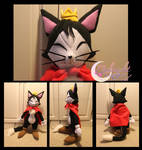 Large plushies
16 inches to 30 inches tall or long
$130-$250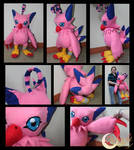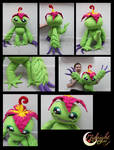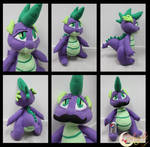 Extra-Large Plushies
$300+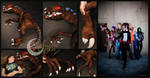 please note: I'm willing to make giant or life-size plushies, but keep in mind such production and shipping are costly. Expect $150 for shipping for plushies over 4 foot tall/long.
Putting Orders on plushies in my gallery
Ordering something I've already made, as long as its a small or medium plush, means you don't have to wait in line on the waitlist. You must contact me so we can work out an arrangement. Designing custom patterns are time consuming, however productions with existing patterns are considerably faster.
Commission Waitlist

balthier42b
Haunter (Pokemon)


fabrevanstylily
Espeon (Pokemon)


tangledinblue
Date Masamune's horse (Sengoku Basara)


Xionthelonely02
Tsunomon (Digimon)


TheJediLuke
Fifi La Fume (Tiny Toons)


PyxisCetus
Teto (Nausicaa of the Wind)

You can also find me on these sites!
PLEASE SUPPORT!
For those of you who are interested in seeing more of my progress pictures I have decided to post them on tumblr due to the convenience the site allows. I will put a few WIP works here on DA when I feel they have shown a lot of progression, but there will be lot more pics on tumblr.




Calling all cosplayers!!! My fab photographer friend

Droo

is making a magazine! I will be writing a few articles for it! Please help support it!

COSPLAY FAMILY













A big and happy one