Hello there,
I recently bought a new Wacom product, a pen-computer
Mobile Studio Pro 13
. I'll give my thoughts about it on this journal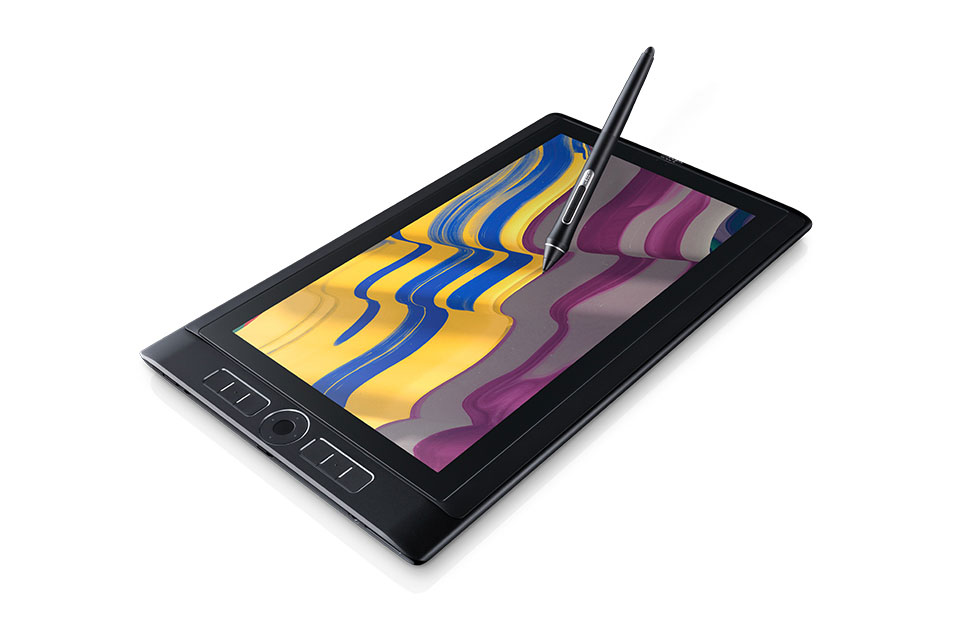 I wanted to replace my Cintiq 13HD because its cable connection is getting bad (which seems to be common for that particular model). The device still works very well as long as the cable is in right position. I don't think it's worth selling due to this little fault, but I'm considering to give it away as a contest prize some day. Anyway, to the review:
1. Model specific information and price 3/5:
There are total of 5 models with varying specs of Mobile Studio Pro, three with 13,3'' screen and two with 15,6'' screen. The prices (at Wacom e-store excluding discount campaign) and specs go as follows:
MSP 13,3'': $1800, WIN 10 Home, Intel Core i5-6267U 2,9 GHz, 128 GB SSD, 8 GB RAM DDR3, Intel Iris Graphics 550, WHQD 2560x1440, 96% Adobe RBG

MSP 13,3'': $2000, WIN 10 Pro, Intel Core i7-6567U 3,3 GHz, 256 GB SSD, 8 GB RAM DDR3, Intel Iris Graphics 550, WHQD 2560x1440, 96% Adobe RBG

MSP 13,3'': $2400, WIN 10 Pro, Intel Core i7-6567U 3,3 GHz, 512 GB SSD, 16 GB RAM DDR3, Intel Iris Graphics 550, WHQD 2560x1440, 96% Adobe RBG

MSP 15,6'': $2400, WIN 10 Pro, Intel Core i5-6267U 2,9 GHz, 256 Gt SSD, 8 GB RAM DDR3, NVIDIA Quadro M600M 2 GB, 4K 3840x2160, 94% Adobe RBG

MSP 15,6'': $3300, WIN 10 Pro, Intel Core i7-6567U 3,3 GHz, 512 Gt SSD, 16 GB RAM DDR3, NVIDIA Quadro M1000M 4 GB, 4K 3840x2160, 94% Adobe RBG

You can check full list of specs from wacom website: www.wacom.com/en-us/products/p…
These aren't especially cheap, especially by specs alone. I purchased the bolded one on the list above, because I believe it had the best utility to cost ratio for my needs. My primary criteria was portability, so the larger model was out of question. The second criteria was physical buttons on the bezel, which ruled out Cintiq Pro models (they need wireless remote or just a keyboard on the side). I'm fine with the WHQD resolution, I did enjoy old Cintiq 13HD 1080p resolution already, which also convinced me to go for the smaller MSP model. The downside is having less capable GPU although all the different GPU options are fairly close to each other and ranked very low on the list of other high end GPUs at www.videocardbenchmark.net. The CPU is also ranked very low on the list of high end CPUs at www.cpubenchmark.net. Although some more SSD space would have been neat (though that can be compensated with a SD card), I'm fine with 8 GB RAM (I used to do just fine with my laptop which had 6 GB RAM). Gotta mention though, the RAM can't be expanded later.
2. The device 4/5:
What comes to the quality of the product, it feels and looks amazing like professional products should. There are 6 buttons (8 on larger models) and 4-in-1 functions touch ring (with windows button in the middle) on the bezel, along with power switch, volume controls and auto-rotate switch on the side. There are also two cameras, which are more like curiosities (top end models on both sizes have 3D cameras/scanners, but I had read they aren't quite as functional as one would hope). There are three USB-C ports, 3.5 mm audio-in, SD-card slot, power switch and volume buttons on the sides. Since there aren't any legacy USB or dedicated display ports, you need adapters for connecting older hardware. Also, charging the MSP takes one USB-C port. If you wan't to use peripherals, it's probably a good idea to go for ones with Bluetooth. The Kensington security lock slot also works as a slot for a pen holder.
At the top pic: 3 USB ports, Kensington lock slot/pen holder slot. At the bottom pic: volume controls, auto-rotate switch, power switch, led-light, audio jack, SD card slot
At the bottom there are two grooves for mounting the device on a separately sold stand ($100). It would have been nice to have one included like Cintiq 13HD had. Ventilation is neatly hidden at the bottom, though the fan is way too noisy even when idling. The device also gets considerably hot at the bottom-middle section (right-handed orientation), even without doing anything. Audio output is outright bad, but I don't know if it's possible to get better audio from tablets/laptops anyway (luckily you can use headphones or external speakers).
3. The screen 5/5:
The screen surface has matte finish on it, so screen glare is greatly diminished. The bezel is fairly wide for compensating inaccuracy of pen tracking near the edges. I used Lagom website for checking the performance of the screen. The colors are stunning and viewing angles are good thanks to the IPS-panel. The contrasts are also great and the screen can discern between different levels of dark and light values surprisingly well. Colors and brightness appears to be very uniform all around. The screen is too sharp for some tests. Gamma is around 1.7 out of the box (although it should be 2.2), I haven't tried calibrating the screen just yet. It's positive to see that Wacom display settings actually work for a change. You can adjust color space between Native, Adobe RGB and sRGB and also adjust gamma setting.
4. Mobility 3/5:
Albeit being surprisingly heavy (2,9 lbs/1,32 Kg), it's fairly portable, considering it's all-in-one solution. Battery last around 3 hours at best in typical use or 5-6 hours with light use (not thoroughly tested though), which isn't very impressive. The battery cannot be removed or changed, which makes me doubt the longevity of this device. The AC charger is quite a bulky piece to carry around as well. Surprisingly MSP doesn't have a slot for SIM-card, so the only mobile access to internet is trough WIFI. The metallic pen case holds up to six extra pen nibs (comes with 3 extra nibs out of the box). The cap of the nib holder is a bit loose, so I'm afraid I'll lose it some day.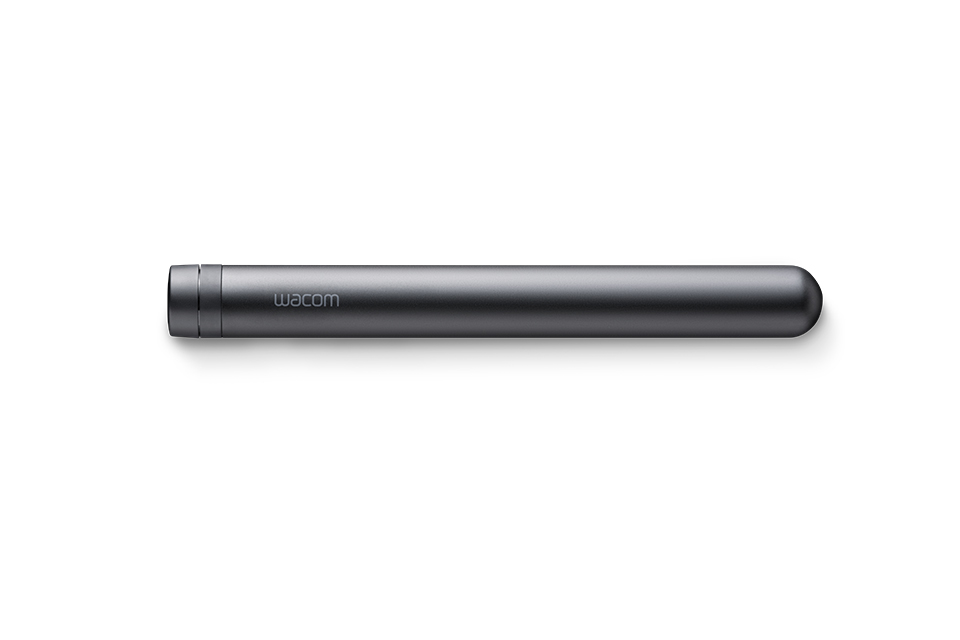 The pen case looks like certain toys for women...
5. The new Pro Pen 4/5:
Wacom pens have always been good, precise and responsive. The new pen has 8192 levels of pressure sensitivity (and 60 degrees tilt), which is impressive, but sounds more like marketing trick. Older Intuos and Pro Pen had 2048 levels of pressure sensitivity and the feel was super already, so to what degree 4x more sensitivity makes a difference remains to be seen. But as usual, there are two side switches and an eraser at the other end. You can personalize the pen a bit with colorful circlets. There is also a variant for 3D navigation sold separately. The nibs are exchangeable as usual, but it's unfortunate that Wacom decided to make them smaller than before (well, the tip is still original in size, but the part going inside is thinner). In practice this means that the old spare nibs are incompatible with the new pen and you can't use both ends like before. The older pens can be used on the MSP, but the new pen can't be used on older devices.
I noticed that the eraser end has different calibration than the other, but it can't be calibrated individually. I always calibrate my pen so that the cursor won't be under the nib, but now it will be under the eraser. The older Pro Pen calibrates correctly.
6. Drawing on the MSP 3/5:
Like with Cintiqs, the drawing feel is identical and intuitive, because you can actually look at what you are drawing. The surface is still a bit too slippery to my liking, though this can be compensated by using felt nibs (one included) instead of standard plastic nibs. Even then it takes some time for the nib to get squashed a bit for better friction. That said, I'm sure it will be better to draw on once the nib wears down a bit. The felt nibs on my Cintiqs hardly ever wears down to a point of needing replacement, so it will be interesting to see how these new nibs compare.
I tested the device on a long train trip and on my desk to get an idea how it performs in both situations. Drawing on the go isn't easy. It's a bit too heavy and large to be held with one hand. I had a small table in front of me on the train, but even then it was a bit cumbersome, especially due to the slipperiness of the surface and train movement. Doing anything precise was out of question. Technically drawing on portrait mode was a bit easier, though the pen calibration is optimized for horizontal orientation (unless you calibrate it again). Accessing express keys isn't very intuitive on the portrait mode though.
Drawing on a sturdy table at home wasn't any different compared to drawing on a Cintiq. Although the touch is automatically disabled when the pen is on the surface, it was still fairly common occurrence to accidentally press tools or icons on the windows taskbar with the arm. It might be a good idea to hide the windows task bar during drawing.
As mentioned earlier, the device get really hot after a while and the hot area is right under the hand (if you are right-handed and orientate the device accordingly). It's recommended to use smudge guard for more comfortable drawing experience.
7. Software and drivers 2/5:
I've been skeptical about WIN 10, tablets and touch UI in general, but I was positively surprised how smooth everything worked. However, I was more concerned about the Wacom drivers, because they have always been terrible in practice. The driver might crash out of the blue, touch may become non-functional, pressure sensitivity may not work etc. MSP isn't any special, it's technically just PC with Wacom drivers. And as expected, just after 2 hours of tweaking the driver, it crashed for the first time.
On the driver properties you can customize the functions fairly freely. On paper, all the features are great: you can adjust pen pressure curve, functions on the express keys, touch-gestures, program on-screen shortcut buttons for touch use etc. You can even make program specific settings. It's not until you try to delve a bit deeper to the functions when you find there are some limitations, more about those later.
If you read Wacom limited warranty, they specifically say that they won't be held liable if the hardware or software doesn't behave as expected, crashes or otherwise doesn't work without errors. Wacom drivers have been around for over 10 years at least and they still are the weakest part of the equation. You had only one job Wacom.
8. Express keys 2/5:
The express keys are by most parts good and reliable. However, it's unfortunate Wacom didn't implement Cintiq 13HD rocker ring on this model, had I realized this I would have reconsidered the purchase, for it was one of the main reason I wanted this model instead of Cintiq Pro (which has no buttons and requires a wireless remote which is sold separately...). The middle button on the ring is windows key and that can't be reprogrammed. There are 4 buttons on the ring, but they merely change the mode of how the touch ring operates. So technically you would use it for zooming in/out, changing brush size, cycling undo/redo etc. The touch rings have always been unreliable and it's easy to have just the wrong mode on, so using it and cycling between the modes is cumbersome, considering the drawing softwares usually have their own ways to get the job done much faster.
This wasn't the case with Cintiq 13 HD. All buttons on the rocker ring could be programmed and you could even press two/three buttons at the same time. I had 7 functions which I could access quickly with just the thumb and that really helped productivity. That said, there are technically less buttons on the MSP, or they are too dispersed for fast use. Although this is more of a personal opinion, I'm very picky when it comes to efficiency and immersion, any extra interruptions really tick me off.
9. Touch operations 1/5:
Touch works nicely in general, except when you would truly want to utilize it for productivity. As said already, you can create on-screen controls to expand the limited array of physical buttons, which are absolutely amazing if they just worked. With the pre-installed driver, the on-screen controls became unresponsive to touch after few minutes and required constant restarting of the Wacom service. After driver update that issues was fixed, but they would stay unresponsive for at least 1 second after lifting the pen (tapping them repeatedly would just extend the unresponsive period until you give it that 1 second). They also may get stuck as if you were holding a button down, so it's not advisable to enable repeating action (I had undo going mad and deleting my whole drawing in a matter of seconds). Some features can't be evoked trough on-screen controls (such as modifier keys alone). Some on-screen controls would also pop-up on their own even though they shouldn't unless I press a specific button on the bezel. That said, this device would be amazing if just its features worked like they should. It's such a shame really.
10. Verdict :
MSP is fun and quite impressive, but rather expensive. If you need all-in-one solution and need to work on the go or need a device for presenting ideas for customers, then MSP might be worth considering. The specs are nothing in comparison to high end laptops or desktop workstations. If you already have a a capable laptop or PC, it's advisable to go for a Cintiq models instead, or even Intuos Pro if you have great display already. Even older Cintiq 13HD might be worth considering, for it's only $800 and offers all the benefits of a pen display (excluding touch operations).
However, many of the productivity enhancing features don't work as well as one would expect from a high end device like this. The driver hiccups are far too frequent and touch operations leave a lot to be desired.
Over all score 6/10
The good:
+ all-in-one, portable computer/drawing platform
+ great design with physical express keys
+ great display with matte finish and stunning colors
+ great pen which is enjoyable to draw with
+ precise pen tracking
+ drivers allow fairly extensive tweaking possibilities
The bad:
- expensive (even the cheapest model)
- a stand not included
- only USB-C ports, so adapters are required for connecting older devices.
- CPU and GPU, while on the high end, are ranked very low (even on the most expensive model)
- not much storage capacity
- really loud fan noise even when idling
- gets really hot even when idling (with smudge guard this isn't a problem)
- battery can't be removed and replaced
- slippery screen surface (can be compensated with felt nibs)
- touch ring and non-programmable windows key take room for usable express keys
- drivers are (and always have been) unreliable
- touch operations aren't quite as smooth as one would expect
- eraser on the pen can't be calibrated (cursor appears behind the eraser).
- nibs from legacy pens are incompatible with the new pen
Nsio of the Hermit Mystics