PRICE: 55 USD for each one.
1. Payment via PayPal.
2. Payment should be sent in 24 hours after receiving a payment request.
3. You have to be 18+ years old and use your own PayPal to purchase an artwork.
4. You can receive an invoice for purchased artwork. Please let me know if you want to receive it.
5. You will receive transparent high-resolution drawing without my signature - sent via e-mail.
Original size of artwork is approx: 4745 x 2950 px

Please read:
Terms of Service
You can change the name. (:
━━━━━━━━━━━━━━━━━━━━
1. Owner:
Mekomiya
(sold on auction)
2. Owner:
Dreamscape-Traveler
3. Owner:
BewitchingBeauty
4. Owner:
Zhetans
(sold on auction)
5. Owner:
Slixen
(sold on auction)
6. Owner:
SanglureAKABloodlust
Link to auction: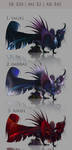 ━━━━━━━━━━━━━━━━━━━━
© Małgorzata Kwiatkowska - Noxeri Art
All Rights Reserved
Image details
Image size
2591x2849px 1.12 MB