I liiiive, which is an immediate segway into what I've been up to! I've been busy with a project I've been hiding some details of on deviantArt, because, spoilers! I've been working on a contribution to Square City's 3rd anthology, themed "The Cure". It is an anthology with 14 creators, including myself. The 9 stories focus on a cure for mortality.
The
Kickstarter has launched
, and I would love it if you would give it a look and consider
supporting it
!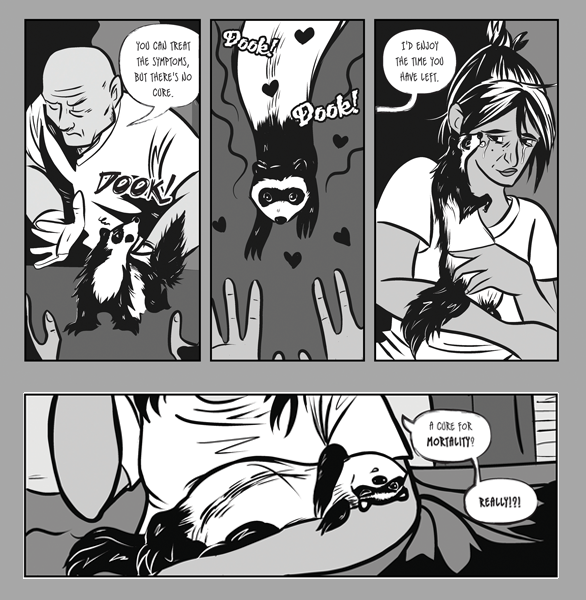 As many of you know, I lost my ferret Paulie over a year ago due to complications from insulinoma and heart disease. My short takes a lot of those emotions and confronts a pet owner, not that unlike myself, with a series of difficult choices about life, death, and what it means to make something immortal.
I'm also involved in two backer rewards, S
ketchy Citizen -Kristy Cunningham version,
and
Square City Citizen Bundle - Kristy Cunningham version
. In both of these, you get a
sketch commission
by me as part of the deal. The Square City Citizen Bundle bundle includes a physical copy of
The Cure
, a physical copy of my mini-comic "Everyday Imaginings", a physical copy of volume 1 of
Infinite Spiral
and postcard prints as well! So please,
take a look, spread the word, and consider backing the project!