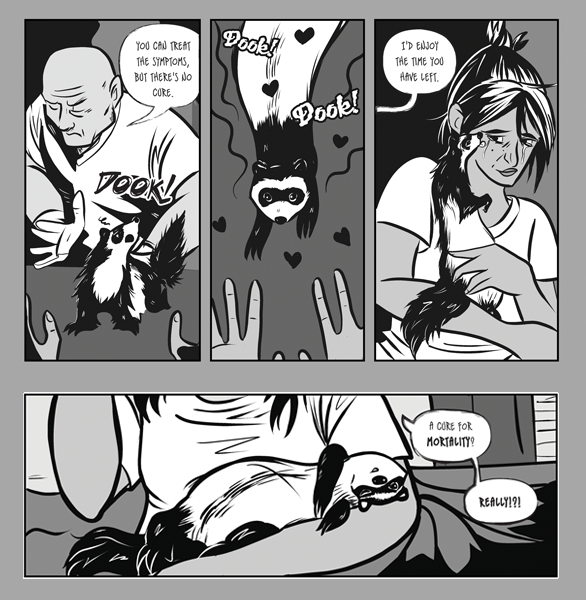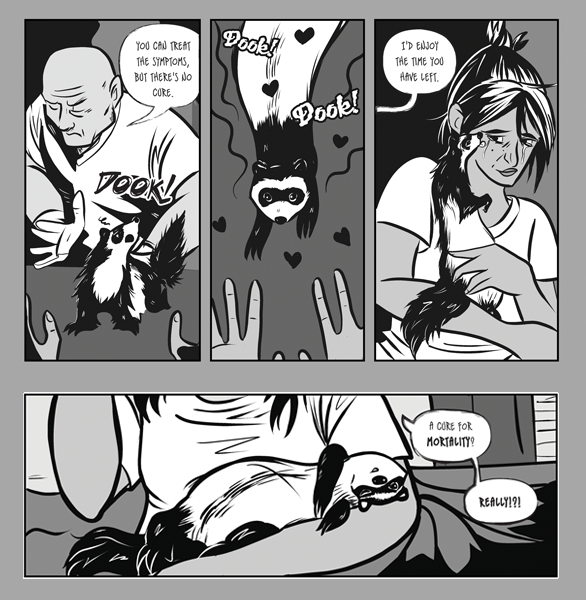 Watch
I've been working on a contribution to Square City Comics's 3rd anthology, themed "The Cure". It is an anthology with 14 creators, including myself. The 9 stories focus on a cure for mortality.
The
Kickstarter has launched
, and I would love it if you would give it a look and consider
supporting it
!
As many of you know, I lost my ferret Paulie over a year ago due to complications from insulinoma and heart disease. My short takes a lot of those emotions and confronts a pet owner, not that unlike myself, with a series of difficult choices about life, death, and what it means to make something immortal.
I'm also involved in two backer rewards, S
ketchy Citizen -Kristy Cunningham version,
and
Square City Citizen Bundle - Kristy Cunningham version
. In both of these, you get a
sketch commission
by me as part of the deal. The Square City Citizen Bundle bundle includes a physical copy of
The Cure
, a physical copy of my mini-comic "Everyday Imaginings", a physical copy of volume 1 of
Infinite Spiral
and postcard prints as well! So please,
take a look, spread the word, and consider backing the project!

Aw, this hits home right now. My ferret was just diagnosed with bone cancer, it doesn't look like pain meds are helping so far.

Might have to send him off soon.
Reply

Aw, sorry to hear that- the cancers are so tough.

Enjoy your time with him - he will know. They know when you are trying to give them all the love and I feel know how to tell you when they need to let go. Take care of both of you.
Reply