170 Favourites
10 Comments
933 Views
That pear jam was delicious, I'll definitely need more for toast.
Here try some of our famous apple pie, you're going to love it.
Aaaaaahhhhhhh, you're such a flirt!
You're making it too sweet, you adorable butt!
==========================
Happy Hearts and Hooves Day y'all. I hope you have a nice day with loved ones, and food is such a nice way to share company. <33
This piece is the completion of the sketch I did for EQD's Artist Training Ground. Shame I didn't have enough time to add all the other features, but I'm pretty happy to have fixed the relative sizes of the two, Pear Butter is so cute being smol.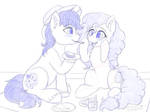 The pony design was inspired by the style of the wonderful and talented artist
sonigiraldo
. Seriously, this would not be half as adorable if it were not inspired by her adorable pones. Go check out her art and show some much deserved love.
Also she does very amazing commissions at VERY reasonable prices. It would be wonderful help for her and you get some beautiful art, win-win. Go support
sonigiraldo
.
Or if you're wanting some real lovin' she does NSFW art too >3> Careful, it gets pretty saucy ;3
==================
Characters
Bright Mac
and
Pear Butter
from that toy company.
IMAGE DETAILS
Image size
3200x2400px 7.14 MB