69 Favourites
9 Comments
334 Views
This knight pledges to thy infallible choice, Princess, to disgrace thee is to surrender morality and life.
There is nothing beyond thy authority and grace, but only the just mercy of God Himself.
Thou art good and virtuous to all, and I shall be the sword and shield of thy nobility.
====================
Kobolds are kind of like dragons, right? In that case, it's kind of funny that the dragon is the knight.
Happy birthday to the lovely Neonhuo!
He is older another year, but my goodness he has always been so noble and honorable for his friends. Ahhhh, a true knight in shining armor! >w<
Also don't kill me for the cheesy quotes, I was horrible in English class and can't write anything good
This is sort of a pair with a previous piece I did for Neon's waifu,
SpindleSpice
, thus I wanted to keep a similar anatomy style. I probably should have leaned more towards dragon than humanoid in the first place with my lack of drawing humans. Heh, at least it's a bit easier to design human clothes to fit a human body XD (Though how the heck do you design a helmet for a dragon with all those spines?)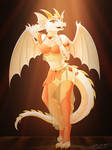 Kinda wish I had the foresight to give Aurum as much attention to detail and really tie these two pieces together
Also a huge inspiration for this piece was that game
For Honor
. I never played it, though it looks so epic. I think if there is one theme I would love to use when learning human anatomy, it would be armor. Evidently I didn't get as much detail as I should have, but I really like how this turned out. I need to try more dynamic and abstract lighting because this was rather fun and I think it's rather fast given how much stylized detail you get from such gritty textures. But what do I know? XD
Birthday gift for Neonhuo
Kobold OC
Ruby
from them
IMAGE DETAILS
Image size
2400x3200px 5.93 MB