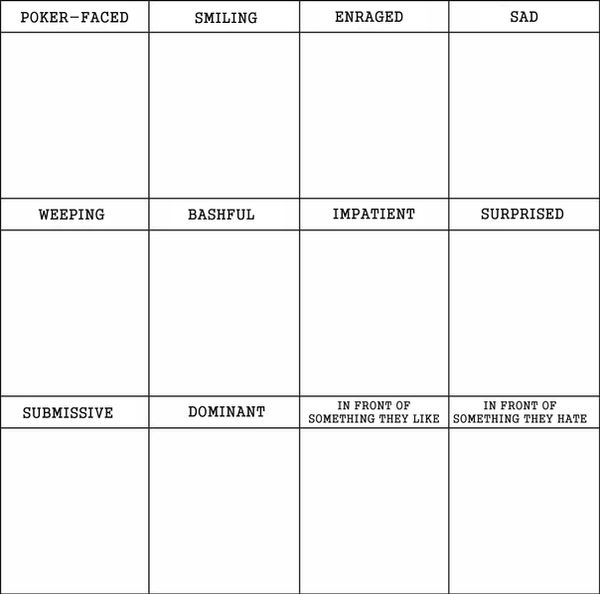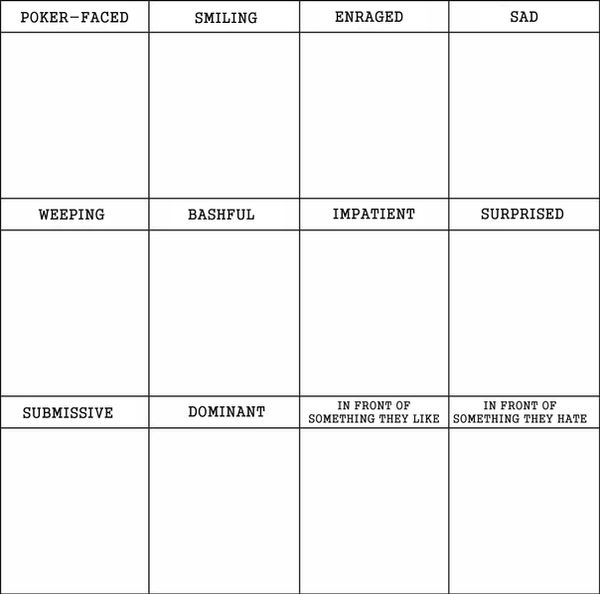 Watch
Oh my goodness. I never thought I'd find myself translating Japanese again. But this looked pretty fun and I'm trying to keep myself busy when it comes to drawing.
This here's a Pixiv meme I've stumbled upon, which has you draw various expressions for a character, be it original or already established. Given that not many people knoew moonspeak thoroughly, I'd give it a shot at providing an English version. There's an English style meme already out, but I can't be arsed to fill it in, since this one looks more interesting and challenging.

Original Japanese template:
[link]
無表情(muhyoujyou)- Expressionless, poker-faced
笑顔(egao) - Smiling
怒り(ikari) - Enraged, Angry
悲しみ(kanashimi) - Sad
泣く(naku) - Weeping
照れる(tereru) - Shy
焦る(aseru) - Impatient/tense
驚く(odoruku) - Surprised/shocked
受け(uke) - Submissive/bottom
攻め(seme) - Dominant/top
好きな〇〇の前(sukina * no mae) -In front of ___ they like
嫌いな〇〇の前(kiraina * no mae)-In front of ___ they hate
The owner of this deviation has disabled comments.