Hi!
I'm here to explore the darkness in our hearts, what about you?
Memes here:
sta.sh/25f9gbnaowv

Non-battle theme for Srash:
www.youtube.com/watch?v=JxJTVT…
Battle theme:
www.youtube.com/watch?v=EsQI7Q…
My theories on Phazon and dark energy:
fav.me/d53gdyr
My theories on Espeons and Life Orbs:
fav.me/d5x4gxo
Srash's clan and Tulip the leafy:
fav.me/d66ien2
DA Family!
Chrissie:

Brother:


Cousins:

Cuddly Epicness:



Cool people:
Crafted the Webcam Image!
(Original)
(remade)

Made a couple of epic icons! And AMAZING artist! GO COMMISSION THEM NAOW.

Made my epic iPad background! INCREDIBLE ARTIST!




:thumb212847825:


:thumb212726984::thumb280179389:





:thumb291355594::thumb251097913::thumb253487932::thumb251391751::thumb245214353::thumb256574991:


:thumb161246901:

:thumb310759006::thumb92397011:
And ignore whatever DA says, July 21st is my birthday.
People who owe me things:
yellowfire7
Unspecified. (Kiribian prize)
List of owed things:
Literature:
yellowfire7
(Unspecified)
Khystar
(x2)
Pikaflower162
(Unspecified)
Journal features:
yellowfire7
Not-Hunter.deviantart.com/jour…
Sesshomaru-XD-13
Khystar
Pikaflower162
Artwork:
apenpaap
Zeph destroying things. (Sketched)
Other crap:
Challenger suggestions:
Srash Vs Ace
Current Residence: Phendrana
Operating System: iOS (iPad, iPhone)
MP3 player of choice: iPhone
Personal Quote: HALLO!
What Eevee Evolution Are You?
Hosted By theOtaku.com:
Anime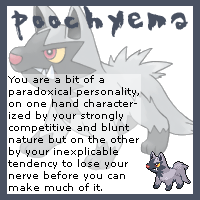 Flying
Incredibly free spirited, they are strong at heart and focus on their strengths and possible ways of improving them. They are prone to egotism, but try to keep to themselves in such cases. Those that go egotistical on them are bound to be lectured or fought
quizilla.teennick.com/quizzes/…
For 33 % you are: You are Rayquaza!



You are definitely one of a kind!

Although you have virtually have no heart for a lot of people have a short temper, you have few fears!
15.4278 % of 2139 Quiz participants had this profile!
 

Take this quiz: Pokemon personality test 1234567890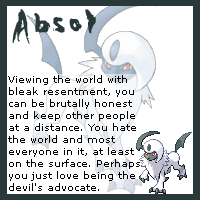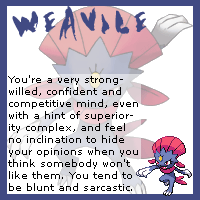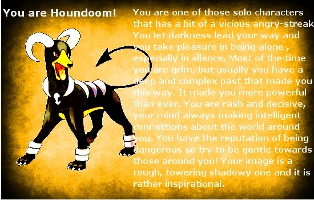 What Dark Type Pokemon Are You?
Hosted By theOtaku.com:
Anime