Here's five great reasons why!
1. they're raising money for
ACT Today!
which is a charity that helps kids and families with autism get the help they need!
2. they're
raffling and giving away prizes to donors
! you can get art, sculptures, custom made badges, rare toys from japan, brand new vidya games and more!
3.
pokemon
! POKEMON POKEMON POKEMON POKEMON!
4. donors get to donate to prank the speedgamers! do you have a sly pranking idea? watch it happen live on their stream!
5. if you donate
i'll draw you pictures
!
plus you'll be giving to charity, and that's just a swank thing to do! you can pre-donate now to name a starter pokemon for 50$. there's still a whole bunch of those left! name it after yourself! name it something lewd! name it a series of confusing numbers and letters! it's up to you

some of my artwork will be up for either raffle or auction to raise money. i like poison pokemon, so i painted them all! so here's a peek at some of the art that you can get by donating to the speedgamers!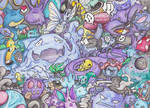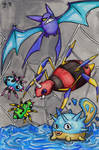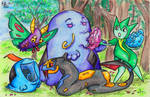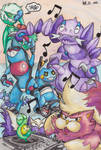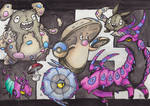 these are all the actual original watercolour paintings, and they come with a frame. they's FANCY~
so yeah
THE SPEEDGAMERS
CHECK THEM OUT!