Favorite genre of music (
Género de la música favorito
): Alternative Rock.
Favorite style of art (
Estilo favorito de la arte
): Japanese Comic Art, and Pop Surrealism.
Operating System (
Sistema Operativo
): PC (Win7), Wii, GBA, DS, Dreamcast, PS2. (Broken or doesn't work/
Roto o no hace nada
: Playstation)
MP3 player of choice (
Reproductor de MP3 por elección
): CD Player!

Wallpaper of choice (
Fondo por elección
): Artwork I'm most proud of or that I loved of someone else's art. :3
Favorite cartoon character (
Carácter de los dibujos animados favorito
): Mickey Mouse
I speak English (fluent), Spanish (communicative), and Japanese (very little).
Hablo inglés (con fluidez), español (más o menos) y japonés (poquito).
えい語とスペイン語と日本語すこしをはなします。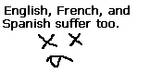 :thumb87854026:
Quick thing about my name on dA
:
[
Emii-Sama
] It's partially a joke. Referring to yourself in Japanese as -sama, a very honorable honorific, is considered very rude in Japanese. XD
[
NoResoultion
] I was getting frustrated during the registration process and didn't notice the typo. Later I found someone else is already the correct spelling, "noresolution".