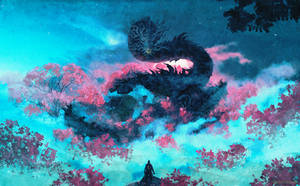 You can support me if you love my work
Just a way to support my work :)
---

Description
The Script:
"Baybáyin Script" is an umbrella term for the Abugida (alpha-syllabary) writing systems of the Philippines. Generally, the Sulat Tagalog version is what people think of by default when "Baybáyin" is mentioned. However, there are different varieties of the script, Kulitan is one of them.
Súlat Kapampángan (a.k.a. pámagkulit or kulitan) is used for writing the Kapampangan language spoken by folks from the Pampanga province in the Philippines. It has been kept alive within the Kapampangan Academia.
Kulitan differs slightly from Baybayin as it has been adapted solely for Kapampangan orthography. A different method of writing garlit (kudlit) diacritic marks and character ligatures & stacking were developed. Much of the character shapes originally were the same as Baybayin but through limited but continued use, Kulitan handwriting evolved to match a vertical direction of writing popularized by Kapampangan practitioners, scholars, artists, and academics.
The Font:
Download it here in DA:
www.deviantart.com/download/36…
I create true type fonts (TTF) I called "Baybayin Modern" for use in modern art. The fonts are stylized modern composite of many examples from the past but the style is based primarily on my calligraphy work and handwriting. The font is calligraphic & artistic representations and the characters' shapes, sizes and weights have been made uniform in order to present a neat and elegant printed appearance.
If used in your artwork, please include a credit and/or link back to either the blog (
nordenx.blogspot.com/
) or my DA page.
The Style (Angulo):
The font is a horizontaly typed font with glyphs/characters tilted on its side, 90° counterclockwise.
One can use the font in a word-processing program like Microsoft Word without any special setup; just type horizontally then after you print the document, all you have to do is turn the printed material 90° clockwise and the composition is vertically oriented as is normal with Kulitan.
You can also use the font to type vertically in Microsoft Word by using a table with a simple & easy setup:
1) Insert a single-cell borderless table and re-size it as close to the margins of the page as possible.
2) (in Word 2003 or earlier) Select the table, click Format on the top menu. Click "Text Direction" and choose the direction you want (Vertical).
3) (in Word 2007 or later), click the Table Tools, Layout tab, and click the Text Direction button in the Alignment group.
For more info:
nordenx.blogspot.com/2011/08/k…
nordenx.blogspot.com/2011/08/b…
www.vjf.cnrs.fr/11ical/data/11…
This font is meant to be used for writing vertically. Watch this video tutorial to see how:
youtu.be/Gls_5TVs7-E


© All of Nordenx Baybayin Modern Fonts are for personal and non-commercial use only. Please contact me at nordenx@yahoo.com for any inquiries about commercial use and licensing for branding, printing, publications, and/or other electronic applications.
...