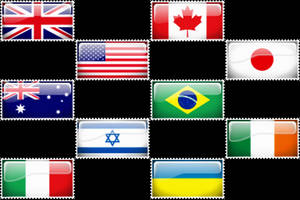 COUNTRY FLAG STAMP COLLECTION
Show your support/allegiance to a country by proudly flying the flag on DeviantART.
---

Baybayin Modern Mono Font
Description
The Script
Baybayin script is an ancient form of writing by native islanders and tribes in the South East Asian archipelago we now know as the Philippines.
The Font
I created true type fonts (TTF) I called "Baybayin Modern" to use in modern art. The fonts are stylized composites from publications & handwriting examples from the past. This font is a modern representation and should not be considered a historical example of the Baybayin, however it is based on the traditional characters' shapes and form. The glyph's strokes, sizes and weights have been made uniform in order to present a neat and elegant printed appearance. The font is calligraphic & artistic representations of my handwriting.
You can now download it here in DA: Look for the DOWNLOAD button on the sidebar.
The zip file contains the TTF file and documentation on how to use it. If used in your artwork, please include a credit and/or link back to either the blog
nordenx.blogspot.com/
or my DA page.


©
All rights reserved, Nordenx Baybayin Modern Fonts are copyright of their typeface designer & creator
Norman de los Santos
. Free for personal and non-commercial use only. Please contact me at
nordenx@gmail.com
or
nordenx@yahoo.com
for any inquiries about commercial use and licensing for branding, printing, publications, and/or other electronic applications.
---
UPDATE: V.3.01 - font file updated, replace .tff if you downloaded prior to July 12, 2011