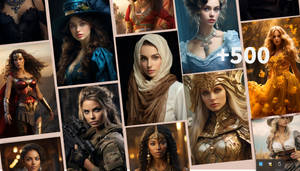 AI Female Photo Collection
This collection are over 500 illustration to help you get inspired in filed of game/animation/illustration project. This artwork image was created using artificial intelligence and the Stable Diffusion production tool. I am delighted to share this beautiful female with you that I was able to create through this process. AI Art Cosplay and Beauties All images are made of AI . We will update regularly,welcome to subscribers!
---

Baybayin Modern Jepoy Font
Description
The Font
Download it here in DA:
www.deviantart.com/download/23…
I created true type fonts (TTF) I called "Baybayin Modern" to use in modern art. The fonts are stylized modern composite of many examples from the past but the style is based primarily on my calligraphy work and handwriting. The font is calligraphic & artistic representations and the characters' shapes, sizes and weights have been made uniform in order to present a neat and elegant printed appearance.
If used in your artwork, please include a credit and/or link back to either the blog (
nordenx.blogspot.com/
) or my DA page.
The Style (Jepoy)
An informal handwriting style using a small flat brush. Perfect for comic books.



© All of Nordenx Baybayin Modern Fonts are for personal and non-commercial use only. Please contact me at nordenx@yahoo.com for any inquiries about commercial use and licensing for branding, printing, publications, and/or other electronic applications.