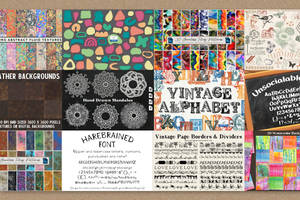 HG Designs Subscriber Area
Lots of high resolution goodies for graphic design including textures, photoshop brushes, seamless patterns and more.
---

Baybayin Modern Brush Font
Description
The Script
Baybayin script is an ancient form of writing by native islanders and tribes in the South East Asian archipelago we now know as the Philippines.
The Font
Download it here in DA:
www.deviantart.com/download/14…
I created true type fonts (TTF) I called "Baybayin Modern" to use in modern art. The fonts are stylized modern composite of many examples from the past but the style is based primarily on my calligraphy work and handwriting. These fonts should not be considered as historically accurate examples of the Baybayin. The font is calligraphic & artistic representations and the characters' shapes, sizes and weights have been made uniform in order to present a neat and elegant printed appearance.
The zip file contains the TTF file and documentation on how to use it. If used in your artwork, please include a credit and/or link back to either the blog (
nordenx.blogspot.com/)
or my DA page.
The Style (Brush)
This is actually done back in 2007 when I had access to a Bamboo tablet. I was practicing brush strokes and came up with these fonts.
The Sample
The script rendered in baybayin brush font reads:
"Gaano man ang tibay ng piling abaka, ay wala ring lakas kapag nagiisa. Tingnan mo naman ang walis tingting, matibay sapagka't magkabigkis"
Translation:
"No matter how strong the best hemp may be, a single strand isn't strong enough. Look at the broom made of small sticks, it is sturdy because it is tightly bound."
For more info on the new features included in this font set, please read the rich text format (.rtf) file that is included in the zip.


© All of Nordenx Baybayin Modern Fonts are for personal and non-commercial use only. Please contact me at nordenx@yahoo.com for any inquiries about commercial use and licensing for branding, printing, publications, and/or other electronic applications.
---
UPDATE: V.1.01 - font file updated, replace .tff if you downloaded prior to July 12, 2011
Salamat dito sir. Gagamitin ko po sa pagsulat ng tula para makaluma talaga ang datingan sa makabagong pamamaraan.