UPDATE: with a great tip from www.deviantart.com/haruchai
I realized that the tool work without any issues also with Genesis 8 Female. Therefore I am updating this posting to indicate that.
I am not going to change the names of the files for download for simplicity ... but please be aware that they will work perfectly also with the G8F character.
There is nothing to be done differently. Just apply the same procedure as outlined below.



As a token of appreciation for my watchers that are in 3D modeling, I include here a set of dirty skin textures for Genesis 3 Female and Genesis 8 Female for Daz Studio.
The set works with a layer that it is applied on top of the texture of any G3F and G8F character. You need to simply select the character and then double click on the desired dirty texture overlay. It is important that the dirty layer should be applied AFTER the texture of the character – including make-up options – has been applied. In other words, the dirty layer should be the last texture layer that you apply on the character.
There are three separate textures, each with the option of different strength levels. They can also be applied on top of each other (and the effect will be the sum of the effects).
If you want to erase the dirty layer, the easiest way is reapplying the original character texture.
The layer functionality might take a few seconds to activate on your computer, depending on its computing power. Please note that the download is quite heavy, as the textures are high resolutions.
In this promo render, my lovely models are showing off other three of my freebies, attached the links: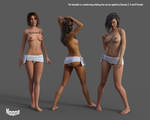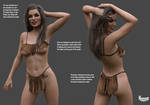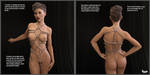 I have learnt and applied a few new techniques to obtain this result. I have run several tests and the functionality seemed to be ok. Let me know in case of issues as it might be difficult to spot problems.
I would love to see the renders in which you use it, and I would appreciate if you could mention me.
Comments welcome! Thanks for favorites!
Disclaimer: This is a work of fiction made in 3D rendering software. Any names or characters, businesses or places, events or incidents, are fictitious. Any resemblance to actual persons, living or dead, or actual events is purely coincidental.