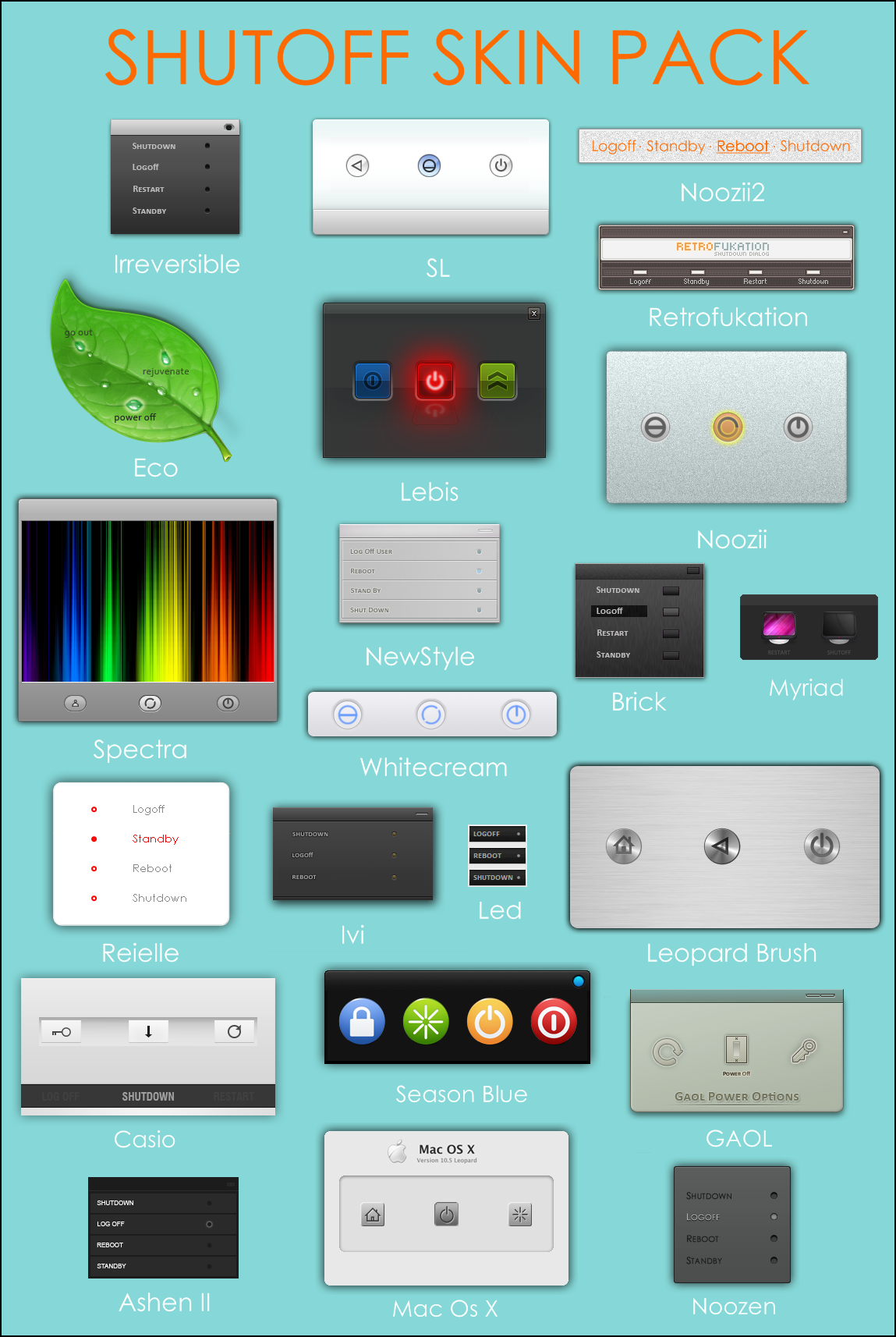 Watch
A SHUTOFF SKIN PACK
22 skins for shutoff, from various artists. Pack released with permission.
Including 3 new skins never released before (noozii2, spectra, noozen).
Require shutoff 1.5 or later.
Be sure to download the latest version of shutoff from this link:
[link]
(Latest version of shutoff supports quick changing skin using right click).
Installation: extract the skin pack to the skins folder where you put shutoff.
---------------------------------------------------------------
Shutoff Skins : credits
noozii, noozii2, Reielle, Spectra, Noozen : nookian
Leopard Brush : nookian (+Apple buttons)
Eco : nookian (+Coda icon)
SL : nookian, alexcqg
whitecream: nookian, krosavcheg
Retrofukation : nookian, jg-visuals
Lebis : xyrax
NewStyle, Ivi, Gaol : somnign
Brick : luckylook33
Led : krissirk
season : eos8
myriad: AlbinoAsian
Mac Os X : Zotus
Ashen II : Aunex
@deviantart.com
--------------------------------------------------------
Links to skins:
LED for shutfoff by ~krissirk
[link]
Another LED for shutoff by ~luckylook33
[link]
SL for shutoff by ~nookian and ~alexcqz
[link]
Eco skin by ~nookian
[link]
Osx skin by ~Nookian
[link]
Vista skin by ~Nookian
[link]
Leopard brushed by ~Nookian
[link]
People skin by ~nookian
[link]
Whitecream skin by ~nookian
[link]
Retrofukation skin by ~nookian
[link]
Ivis skin by ~somnign
[link]
Brick skin by ~luckylook33
[link]
Lebis skin for shutoff by ~xyrax
[link]
Gaol.ShutOff by ~somnign
[link]
NewStyle.Shutoff by ~somnign
[link]
Myriad Shutoff by ~AlbinoAsian
[link]
Irreversible for Shutoff by ~luckylook33
[link]
SEASON for shutoff by =eos8
[link]
Mac Leopard Skin for ShutOff by =Zotus
[link]
Casio VS by ~a-RIP
[link]
Ashen II skins for shutoff by ~Aunex
[link]
-----------------------------------------------------------------------