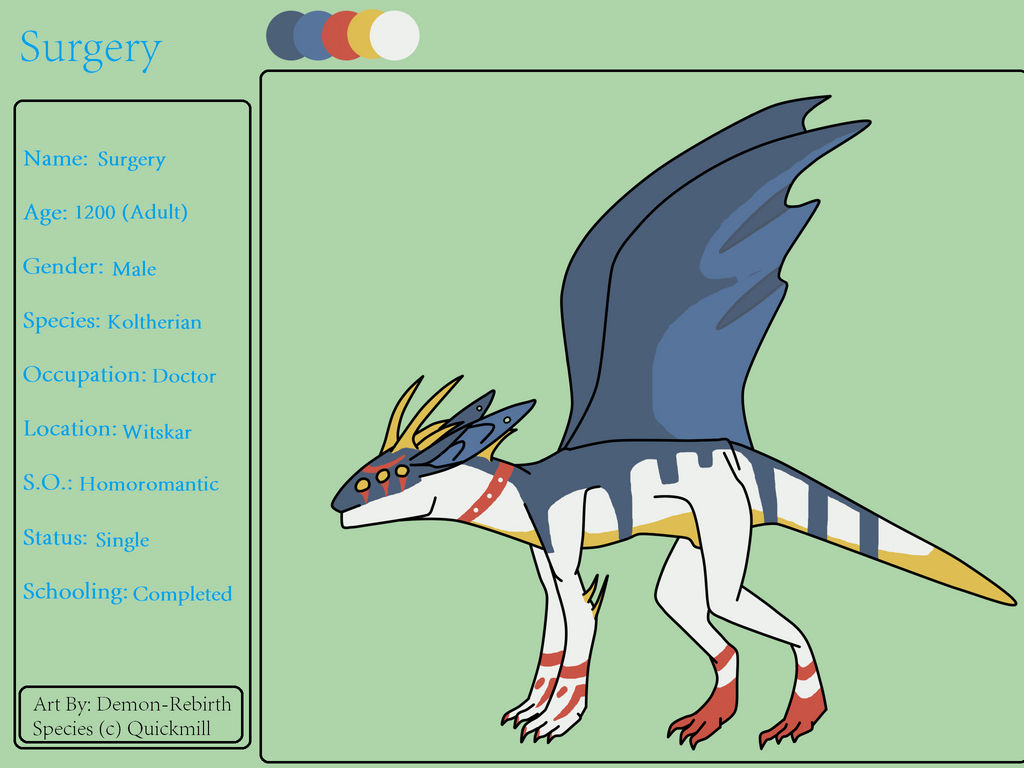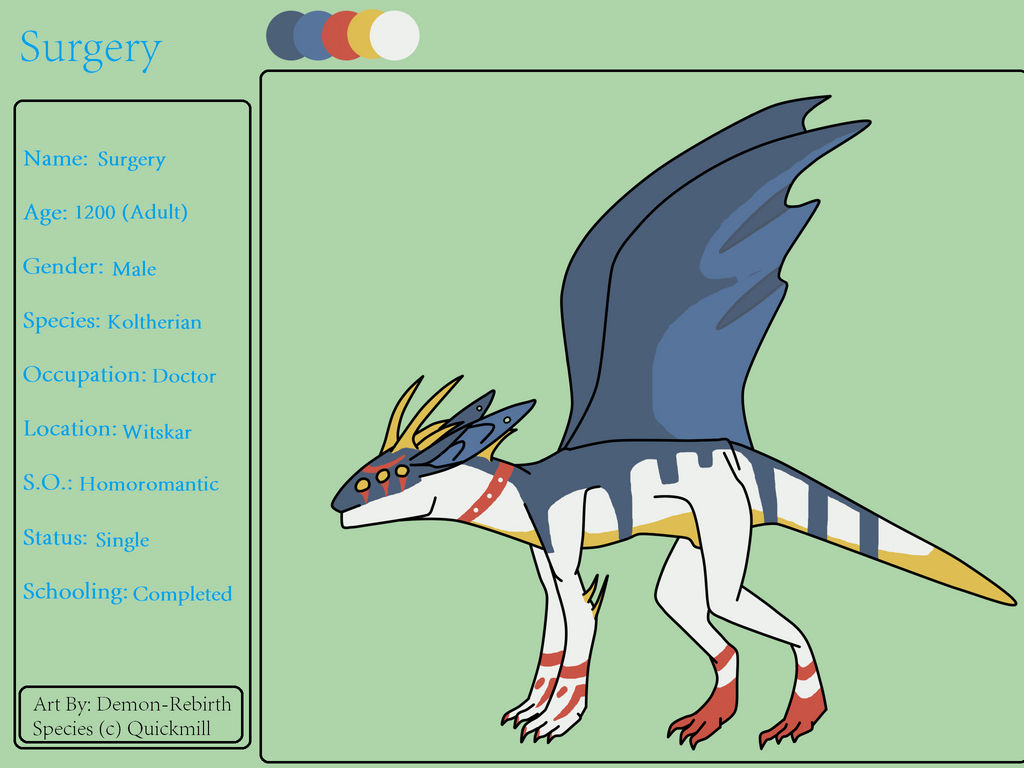 Watch
Ignore the short tail I was being stupid I think XD
This bab's name is Surgery

he is a beauitful bab okay? XD.
He was created with Mill's permission and was once a character named Cas, many of his old markings and colours have changed but he is still the same kind, hard-working doctor!
First Name: Surgery
Nickname/s: N/A
Middle Name/Initial: S.
Last Name: Zecc
Gender: Male
Age: 1200 years
S.O.: Homo-romantic, Demi-sexual (will only do the do with someone he loves)
Location: Witskar
Schooling: Completed
Occupation: Doctor/Head Physician
Weight: average
Feral Height: 9 feet at the shoulder
Half-form Height: 14 Feet
Human Form Height: 13.9 feet
Wingspan: 32 Feet
Base Color: White
Marking Colors: Gold, Red, Blue
Blood Color: very pale gold
Scent: Winter-Green Mint
Body Type: Normal
Mutations: Common Spines Mutation
Status: Single
Mate: N/A
Children: None
Mother: Unknown
Father: Unknown
Siblings: None
Other Family: N/A
Friends: None yet
Other Connections: N/A
Personality: Lively and kind-hearted, Surgery is a lover, not a fighter. He is a gentle man, having a soft spot for young children. Yes, he is a bit nervous and shy, make fun of him for it and he will not talk to you until he receives a formal apology. Despite this he is not very stubborn and is easy to persaude.
Brief History: Will update soon!
Hobbies and Interests: Enjoys reading, gaming, and swimming. Has a strong interest in science and medicine. Loves fruits and berries. Also has an interest in various sea-creatures, has had a few shipped to him from Earth even.
Fears and Dislikes: Fears being attacked, Dislikes rude people, those who are overly self-centered, and insects. HATES fried food.
Other Information: His greatest weakness is emotional, that and he is a bit clumsy.
His greatest strengths are his passion for everything he does in life and his fiercely protective nature.
He needs some friends! I am always open to rp so don't be shy!

Koltherians (c)
cozrion
Surgery (c)
Demon-Rebirth

awesome colors owO i really love the design :3
Reply

What a cutie


Reply

Reply

Eeee thank you!
I hope he makes lots of friends ;3; Don't want my bab to be lonely haha


now to figure out how to draw humans and anthros //gross sob//
Reply

He could be friends with any of mine that you like
I gotta work on all their temp refs
Reply