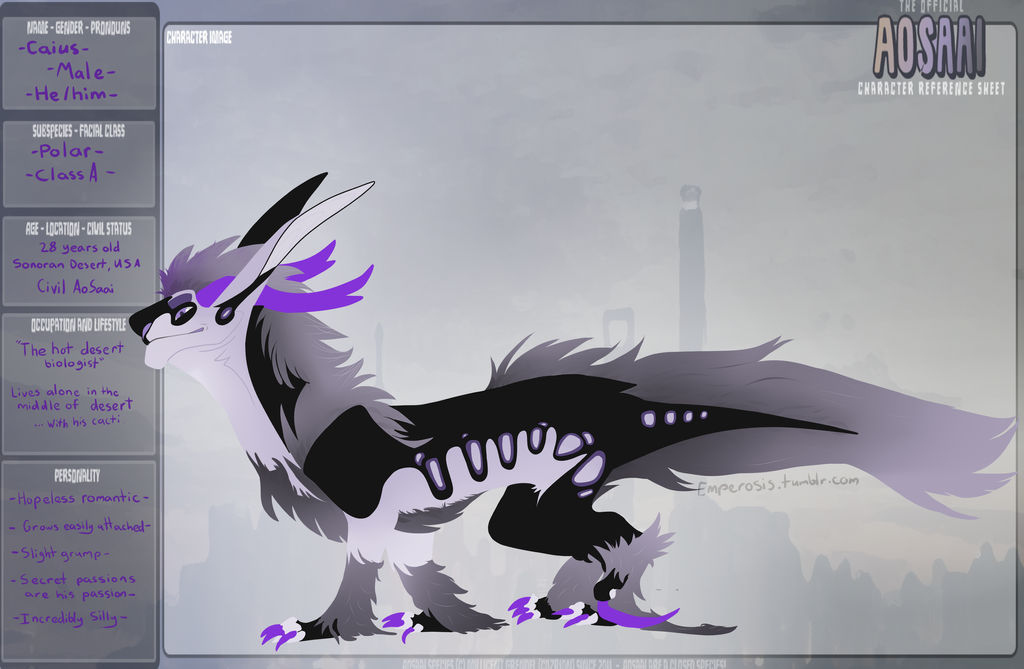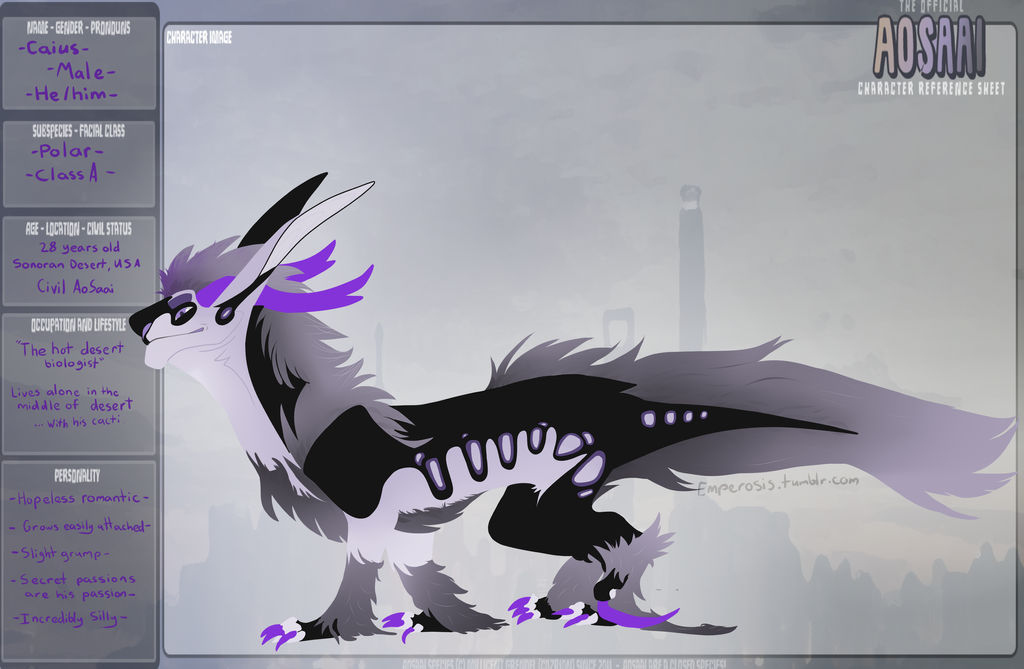 Oh look I'm not dead, have an OC revamping. Still pretty much only active on tumblr but this is for a group :>


General Information:
First Name: .. Caius
Last Name: .. Amprozine
Nickname/s: .."Cactus Man" "Fish Face" "Chai"... etc
-------------------------
Birthdate: .. May 16th
Birthplace: .. Nova Scotia
-------------------------
Sex:
.. Male

Gender: .. Male
Age: .. 28 years old
Subspecies: .. Polar

Sounds:
.. C
an mimic rattlesnake rattles and the sound of sand shifting.
-------------------------
Facial Class: .. Class A male
Civil Status: .. Civil
Sexual Orientation: .. Quietly leans towards men, calls himself pansexual
Relationship Status: .. Sungle Pringle
Mate/Partner: .. Nah son
Family: .. N/A
-------------------------
Location: .. Sonoran Desert, Arizona, United States
Language: .. English and bits of French and Spanish
Occupation: .. Desert Biologist
-------------------------
Height (Feral): .. 7"
Height (Human): .. 6"
Weight: .. 372 lbs(feral) 180 lbs(human)
Body type: .. average
-------------------------

Physical Description
.. Heavy fur and tough skin, pretty hardy guy from years of living in the desert.

Lifestyle
.. Spends most of his time alone in the desert, occasionally ventures to town for socializing and stocking up on supplies.
Personality
.. A hopeless romantic through and through, he easily grows attached to new friends and is very passionate about his passions. Has the tendency to be a little grumpy as he is always so bloody hot under all of that fur. The desert is not kind to a polar AoSaai. Has a passion for secret passions and has many of these secret passions himself... Is incredibly silly.

Habits and Hobbies
.. Loves to spend time studying and photographing the plants and animals of the desert, likes a good glass of scotch now and then.
History
.. TBA
Caius is a Polar AoSaai who lives somewhere way to warm for his comfort but he refuses to move somewhere cooler. He loves cacti and desert animals so he sticks to his southern Arizona home where he studies the animals and plants of the area. He's often described as being a "grumpy old man" by other AoSaai when in reality he's just out of his climate and extra furry.
He's a hopeless romantic but he doesn't get many visitors out in the middle of the desert so he ventures into town to stock up on water and socialize. Caius LOVES painting the scenery around his desert home, secret hobby, hide the paintings, no one can know he's one of those "art-gays."
Art by me, Noodle-Drake on dA, Emperosis on tumblr
Species belongs to
C0ZR10N


Ah what pretty fellow. X3 i think he really sounds interesting.
Reply

Beautiful design and colors
Reply

//tosses krev at him
toyhou.se/213712.krev
He be a wild life/nature photographer.
He was born in Russia and is a bit the opposite of Caius XD
Lived in a harsh snowy area but didn't have the right kind of fur for it.
SO he decided to take on a job that would let him travel through all different climates but he definitely prefers the hot ones.
Hes a very quiet dood and could certainly use a friend or two .v.
Reply

oh he's a cool sounding dude! I'm totally up for them being friends. They can geek out over good pics together lmao
Reply

Man he came out so wonderful~
Reply