Preface
Hey there! I hope you're having a great summer so far!
This here is the June 2014 edition of Above The Underground, an Art Feature series where I feature unappreciated art from around DeviantArt!
Without further ado, let's get right into it this time around, I've got a lovely set of Deviants this month. No literature features this time (gasp!) – I didn't want to re-feature people I featured last month nor did I want to feature popular writers on dA. It's was just too difficult to find good literature that didn't fit into either of those categories.
DA WRITERS, STEP YO GAME UP, SON
. This is a call to action, I believe you guys can improve yourselves, I've been in the same boat as most of you. I use to, and arguably, still write a lot worse than you guys.
Features
1 – Deea by
nnanotek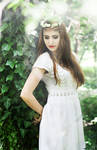 This is a lovely photo taken by Dana Cristea, who's a student photographer from Romania. What drew me into this piece at first – of course, is the model, who is absolutely gorgeous and I mean that in the most un-creepy way possible. The way she looks, gives the shot a very soft feel which also factors in my second point, which is, the lighting of the shot, which helps focus in on what's important in the shot (notice that the model's face is the brightest portion of the shot). There's also a very perfect contrast between the model and the leaf-y background which I really liked.
2 – Ukrainian Girl by
Mihael123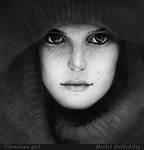 This is sketch that was done by Michel Demiurg, who is an illustrator from the Ukraine. What really captivated me about this portrait was how life-like it was. From the thumbnail, you would assume that it was a black-and-white photograph but as you take a closer look at it, you realize there are hand-drawn lines. I particularly like the starry quality that you can notice in the girl's eyes which makes it seem as if she's looking right at you.
3 – Nocturnal by
HauntedAttic
:thumb460146853:
This is a lovely painting that was done by Miguel Gudiño, who's a student artist from Mexico. I really like how the focal point of the illustration (the balloon) contrasted so well with the rest of the painting, it's by far the brightest part of the picture as whole. The brightness of the balloon gives a sense of hopefulness that's breathtakingly beautiful. I also like how all the other elements of the painting move towards that point of the painting; it makes for a really interesting effect. The general dark tones that were used in the painting also give a really nice mysterious feel to the painting which I really liked.
4 – Mountains by @Kikisan33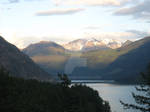 This is photo taken by Keeka, who's a multi-talented hobbyist artist from Canada. What I really liked about this piece contrast between the outer-most Mountains and the ones closer to us. It gives a nice sense of depth to the picture.
5 – Shadow & Light By
Quaiasla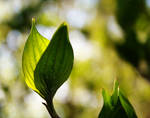 This is a lovely photograph taken by Kaja/Esma who are sisters and run their DeviantArt account together as hobbyist artists. What I really loved by this picture was its focus on such a tiny aspect. For me, it makes the plant seem alive. No really crazy lighting tricks that are done in the picture, it's all very simple, which gives it an extra little charm; it makes it seem very innocent in a way.
Want To Be Featured?
If you would like to be featured, all you have to do is find a deviation you like and send it to me, either through here or my Facebook page, with
3 reasons
why you think it should be featured. If the artwork is chosen, I will feature the both of you (I'll mention as the one who suggested the work).
Here are some general guidelines:
-The artwork must have been submitted the month you send it to me.
-The artwork must not have any mature content, so no course language, or sexual themes. This is an all ages' group, let's keep it that way.
-It's preferred if the artwork has less than 1000 views and less than 100 favorites.
------------------------
Enjoyed the work featured in this article? Share it, favorite it and comment on it!