I already made an info sheet for it, but I'm just transcribing it here as well.
I'm offering digital art commissions for personal use.
Info sheet:
Samples and terms: nocturnenebula.com/commissions

Flats (clean lines, colour) start at $35 USD.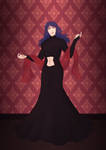 Shading (lineart, shading, effects) start at $50 USD.







Fees: $10 fullbody, $15 per additional character, $25-50 backgrounds

I will draw anything (fan art, furry, lgbt, ocs, etc) except NSFW/porn or stuff that I don't fancy. If you don't know, just ask. My full terms is here. I don't work for free, no lowballing blah blah blah…
Payment is required upfront unless discussed beforehand. You will receive an invoice once payment has been agreed upon.
To commission me, send an email to nocturnenebula@gmail.com titled "Commission" with references on hand; text-based references are subject to higher fees.