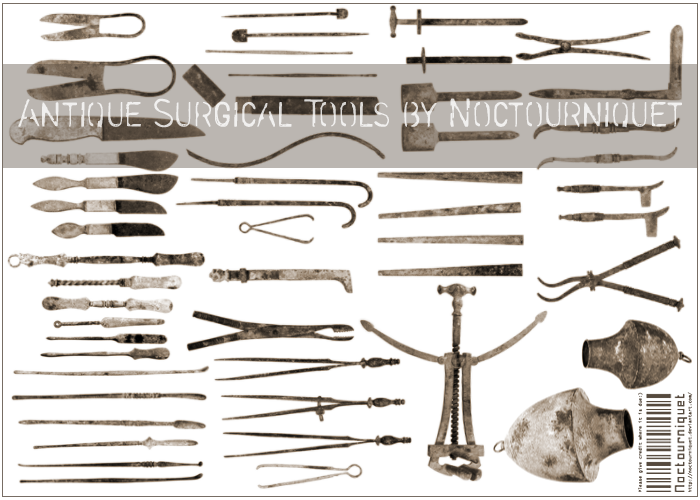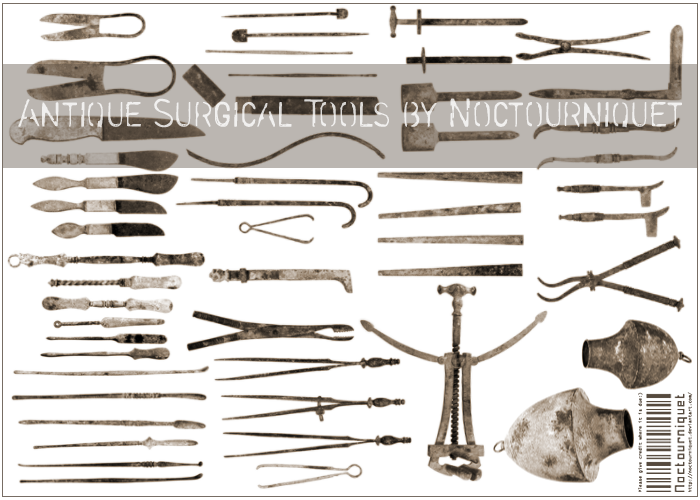 Watch
These are ancient surgical instruments found during excavation at Pompeii. My first stab [pun intended!] at a brush set. This set contains 17 surgical instrument brushes titled in Greek with (explanations in parenthesis). They were made in Photoshop Elements so use where applicable. *If by chance you rename them and forget where you got them.. well, there is an 18th brush with my signature stamp. Thanks and I hope you like them! **Please feel free to explore my gallery for my other brush sets.

BRUSHES - SIMPLE TERMS OF USE
1. My brushes are FREE for use on ALL DeviantArt Deviations & Prints. I expect NO royalties on works sold. Just enjoy the brushes!
2. I DO expect CREDIT to be given where it is due. On the artwork please REFER back to my DA account. IT's that simple, that proper.
3. My brushes are NOT to be duplicated or restributed UNLESS you receive WRITTEN PERMISSION from me. I am a resonable person.
4. NON-DA's wanting to use my brushes MUST write me for PERMISSION as well. Sure, you can be ignorant, but why?
5. ALL Artists: I would like a NOTE stating where you used my brushes. I enjoy seeing what's been created and how I've contributed. It makes me feel all warm and gushy. So please let me know if you used my brushes!