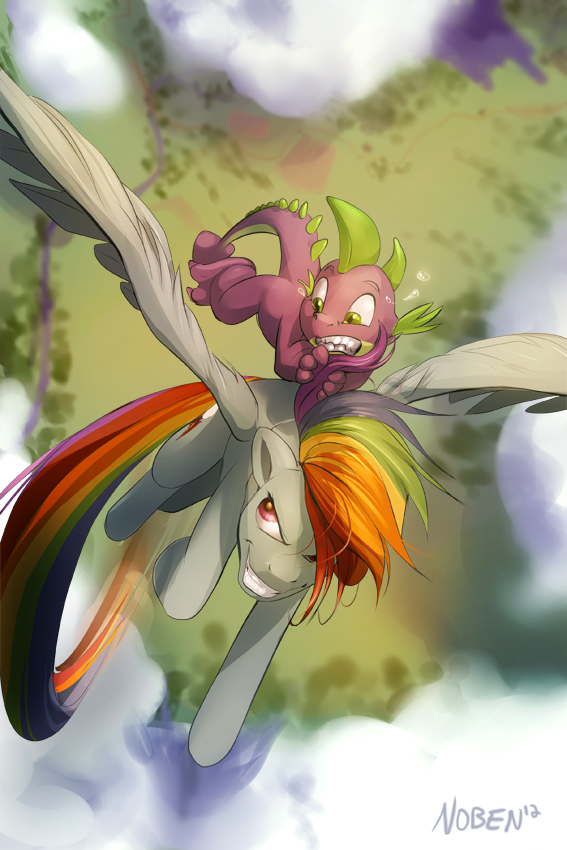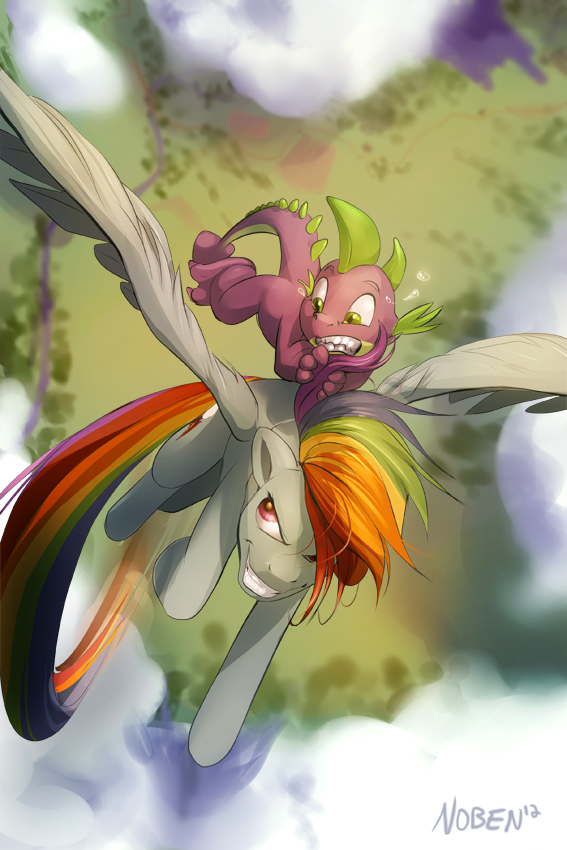 Watch
Aw Spike! You done bit off more than you can chew there buddeh! I have no idea what's going on here. Come up with your own idea of why Rainbow Dash is giving poor little Spike a ride for his life in the clouds.
Well.. okay one thing I will say, no I don't think it was a Discord thing. I do admit to having her colours be a bit washed out, but that was unintentional.
This is the product of what I called a "Chimera Livestream". Everyone in the livestream picked and agreed on various elements in the pic, including who is in it and it just took off from there.
Start-to-finish video for this pic:
youtu.be/4yXl4hZskks
All 3 hours or so condensed into 4 minutes.
Wow! What art work! You've perfectly captured the character's personalities in this. I just love Rainbow Dash's cocky expression, and spike does not seem to be enjoying the ride of his life.

The artwork seems to be a blend between reality and fantasy. The characters seem to pop out of the picture from an angle which only gets me hyped because i'm thinking Rainbow Dash will crash into my room XD

However, for some reason i dislike Spike's desigh here, don't judge me because i don't know why i do not like him in this picture. Probably because of his anatomy or how he looks.

Anyways, the overall spectacle that is this deviant caught me off guard when i first looked at it. Stareing at one good picture basically means it's good enough to be a masterpiece.

God...what an an epic picture, you got an a ok from me!
The Artist thought this was FAIR
36 out of 46 deviants thought this was fair.
Awesome! As simple as it is, I love it, with draws like this it make me think it is easy to draw something worth. Love the coloring, the light and shades are pretty good ;D
the background is so easily drawn, the blur, the colors, the little river (I loved the little river) that makes the hole picture work! good job with those clouds, they are just amazing

I'll rate you, even i'm not as good as you, but I felt inspired with this so i'm going to rate it anyways. Hope you like it!
Goodbye & congrats!
P.S: I love Rainbow Dash and rainbows colors!
The Artist thought this was FAIR
26 out of 26 deviants thought this was fair.