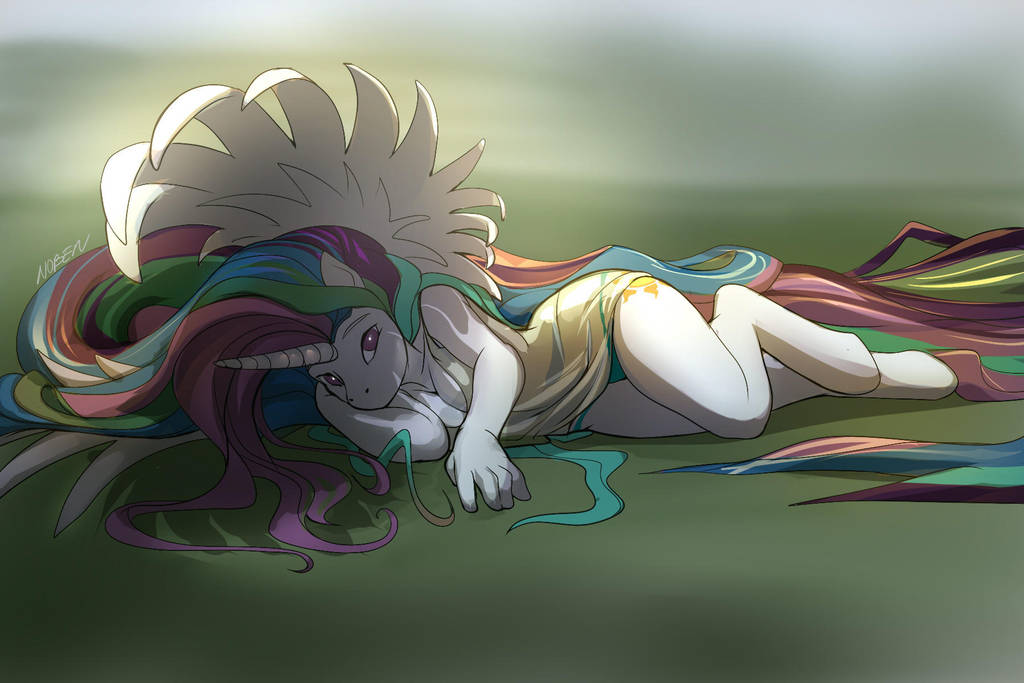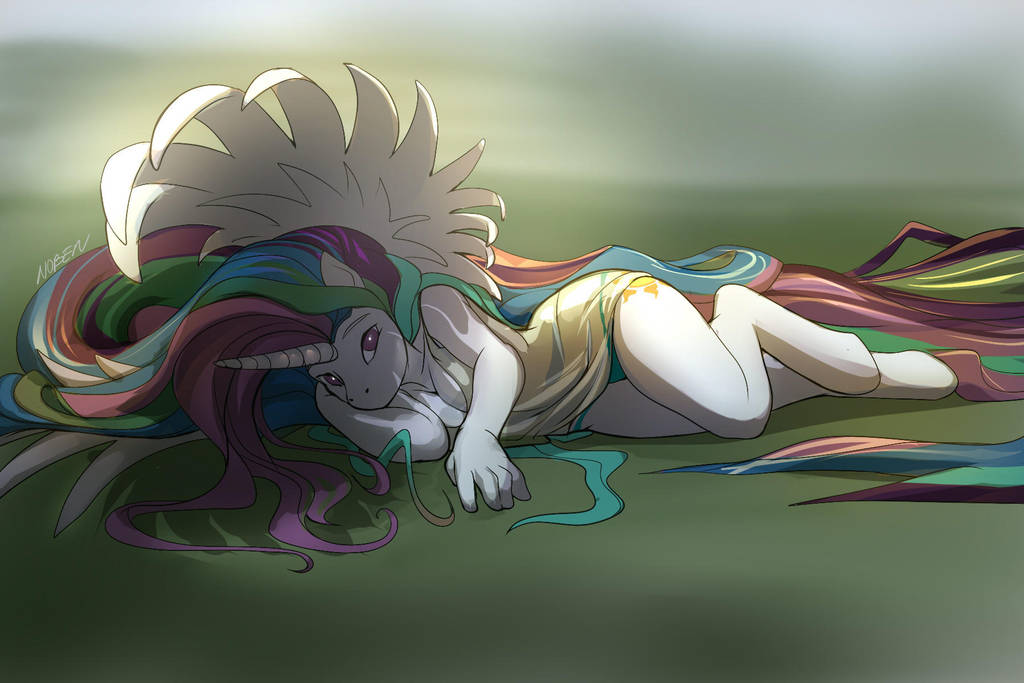 Watch
My contribution to the.. Broniverse.. ? The Come Hither Celestia skin.
A commission for
fphoenix
About an hour and some change.
Technique

Even if there were no signature, there is no questioning that this is anything other than art by Noben; flowing lines, excellent use of the beautiful, muted pastel colors, lighting, shadow and luminosity are unmistakable. Lighting porn? Yes, please!

Focal point 1: The feathers on her spread wing draw the eye in to her head and face.

Focal point 2: The broad, motherly hips with her cutie mark and panties showing through her nightshirt.

Pose/Body Language

It's a fairly common 'cheesecake' pose, but there is an innocence to it that shines through.

Her mouth is closed or hidden, so there is no obvious cue to her mood. Her eyes are focused right on the audience, and her eyebrows are raised, but it's not a surprised expression, more one of curiosity or bemusement. Cute, maybe even unguarded.

She is resting her head on her right arm, and the overall flow of her body is very relaxed, but the left arm…it's not quite what I'd call nervous but… uncertain?

Impression

In my imagination, the narrative I attach to this is that she was asked to do this particular pose but isn't sure why. She's comfortable, but she seems not to know how to go about looking enticing for the viewer and feels a little awkward. Given Celestia's normally self-confident personality, the overall effect here is heart-meltingly cute.

"Come hither," is something I tend to associate more closely with a sexual or erotic sort of appeal, and that's not what I'm getting here, especially when compared to the sultry appeal of Luna in your (no pun intended) sister work. However, I look at this and I want to brush her hair, and go over that snowy white fur with a currycomb - and maybe a hug (maybe lots of hugs), so it definitely possesses an appeal that draws me in.

Given your understanding of lighting and luminosity, it would be interesting to see you experiment with a 'lineless' style for some of your work. I feel it is very likely that the results would be breathtaking.
The Artist thought this was FAIR
23 out of 24 deviants thought this was fair.