Hiyahh !
I just got my first Daily Deviation and it's just so amazing !!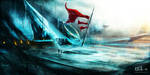 This morning... it was 8:30. Zombie Mode: ON
I open my pc... checked DA... What is that ? 300 more msg on my box ? what's that mean ? XDD
It was the same deviation who's getting the favs... so I went to that page and saw the DD block thing loll !!
OMG OMG OMG !! A DD !! hahaha
Thx for the support Everyone ^^ I really appreciate it