Hey everyone! For all of those who voted for me to do a 100 Theme challenge to showcase more art of my original characters; you're in luck! I have began the new side project for detoxing from other work and IRL stress. It's a scene style challenge, so I can practice my backgrounds and lighting.
Here is the first entry, a cross over piece of my main protagonists of each series of mine. XD Hope you like it as much as I do. ALSO! I'll be suggesting music that will compliment my art/scenes for each entry. Hope you enjoy them as well.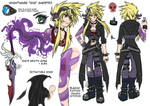 Suggested song: Rise by Katy Perry
www.youtube.com/watch?v=hdw1uK…
100 Scene Challenge progress:
sta.sh/01ezb7k37ux0
Feel free to make suggestions of what you want to see of my characters if you have an idea for an open slot of the challenge. Just follow my guidelines please. ;3
======================
Interested in checking out the series the characters appear in?
This is a cross-over piece, so all stories apply to this. There are a few that have yet to be released yet online as well. Feel free to ask if you have any questions. C:
Manga versions:
www.smackjeeves.com/profile.ph…
Also available in my gallery and on my Komikia.
Story Versions:
www.fictionpress.com/u/820264/…
======================
Satoshi Hirameki, Jamil Highlander, Maus/Leilani, Issac Lundell, Clawdia Whiskers, Nyghtmare Ghestro, All NitroManga series and Characters ©
NitroGoblin


Issac Lundell designed by
Ominous-Artist
Maus/Leilani designed by
QviCreations
Maus's outfit designed by @escarlattanoadopts
Image details
Image size
4961x7016px 22.68 MB