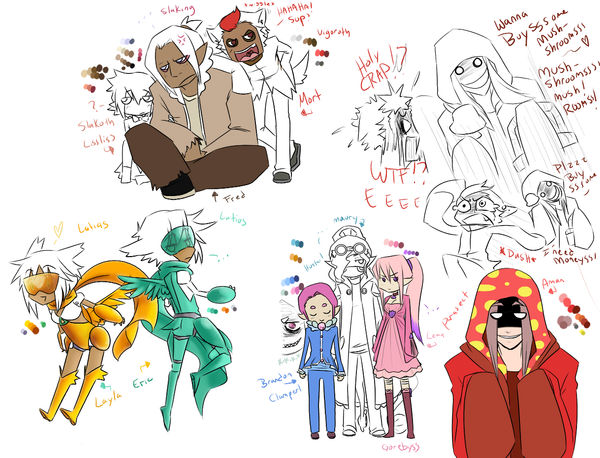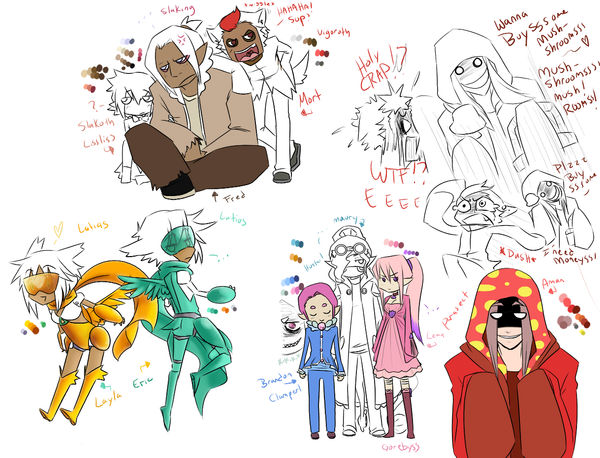 Fred-Slaking-
Fred is Lissliss' uncle and Morts daddeh. Hes big and mean and lazy... but he loves his little niece and spoils her. They spend more time together then Mort spends with his daddy. Mort sorta irritates Fred. DX

Mort-Vigoroth
Mort is Freds only son. Hes hyper and has a go gettim kinda attitude. He likes to battle and tries to pick fights with anyone... even his little cousin, he usually gets smacked by his daddy or uncle when that happens.

Lissliss-Slakoth
Pretty much just like her Uncle. She starts crying when her cousin Mort challenges her to fights.

Layla-Latias
She, being an immortal powerful legendary, likes to be a superhero. Shes nice to a fault though and if 'bad guys' say theyre sorry... she usually dont think twice about letting them go. Eric is there to catch them when she does so it ok.

Eric-Latios
He never wanted to be a hero. He wanted to mind his own business and keep to himself like most of the other legendaries but Layla insisted they use their uber powers for good. He usually has to pick up the mess she leaves and fix all the trouble she accidentally starts.

Brandon-Clamperl
Brandon is the HITLER of Pokemon(cB I even gave him a comb-over!). He hates any Pokemon that are not water-types. Dual types with their primary type being water get treated alright and ones with the secondary type water ... get treated ...alright. But others(especially Electric and Grass) get treated like DIRT. He wishes to rid the world of their filth and dominate and rule the water types... but hes JUST a Clamperl... so wtf is he gonna do? SICK HIS BIG BROTHER AND SISTER ON THEM! THATS WHAT! and buy other 'soldiers'.

Lema-Gorebyss
She agrees with her little brother. She also dislikes other types but is less condescending to dual water types(specially if theyre hot). She has a tough, strict outter personality... but she really just wants to get married to some hunk. (-facepalm-WOMEN) Shes bossy towards her older brother and since hes the sane one and tries to look out for them... he'll obey just so there wont be a fight.

Maury-Huntail
Quiet and looks after his siblings. Dont give a damn what type people are but goes along with them for the sake of argument. Hes the Brains/Bronze/Common Sense of the siblings.

Aman-Parasect
Hes friggan creepy but doesnt try to be. Hes terribly poor and tries to sell mushrooms that he grows... but due to him being terribly creepy, people rarely buy. The mushrooms he eats/sells are slowly possessing him and taking him over, he lapses into a kind of zombie sometimes... which adds to his creepy.

Mushrooms are gross anyways... wtf Aman. MUSHROOMS ARE FUNGUS. fgwdrgs gross.