Journal Entry:
Mon Aug 6, 2018, 1:46 PM
Listening to: Back To 84 - City Nights
Reading: Tutorials
Watching: Avengers: Infinity War
Playing: Splatoon 2 - Switch
Eating: Fruit Snacks
Drinking: Water
Hey, how is your summer going? I've been working. Mostly yelling at kids. You know, the usual.

I sold some stuff and instead of just buying more toys, I put the money towards getting some new equipment that'll help me out as an artist. My old Cintiq 12WX had served me well in its time, but I needed to move on to something better. A current model Cintiq was still out of reach, so instead, I did some digging and got a used 21UX at good price. It's not the latest and greatest but it's way better than what I was using before and it'll suit me just fine. Plus, I've got it mounted to an Ergotron arm that will help a lot in making sure I am more comfortable and healthy while drawing. Take a look!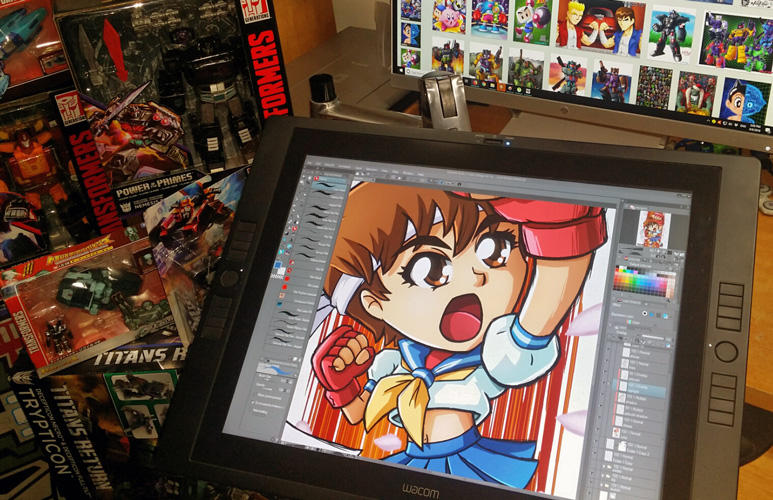 Besides that, I've got also laptop. You can read more about my stuff on
my weblog at SykoGrafix.com
Yeah, there are some new toys there too. See anything you like?
I often see people wondering about what tablet to get and how they can ever even afford one. You don't have to keep thinking that it's all unattainable. The answer is always to get the best that you can afford. Just keep your eyes open and you'll find a deal, and buying a used one on eBay is not the worst option as long as you do your research. Let me know if you have questions, because I have a fair bit of experience with this stuff and I can probably help.

You can watch me stream! Check out my channels and follow.

Sayonara.


Watch

I've owned three of those Fujistu Lifebooks over the years (I'm on the 904 now) and I absolutely love 'em! My current one is an Ultrabook, so it feels a little weird and doesn't have quite as much hardware as the 704 and 734 that I used to have, but it's a lot easier to carry with me. I may go back to one of the bulkier models in a few years.
Reply

Thanks for the reply. Good to know that the Lifebook has some legs to it.
If there was one thing I didn't like about mine is that it doesn't have any kind of dedicated GPU and can't be upgraded. I'm not planning on doing a lot of gaming on it but it does seem to limit my options a bit on other things like streaming and video. So I'll be on the lookout for what step I should take in the future.
Sayonara.

Reply

Ah yes, it's always about the best deals, I got my Cintiq 12WX for only $500 on Amazon

Reply

Was it brand new in the box? If so, that's not too bad.
Right now I'd say a used one is at the $300-$400 mark.
Mine is pretty well used but since I always used a screen protector, the screen is basically as good as new. I'll be looking to sell mine, hopefully to a good and loving home!
Sayonara.

Reply

Cool! Looks like we're both upgrading our equipment.

...Will you send me your old Cintiq?

Reply