Hey, how is your summer going? I've been working. Mostly yelling at kids. You know, the usual.

I sold some stuff and instead of just buying more toys, I put the money towards getting some new equipment that'll help me out as an artist. My old Cintiq 12WX had served me well in its time, but I needed to move on to something better. A current model Cintiq was still out of reach, so instead, I did some digging and got a used 21UX at good price. It's not the latest and greatest but it's way better than what I was using before and it'll suit me just fine. Plus, I've got it mounted to an Ergotron arm that will help a lot in making sure I am more comfortable and healthy while drawing. Take a look!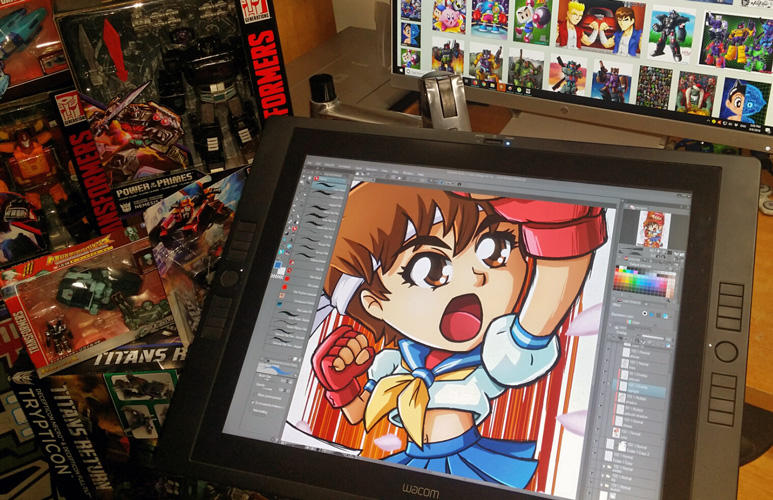 Besides that, I've got also laptop. You can read more about my stuff on
my weblog at SykoGrafix.com
Yeah, there are some new toys there too. See anything you like?
I often see people wondering about what tablet to get and how they can ever even afford one. You don't have to keep thinking that it's all unattainable. The answer is always to get the best that you can afford. Just keep your eyes open and you'll find a deal, and buying a used one on eBay is not the worst option as long as you do your research. Let me know if you have questions, because I have a fair bit of experience with this stuff and I can probably help.

You can watch me stream! Check out my channels and follow.

Sayonara.