Journal Entry:
Sat Apr 14, 2018, 1:53 PM
Listening to: Lost Years - The Kick
Reading: Internet stuff
Watching: Ready Player One
Playing: Transformers Devastation - PC
Eating: Fruit Snacks
Drinking: Gatorade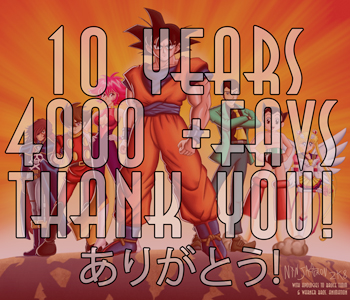 Today,
April 14th, 2018
, marks the
10th anniversary
of when I first uploaded my
Justice League of Anime
artwork. It really feels like that was a lifetime ago, but I still remember what it was like spending all that time thinking about it and working on it. This is certainly my most popular artwork with over
4000 +favs
, and has got to be the most widely seen and discussed thing that I have ever made.
I just wanted to take a moment to thank everyone for their support ever since I first uploaded that artwork. It has been exciting to see people's enthusiasm for the work itself and for the concept of a team of classic anime characters coming together. I truly appreciate every +fav and every thoughtful comment, and I'm thankful to anyone who first saw that piece and decided to follow me from then on.
To commemorate the occasion, I wanted to look back at the past 10 years and see what new things have happened with each of the characters and write about it on my website blog. It turns out, there has
been a lot
! From
brand new anime series
to classic manga finally being made available in English, each of the 7 characters I chose for the Justice League has had
many new developments
. I still get occasional comments from people who don't get it and think that some of the characters are too obscure, but I would have to say that not only are they not obscure, they have only become
even more popular
in the 10 years since I drew them together. If that doesn't prove that I chose correctly, I don't know what does!
So
check out the blog on my website
to see more! I would love to read your feedback.
Will there be more Anime Justice League in the future? Will there be new members to the team? Maybe someday, but if it can reach
5000 +favs
by the end of the year, I'll give some more thought to making new artwork based on the concept. Until then, please keep
sharing
and
commenting
on my artwork.
And one more thing: The
Justice League TV series
is still great. Funny how so often the cartoon is so
much better than the movie
, huh?
Sayonara.

Watch

Well done. Happy Anniversary. I always did like that picture.

But what keeps me subscribed is knowing you're a cool person who replies to the followers. Very friendly.
Stay awesome.

Reply

Thank you. I appreciate that! I do my best to keep up with everything.
And I do my best to be a cool person. Or maybe I don't try that hard to be cool and it just happens naturally.

Sayonara.
Reply