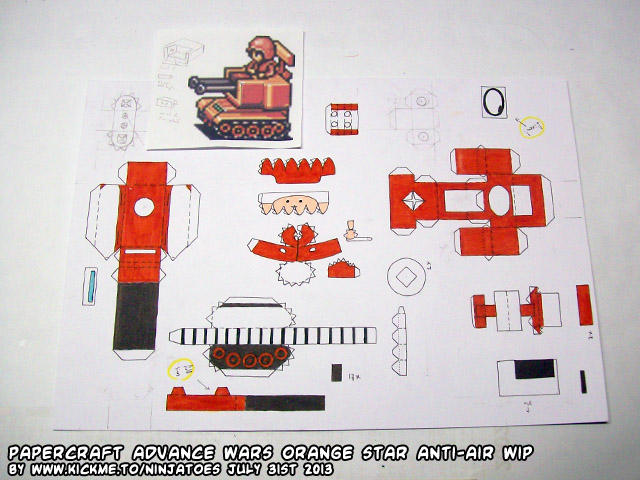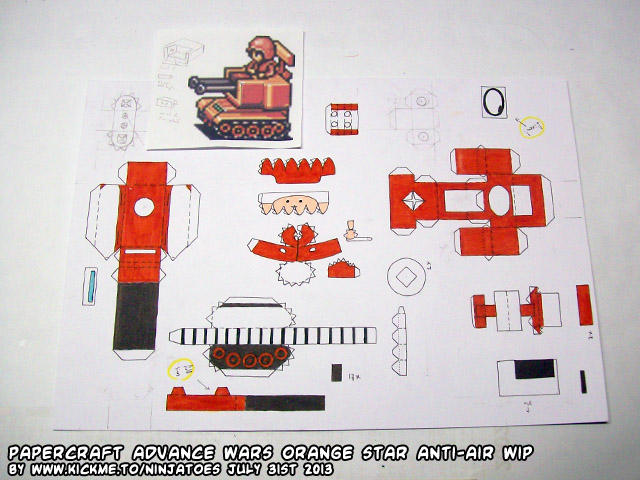 Watch
Many of my hand-drawn papercraft models are coloured using aquarel/water colours, but my Advance Wars units always get coloured with simple magic markers:
ninjatoes.blogspot.com/2013/07…
;o)

So you design your papercrafts by hand, in a totally artisanal way??
Sugoi, that's speechless!! O.O
Reply

Not all of them; I do for my Advance Wars series, and other ones like the Batmobile, most of my Star Trek ships, the Star Wars TIE-Fighter, One Piece "Going Merry" boat and several others.

But for most of my other paper models from video games, I use a 3D model on the computer and the great tool Pepakura Designer, which can unfold a digital 3D model into 2D papercraft parts: www.tamasoft.co.jp/pepakura-en…

But sometimes it's just too boring to sit behind a computer all day long staring at a digital 3D model, so sometimes I still like to make paper models by hand directly on actual paper. ;o)

Reply

I also tried to make a papercraft by hand once, the 90s Neoplan Megaliner.
This hand drawn papercraft can actually be considered the precursor for my fully tridimensional wheel design on digital patterns, as it actually was built with 3D wheels all around, although at that time, I didn't even imagined I would develop fully tridimensional wheels for my digital designs.
Reply

It's a lot of fun making stuff by hand out of paper, and often much faster to try out certain things and ideas than having to make a template on the computer first... ;o)
Reply

I still prefer to rely strongly on the "digital" process - it is cleaner, easier (for me) and, above all, it is mandatory, as half of them are orders from private collectors, and bus manufacturers and travel companies.

As a vehicle papercraft, that Neoplan was the only land vehicle papercraft I did - the others are all warships, including that three meter long cruiser.
Reply

are you making any new papercrafts? if you are can you tell me what they are I LOVE YOUR WORK. ;0)
Reply

This Advance Wars Anti-Air unit is the paper model I'm working on right now, and which one I'll do after that, I don't know yet. ;o)
I plan on making all the Advance Wars unit in paper someday, but I like to switch between paper models, so the next one probably won't be an Advance Wars model again already.
On my papercraft weblog, I always try to post updates on my "works in progress": ninjatoes.blogspot.com/search/… so there you can always see what I'm working on (and you can also find lots of paper models from other people! ;o)
Reply

cool!why don't you scan your hand made desings, and edit hem usig corel draw, or adobe illustrator and photoshop? it'll be a great improvement!!
Reply

The reason for that is very simple: I find it much more fun to use markers / water colours on my these models, and I love the hand drawn and hand coloured way they look in the end! ;o)
Reply

OMG YES! I love Advance Wars series!
Reply

Me too! ;o) My plan is to make all the units from Advance Wars 1, Black Hole Rising and Dual Strike in paper form: the Orange Star Anti-Air unit is the one I'm working on right now, the ones that are already done are on my papercraft webpage:
ninjatoes.wordpress.com/catego…
Reply