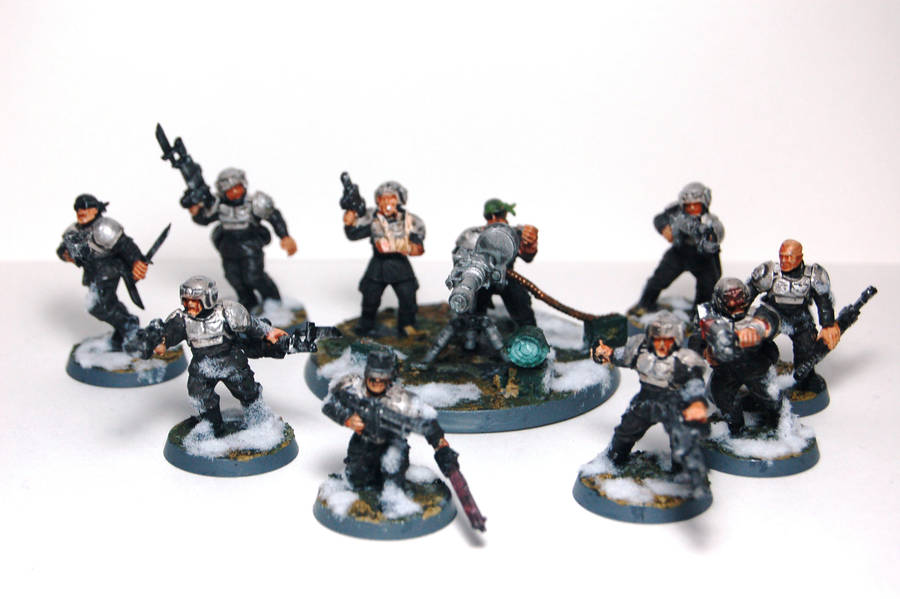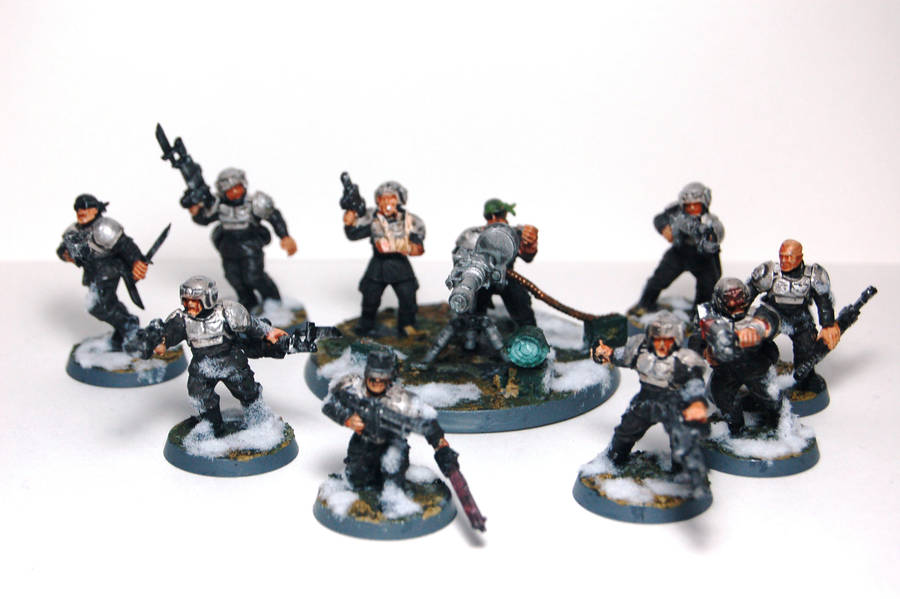 Watch
The People's Protectorate is an elite company with it's units spread throughout the rest of the regiment - generally one squad for each separate command unit - and is formed from the hardest veterans of the regiment's campaigns. Each squad in the People's Protectorate has a specialty in combat, and - while those specialties may vary - the bulk of them are those that can apply the skills gained through hard fighting in imperial cities and apply them to frontline duty, often forming a heavily armed and fiercely motivated first line of defense against enemy assault. They emply stealth alloys in their armor that are borrowed from the Tau, or occasionally plates laced with admantium for extra protection, while some just like to blow things up. The Protectorate Squad attached to the first company specializes in the picket duty mentioned above.

the devil is, as they say, in the detail. Putting a touch of gold onto the badges will refine your models. If youve perposfully tried to obscure the symbols, (i get the feeling from the text that maybe they owe their eliegence to the tau) try adding other details (if it is tau, try some Sept markings). Its a process known as spot colouring.
Reply

Usually I add red to the aquillas on the helmets and chest, but in the case of this squad I tried to paint them in a stealth armor scheme.
Veterans have the option to take camo cloaks, and since that isn't an available bit I went with an urban chamo scheme to represent this (as my group is planning on playing mostly cities of death) and I figured the request aquillas would negate this.

Some details I purposefully neglect - such as faces, because I can't paint eyes on - and some I plan on adding as I get time...
This is my first 40k army and I'm trying to have a full 2000 points done before the next league starts on Black Friday so I can play, and our full armies need painted and based to play.

So I some details like the switches on a vox or the stripes on a sergeants' arm until my army is done. Then I'll slowly modify this or that as I believe a model is never really done and always has room for improvement.
Reply

personally i always belive a model is done. (asside from basing it). I rearly retern to a model when ive finished painting it.

Reply