Journal Entry:
Tue Mar 10, 2015, 4:55 AM
Hello again!! (^▽^)/
On my last journal I talked about me moving to another country.
I'm happy to announce I will be living in Tokyo starting from March 26, 2015!! ✧*。٩(ˊᗜˋ*)و✧*
My boyfriend and I applied for a student visa, so we will be studying Japanese for a whole year while living in our own apartment in Tokyo. Our student visa can be extended to two years, plus our plans include trying to search for a job and settle there, so we really don't know how long we will stay (or if we will ever return).
As you can figure, I'm excited as hell!! Here go all my life savings (lol)! My goal is to learn the language while continue working as a freelance illustrator, and (on a second term) try to find a job there as illustrator. I know I'm perhaps dreaming too much. I know it won't be easy (sometimes I just feel like a huge weeaboo, you know...). But I want to try it! I thought about it a lot, and I already made my decision. I will give everything I have! And at the end, if I happen to 'fail', I will just return home with a BIG experience on my back. SO NO REGRETS! (ง •̀_•́)ง
This is also my bf's life dream (he's a huge lover of Japan and he has always dreamed about living there), so I have the great fortune of having the ideal companion for my journey. I would have felt really lost if I had to go alone... so I'm really grateful for his continued support! He's the best!! 。:゚(。ノω\。)゚・。
On a side note, I'll be attending
Comiket Special 6
. My table number is
L42a
on the
first day
(this is the Love Live! section). I will bring some acrylic straps, buttons/badges, postcards and prints. Just a small selection! (I can't bring too much stuff on my luggages!)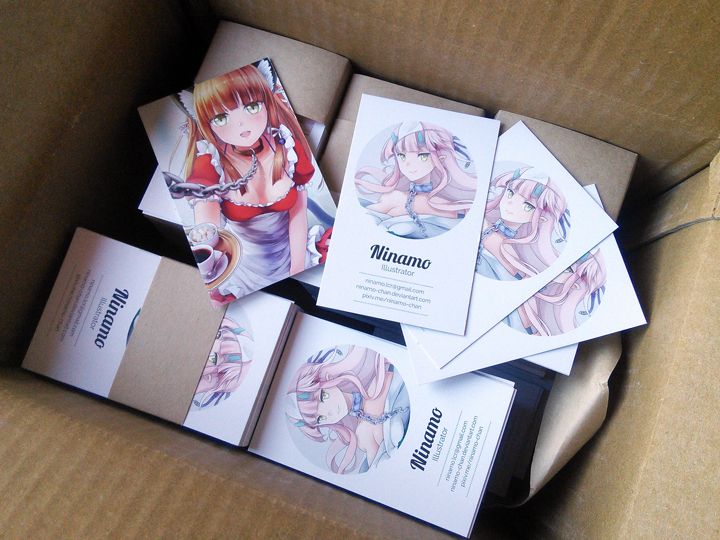 I just printed personal cards... do they look good?
Wish me luck~~! Fight! ٩( 'ω' )و
Ninamo.
Listening to: C.H.S
Watching: Shirobako
Playing: Love Live! School Idol Festival

Watch