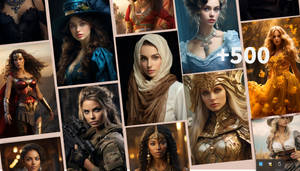 AI Female Photos Collection
This collection are over 1000 illustration to help you get inspired in filed of game/animation/illustration project. This artwork image was created using artificial intelligence and the Stable Diffusion production tool. I am delighted to share this beautiful female with you that I was able to create through this process. AI Art Cosplay and Beauties All images are made of AI . We will update regularly,welcome to subscribers!
---

Description

. . . » ♥ `A ń y a ♥ « . . .










" `A ń y a ' s - - - S t o r y "

xx..
After Ańya broke out of an American corral, her search had begun for her be-loved herd.
She has been chased away and beaten by many herds... After many months, she had found traces of her herd, she followed and tracks became clearer, and clearer.
She picked up a scent of her mother, she was still alive! So she gallopped through the midnight sky, trampling everything in her path, and jumping over ditches, logs and fallen trees.
The next morning, she found a fresh patch of luch, green grass so she decided to have a quick breakfast and set off for her adventure once again.
Then, tradgety striked..... The ranglers had been following her. She bolted, as FAST as she could, trying to outrun the Cernal's great army. She could not run any more, cornered and frightened, lost all hope in herself... She was caught, once again to be torchered.
..xx

TO BE CONTINUED....








; ; c r e d i t s
Lineart: *kokamo77
Colouring/manip: ~nimsykins (me)
Cloud Brush: =Aiquandol
Grass Brush: ~Archeleron
Butterfly: =Shoofly-Stock
Image size
807x708px 530.9 KB