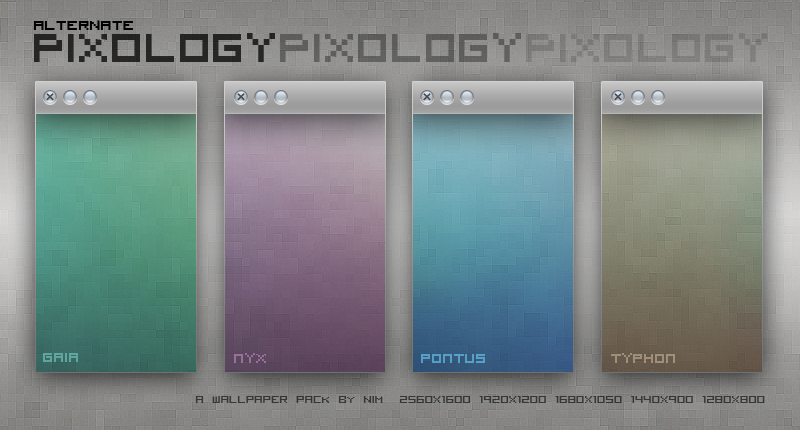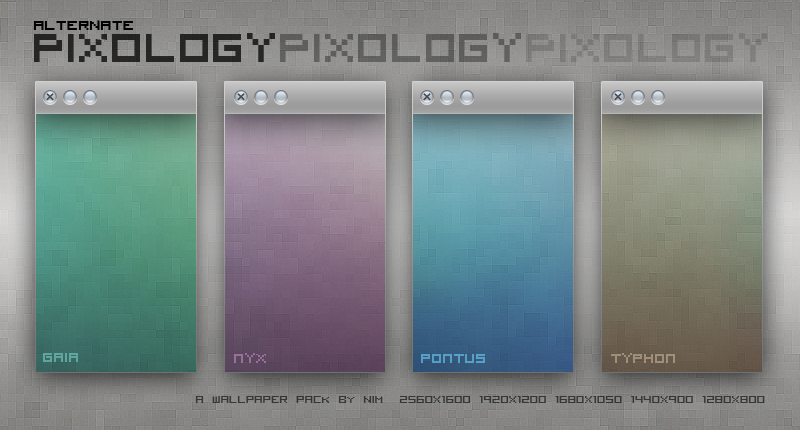 Watch
Alternate Pixology Wallpaper Pack
Four flavors, including Gaia, Nyx, Pontus and Typhon. Five resolutions, from 2560 on down to 1280. Any other resolutions, feel free to make your own.
These are similar to the regular Pixology Pack, except the colors are slightly different/more vibrant. Enjoy!
Ask permission for any modifications!
Sorry for the large file size! Just download, grab the folder with your desired resolution and delete the rest!
Regular Pixology Wallpack
[link]

Very Sleek Thanks Very Much
Reply

Love it!!! I have them rotating as my wallies right now

Thanks for these!


Reply

Reply

Hi,

I have finally have the time to try your wallpapers. The colors in the screenshots are very nice but when viewing in full size at 1920x1080. I find that they are too bright, as a result, the colors look "washed out". I think that a darker version would be better. Personally, I find a too bright background is tiring for the eyes. But may be this is just me. Among the 8 WPs, I find that Gaia and Amaranth are OK (but still slightly pale).

Reduce the gradient so the colors remain more saturated? Pretty much make the gradient like the small samples you show in the screenshot. And make the colors darker (by how much I don't know but I am sure you will know).

BTW, You could reduce the size of the zip file by half by removing the _MACOSX folder? Is it really needed?

Hope you will have time to make new version. Thanks in advance.
Reply

Not sure what MACOSX folder you are talking about. The only things I included in the zip are the four colors in five sizes, as well as a readme and the preview. (I think) the only reason you see a MACOSX folder is because I created this on a Mac and you are downloading it on a PC.

As far as your request, you are basically asking me to create a new series of wallpapers, in four colors and five sizes. To be honest, I don't have the desire/time to do that to pander to that/any request, so I'm going to have to ask you to mod it to your own tastes. On one of the comments for my PiXL wallpaper pack, I included a link to the pixel layer, which is also used with these walls.

My advice to you is to download that and create your own gradients to use with it. I hope you understand that I can't cater to every request, as it's work I do for free and in my spare time.
Reply

Understood. I will try to ask a friend to show me how to modify the images.

As for the MACOSX folder, it may be hidden when you create it and you don't see it in your computer. But it really weights 24 MB. Sum the size of all images in the pack, you will see that the sum is less than 45MB (size of the zip). Unzip the files on another computer and you will see.
Reply

I have no MACOSX folder you speak of when I download it, and when I add up the sizes of all of the images in the pack, I get it at 48.1 MB.
Reply

can you possibly create a tutorial to show how to create those walls? especially how to highlight every pixels to make them pop? pleaseeeeee
Reply

I would, but the thing is it's really just trial and error. I use gradients and various layers with different blending options set to different opacities, then use filters on a different layer that I painted in order to achieve the pixel effect. I sharpen that and set it on overlay at a very low opacity over the other layers. I don't know if that helps!

Reply

You are the master of colors. All colors in both packs look very nice.
Reply