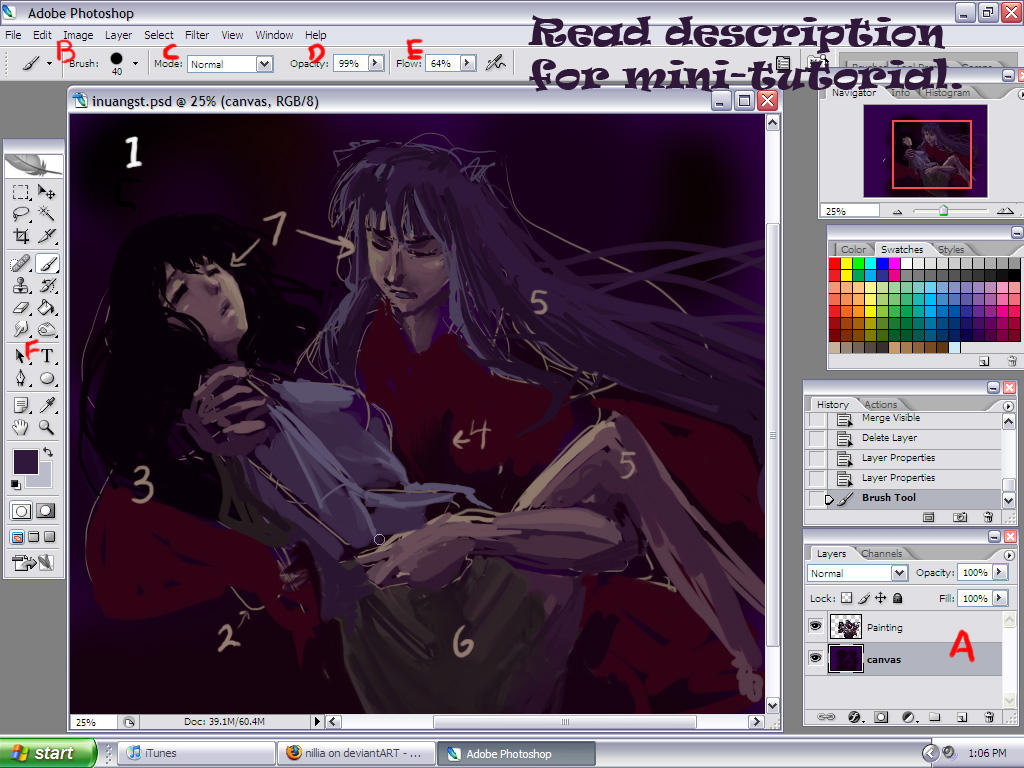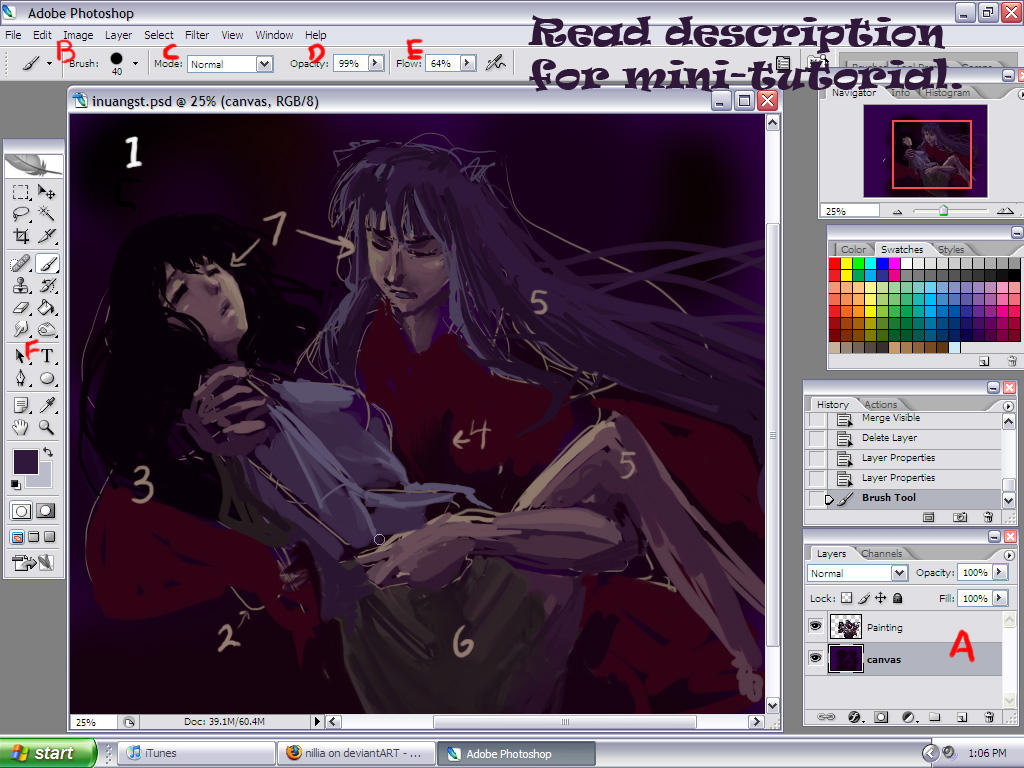 Watch
I've seen lots of tutorials that are HUUGE with lots of pictures. They're wonderful--once they finally load.
So I was looking at this work-in-progress of mine and realized that you could see ever stage of my process. So here we go.

Settings:
A--
I work on only two layers set on Normal. The first is a background, and the second is the figures.
B--
Because I'm working at a very large size (10 inches at 300dpi) I have to use larger brushes. I usually stick to the basic round brush.
C --
I generally keep the brush set on "normal." It's much simpler, and the colors come out more like you want them to. There are exceptions in which I might use "screen" or "multiply"...but I haven't done that yet in this image.
D--
Opacity is your friend. I change it often. I usually start out at a full opacity and then lower it to get more colors. Then I go back to full or near full opacity. Just play around with it.
E--
I usually keep "flow" set somewhere between 50 and 80. It feels more like pigment this way. When you want a REALLY sharp edge, put it to 100. If you want something that looks kinda watery, make it a low number.
F--
See that pointing figure? That's the smudge tool. Don't use it too much because you want some abrupt shifts. Only use it on parts where gradual shifts seem necessary. I usually use it with the round brush, at about 75% pressure.
Process
1.
My first layer is just a backdrop of some dark color. This color will be seen through the finished painting somewhat, adding its own flavor to the rest of the painting. Make it a little blotchy, with slight differences in color.
2
On a new layer, use a lighter color to sketch out your composition. I like to use a color similar to the skintone I want to use. Because of the dark purple aura, I picked out a dull khaki color instead of a vibrant peach. You can still see some of these sketchy lines in places I haven't painted over or erased yet.
3
I pick out my base colors and lay them down with the round brush at full opacity. I keep my background color in mind In some places, I don't even fill in the base color, letting the background color BE the shadow.
4
This is a place in which I'm letting the backround be the shadow...but it was a little too abrupt. This is one of those times you use your smudge tool. As a result, you have a painterly gradient, and a bunch of new in-between values to paint with.
5
You have some in-between values now! But you don't want them all the exact same hue, so go into your color picker by doubleclicking your current color. Slide it slightly into a different hue. You don't want it to look like you're shading just by adding white or black to the same color. Bleh. Once you have two or three shades and hues, start scribbling them down. Keep working from there.
6
What an awful skirt! This is what you want to avoid as you build up more and more. I smudged too much, lost my lightest lights, and there's only one hue. I'm going to have to try again. The only part of the skirt that looks sorta decent is that bit of wrinkle by Inuyasha's hand. That is because it has a little value contrast.
7
Build on your first few colors until you come to a satisfactory level. The faces on these two are pretty much done. They're painterly, but resolved.
-You use your "shadow" colors like outlines.
-Try to end up with a nice mix of smooth shading and abrupt edges. There are more abrupt edges on Inuyasha because I wanted to accentuate his pained features. Kagome is smoother, because I wanted a serene feel.
-The last thing to remember is that the color should contantly be changing, of only a tiny bit. At first glance, Kagome's cheek looks like one color. Why does it look so "rich?" Because the colors are changing every so slightly all over her cheek. I will probably go back and add a little more color variation, but for the most part, I'm pleased with those faces.
I hope this helped, if only a little.
The most important thing is to practice and feel things out for yourself.