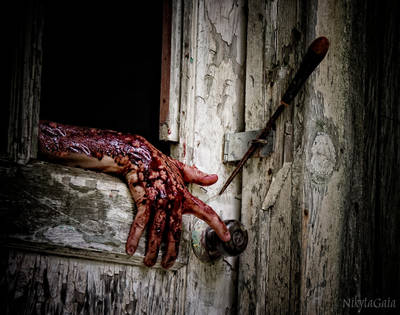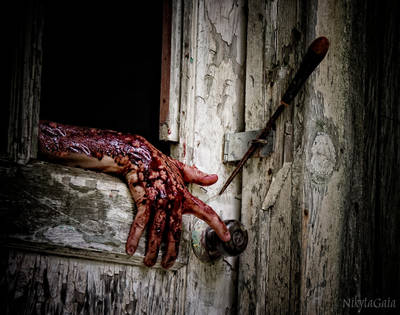 Watch
...up over and beyond....

I wonder, is this the victim trying to get out, or the monster coming to get you. Fabulous work - and because it is not very explicitly gory or shocking, it's creeping me out like hell!
Reply

Thank you!!

That's what I am trying to go for...creepy-gory but not over-the-top gory...but it's hard because I do enjoy pouring on the blood...it's a delicate dance...


Reply

I love that a single finger is brushing the handle....like, "almost....
Reply

gory, gritty, and dirty.

makes you wonder:

Is it the killer coming to get me? Will this door hold long enough to make my escape?

or

Yet another victim... I pray i am not next!


in a way... that is beautiful!
Reply

This is creepy

Reply

Warkkk....But very good work,nice picture Niky...

Reply

Beautiful, mysterious and powerful at the same time
Reply

wow
this looks Great.......
the blood on the hands of your models always looks fantastic
it makes me think of a horror movie
when there is only one person left and there just reaching for the handle of the door but then they always seem to die lol
LOVE IT
Reply

Thank you!!


I love horror movies...and I'm always striving to get the blood right...I have a cop friend who helps me with blood color authenticity...it's still a work in progress....

Reply

haha cool
in the 2nd week of the hoildays
im gonig to try and do a few horror shots
but i think i am fail really badly but oh well
Reply
Oh very creepy...

Now I have Journey and Kate Bush battling it out in my head...
Reply