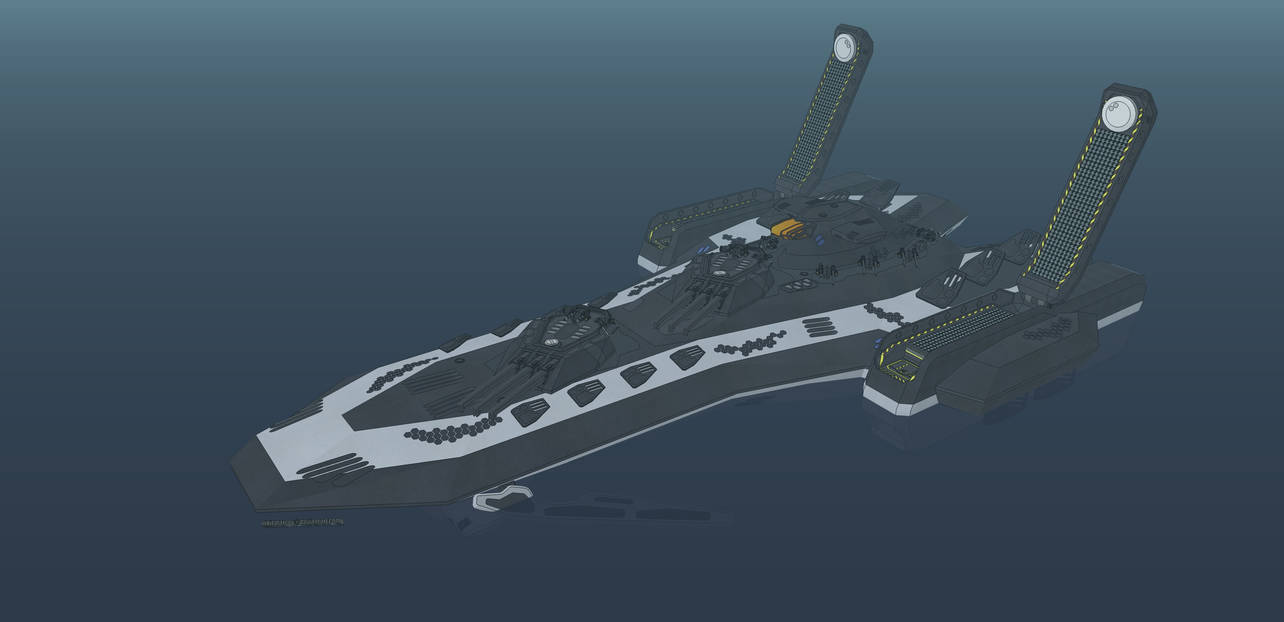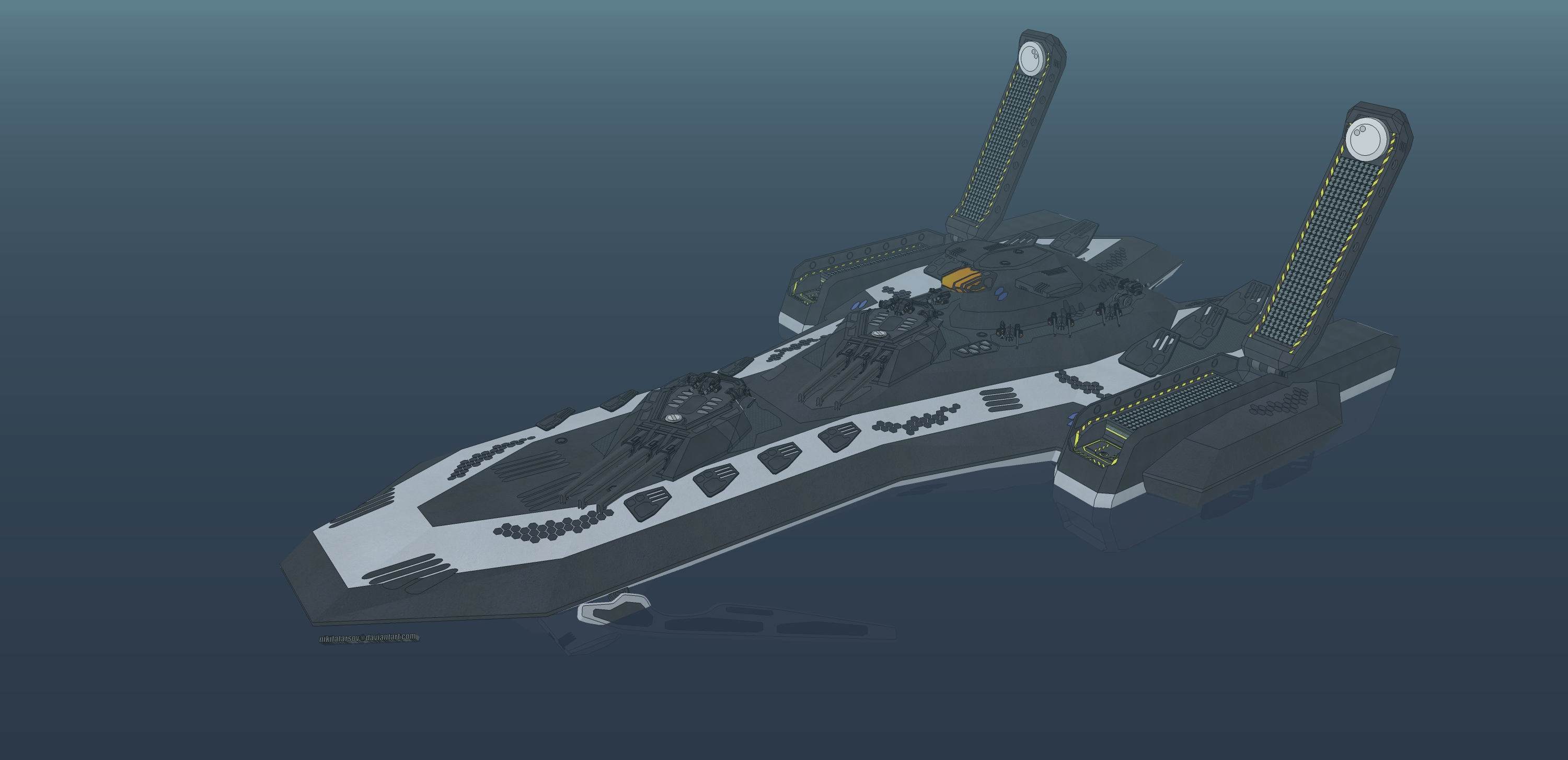 Watch
Part of

This small battleship is the military fist of the fallen and forgotten maritim nation of Sybaltin. As most of Sybaltins technology, the Orca is far from normal battleship constructions. In a world of struggle for technology, this is a nightmare of much more deadly times of global war.
As far it is known, Sybaltin never own dryland as ther teritory. So the battleship is build half-submarine. The attack run occur around 20 meters under the water surface, what only show a giant shadow incoming.
The hull is made of polymetallic smartmaterial with a minimum of reflection on most sensor technics, and the ability to remeber its form and structure, even after heavy damage. Netherless, the hull makes much more of the inner space than on normal ships of an roughly comparable class.
Engines work on stimulated magnetification of the ions at the water, what intake a huge mass of water on the two pods, and burst them out like railguns ther ammo. The front wings have this magnetic fields to direct the ship, and for sink or arise many intakes pump water up- or downside the ship. So diving and arising is always a show of giant water fontains. The upper plates help to direct the ship, while water resistant is no matter for the engines.
Sensors use pulsed microwaves in water to detect thermoclines, obstacles and objects. All this is shown in a holographic tank, with a much better full spectrum watch all other sensor technologys can bring. In addition, and in result of the tricky enviroment and often heavy radiation, this ship has eight extendable wires of around 400 meters behind the ship. Between this free floating wires is a electro magnetic field established, what allow to detect daviations, and so external reasons.
For defense and attacks, the ship uses a permanent field of ionisation, a few nonometers thick, to protect against radiation particles, corrosives or the touch of living beings. The field blures the ships own emission through a high grade A.I. what permanently trick enemy sensor signals or use ther signals to intrude ther communication and ship systems. Emitters are the hex-fields along the hull.
Main weapons are 2x3 twin barrel light gas cannons. They combine most best features of railguns on low till medium range with the ability to even fire on short range under warter, through a supercavitation effect of the acceleration gas. In opposite to railgun projectiles, the light gas cannons ammo can have much more tactical warheads, cause not such an enoumous density is needet.
10 smaller turrets are individually guidet by the ships A.I. and coordinate a perfect field of attack and defense parameters. Each turret held two weapons of the following categorys: Smaler light twin-gas cannons, under water/air-missile batterys or smart-gatlings with inteligent ammo.
The big turrets have hold two of this missle batterys and eight horizontal missle luncher for maybe ant-ship-size or drone weapons. 10 more launchers like this are placed into the ships body.
8 torpedo tubes aim in front diretion, another 4 into the back.
The secondary main weapons are huge openable missile bays what are completly to replace after firing. With open up ther two missle bays, the ship become a fleet of missle cruisers, with big sensor arrays and a fully A-I- guidet lunch pattern of cruise missile weapons. 2x560 launcher allow to depopulate whole citys or other wide areas. Surley weapons of an age of armageddon, and with no comprehensible use today.
No single of this swimming weapons should have survived the big wars and the fall of Sybaltin, but netherless, at last one has. And it must have made it´s way from somewhere.
Driving
sta.sh/01824ssnanrw
Without water
sta.sh/0je8wg74g39
Ready to engage II
sta.sh/0wxvrdz3itf
Missile bay close
sta.sh/01yqxdueowjy
Light weaponary
sta.sh/0byzbxsp08j
Main cannons
sta.sh/01n0kxa6tsx7
Corpus under the waterline
sta.sh/01hqsuzhsynw
Front
sta.sh/014zz901hlxc
Weapons:
??
??
??
??
??
??
??
??
??
Dimensions:
Lenght: ca. 300m
High(total): ??
High(open missile launcher): ??
Width: ??
Fix rules will follow

Hier eine kleine Vorstellung von drei der großen Nationen(Written by Andecaya. German only, sry):
andecaya.deviantart.com/art/Ch…
andecaya.deviantart.com/art/Ch…
andecaya.deviantart.com/art/Ch…
PS: This thing is for another reality. Not all of our tech is known there, and some others are existing we (actually) not know.
Diese kleinere Kriegsschiff ist die militärische Faust der gefallenen und vergessenen Nation Sybaltin. Wie der Großteil sybaltins Technologie ist die Orca-Klasse weit entfernt von klassischen Konstruktionen. In einer Welt der Jagd nach Technologien ist der Orca ein Alptraum aus vergangenen Zeiten weit tödlicherer globaler Kriege, als man sie heute auch nur erahnen kann.
Soweit bekannt hat Sybaltin nie Territorium an Land beansprucht. Somit erscheint es logisch das auch ihre Kriegsschiffe halb-tauchfähig konstruiert sind. Die Angriffsfahrt erfolgt rund zwanzig Meter unter der Wasseroberfläche, womit nur ein gewaltiger Schatten als Angreifer zu erkennen ist.
Die Hülle ist aus polymetallischem Smartmaterial gefertigt und besitzt ein Minimum an Reflektion gegenüber den meisten bekannten Sensortechnologien, und der Fähigkeit, sich seiner Form zu erinnern und diese selbst nach schwerer Beschädigung wieder herzustellen. Dennoch wird recht viel des Innenraumes von diesem regenerativen Panzer eingenommen, zumindest im Vergleich mit grob ähnlichen Schiffsklassen.
Die Triebwerke funktionieren auf einem induzierten Magnetprinzip, das die Ionen im Meerwasser in bahnen zwingt und si , ähnlich den Geschossen einer Magnetschienenwaffe, wieder ausstößt. Die vorderen Flügel besitzen ein ähnliches Abstoßungsfeld und kontrollieren so die Fahrtrichtung. Zum Tauchen und Auftaucehn befinden sich zahlreiche Ein- und Auslässe über das Boot verteilt, das ein gleichmäßiges Sinken und Steigen erlauben. Damit wird jeder dieser Vorgänge zu einer Schauspiel gigantischer Wasserfontänen.
Dei großen Lenkplatten auf Deck und an den Seiten dienen ebenfalls der Spurkontrolle, da Wasserwiderstand in Anbetracht der Triebwerksleistung vernachlässigbar ist.
Die Primärsensoren nutzen gepulste Mikrowellen um Thermoklinen, Hindernisse oder Objekte aufzuspüren. All diese Daten werden berechnet und in einem holographischen Tank wiedergegeben, der eine weit bessere Vollspektrumüberwachung erlaubt als jede andere bekannte Technologie. Zusätzlich, und in direkter Folge der schwierigen Umweltbedingungen mit oftmals stark verstrahlten Elementen im Wasser, kann das Schiff acht Kabel bis zu 400 Meter auslassen, zwischen welchen sich ein elektromagnetisches Feld etabliert, das wiederum auf feinste Störungen reagiert und so hinweise auf Abweichungen, und deren Ursachen, geben kann.
Für Verteidigungs- und Angriffszwecke nutzt das Schiff ein permanentes Ionisationsfeld von wenigen Nanometern Dicke auf seiner Außenhaut, um sich vor Strahlung und ätzenden Substanzen, aber auch vor lebenden Organismen zu schützen. Das Feld verzerrt die eigenen EM-Emissionen und eine weit entwickelte K.I. sucht permanent nach gegnerischen Sensor/Kommunikations-Emissionen um diese auszutricksen und deren Systeme zu infiltrieren. Emitter hierfür sind die hexagonalen Felder entlange der Hülle.
Primärwaffen sind 2x3 doppelläufige Leichtgaskanonen. Diese kombinieren die besten Eigenschaften von Magnetschienenkanonen auf mittlere bis kurze Reichweite, erweitern diese aber um die Fähigkeit durch den Superkavitationseffekt des Gases auch unter Wasser feuer zu können, wenn auch mit deutlich verkürzter Reichweite. Im Gegensatz zu den Projektilen der MSW-Waffen, die eine hohe Dichte und Stabilität vorraussetzen, können die Waffensysteme des Orca aus einem Spektrum an taktischen Gefechtsköpfen wählen.
10 kleinere Türme sind individuell von einem K.I.-Waffennetzwerk gelenkt und bilden ein perfektes Angriffs- und Verteidigungsgitter. Jeder Turm hält zwei der folgenden Waffensysteme: Kleine Zwillings-Leichtgaskanonen, Unterwasser/Luft-Raketenbatterien oder Smart-Gatlings mit intelligenter Munition.
Dei großen Türme haben noch jeweils zwei dieser Raketenbatterien und acht horizontale Starter für Anti-Schiffs-Kaliber Raketen oder Drohnen. Weitere 10 dieser Starter sind im Rumpf des Schiffes beherbergt.
8 Torpedorohre sind in Frontrichtung installiert, 4 weitere in rückwärtiger Position. Das sekundäre Hauptwaffensystem besteht in zwei großen, komplett zu ersetzenden, Raketenbatterien, die, einmal aufgeklappt, das Schiff mit der Schlagkraf teiner ganzen Flotte von Raketenkreuzern versehen. Die Batterien bringen ihre eigene Sensoranlage mit, dei eine volle Luftraumkontrolle und voll K.I.-kontrollierte Beschussmuster erlaubt. Das System umfasst 2x560 Raketenstarter, genug um eine Stadt zu entvölkern oder ein weites Gebiet umzugraben. Sicherlich Waffen einer zeit des Weltunterganges, mit keinem nachvollziehbaren taktischen Nutzen in der heutigen Welt.
Keine dieser schwimmenden Waffen sollte den großen globalen Krieg und den Fall sybaltins überstanden haben, aber dennoch, eines hat überdauert. und mit Sicherheit kam es irgendwo her.
Waffen:
??
??
??
??
??
??
??
??
??
Abmaßungen:
Länge: ca 300m
Höhe(total): ??
Höhe(offene Raketenbatterien): ??
Breite: ??
Feste Regeln werden folgen

Hier Geschichten über drei der größten Nationen
:thumb341510673:
:thumb324169834:
:thumb341508152:
PS: Das hier gehört in eine andere Realität, nicht alle uns bekannten Technologien sind dort bekannt, dafür einige andere die wir (noch) nicht kennen.