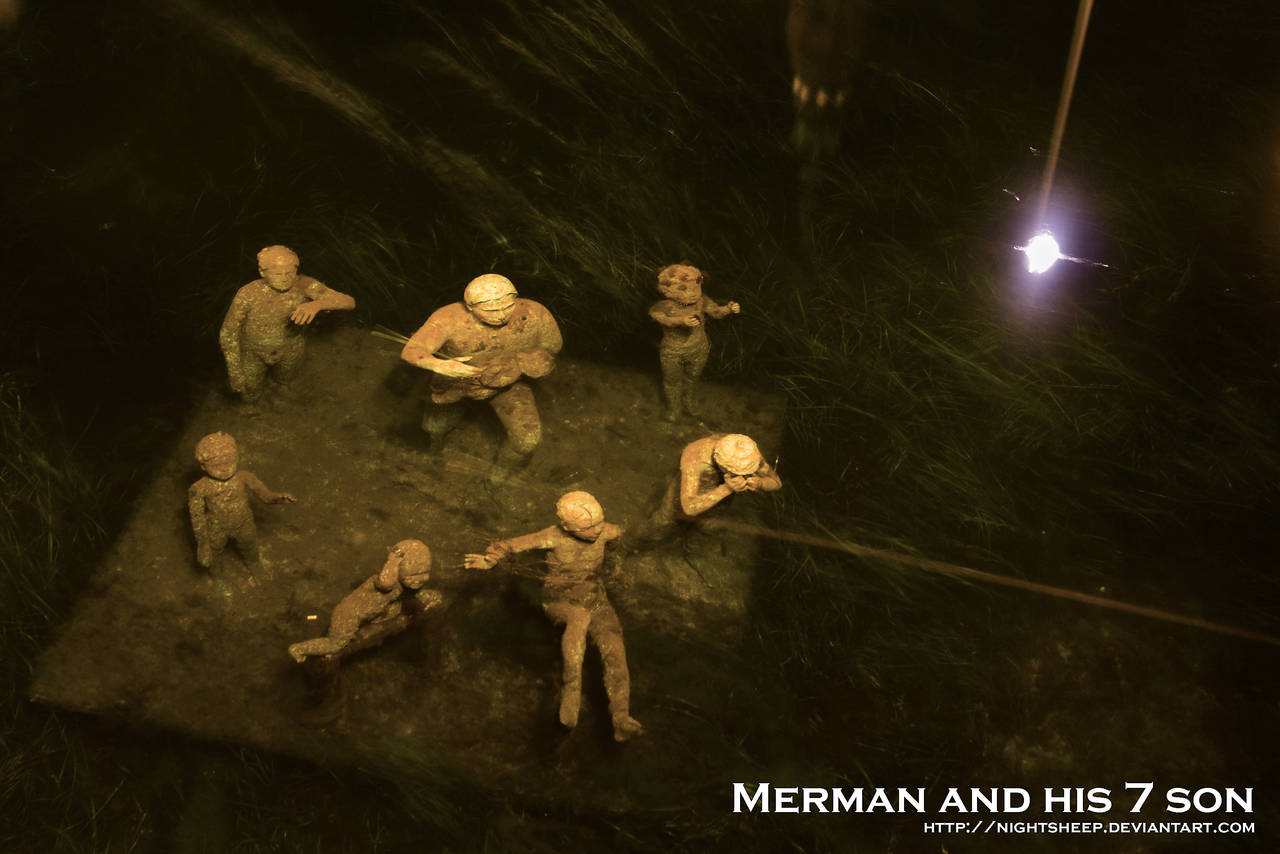 Watch
Now here is a story to tell about...

I was walking around in Copenhagen and standing at a bridge. Then I looked down... and like in a movie, I saw vague people figures! WTF! (Yes, I was scared for 2 seconds).

This photo is a long exposure shot from above. The statue is UNDER WATER! (Hence the strong light which I couldn't avoid top right).

The long exposure time made this photo quite bright. So I darkened it to a level of which I thought it was when I first saw it. (It needs to bit more vague actually.).

==========================
Now the story behind the statue

Suste Bonnén - Agnete and the Merman ("Agnete og Havmanden" ) - 1992. The canal by Højbro Square, Copenhagen.

According to a Danish folk legend, Agnete was a young peasant girl who was walking by the shore as a merman emerged from the waves and offered her his hand. Agnete fell in love with him immediately and went to the bottom of the sea with him, where she gave birth to his seven sons. After eight years, however, as she was sitting by the crib of her youngest son, Agnete heard the sound of churchbells ringing from her old village, and she felt homesick. She got permission from the merman to go to church, on the one condition that she would come back to him after mass. But of course, once on land again, Agnete found that she missed the church and her family too much, and she wouldn't return.

In Suste Bonnén's sculpture, the merman and his seven sons are pleading for Agnete to return to them, stretching out their arms towards her. Bonnén made the brilliant move of placing her sculpture under water, in a Copenhagen canal, where the merman and his sons seem obscure and distant and never fully visible, as fairy tale-creatures ought to be. Also, she has neglected to make a sculptural representation of Agnete, thus seemingly making the spectator the object of the merman's attention, and emphasising the spectator's potential identification with the capricious girl.