The jokester of the group who is always full of energy and optimism. She loves breaking rules if it means she can have some fun, and likes to tease and annoy those around her.
Although she can be troublesome, she is actually very compassionate and cares deeply for her friends and family.
-------------------------

About 2 years later, I start making model sheets of the other characters :'D I'm going to need these soon anyway for the comic so I might as well get them done while I can.
I've changed Bluemoon's face stripes, made them lighter, and got rid of the ones on her legs. I thought her old design looked a bit cluttered, so hopefully this looks a bit better
Thornfang's, Mudsnout's, and Firecrest's sketch sheets are coming too, but I'm still tweaking their designs a bit.


Other character sketch sheets: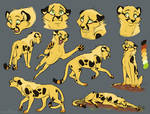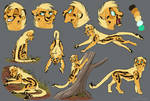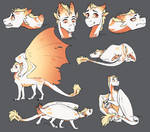 Art/Character ©
Nightrizer
Image size
1355x1155px 586.39 KB