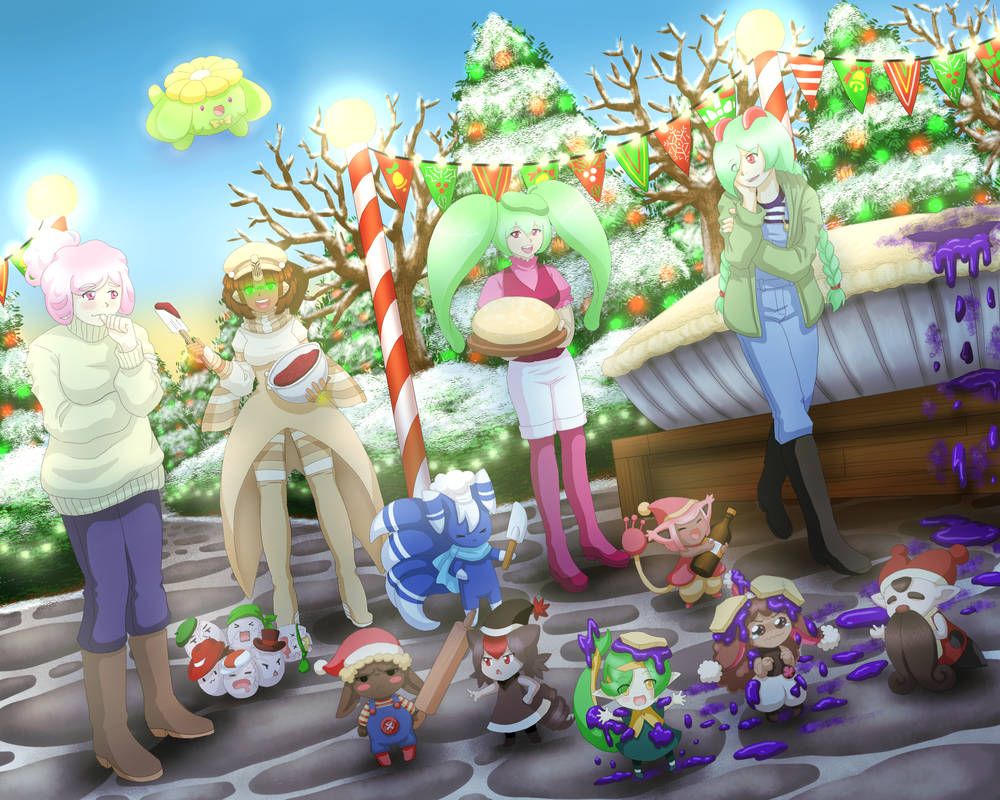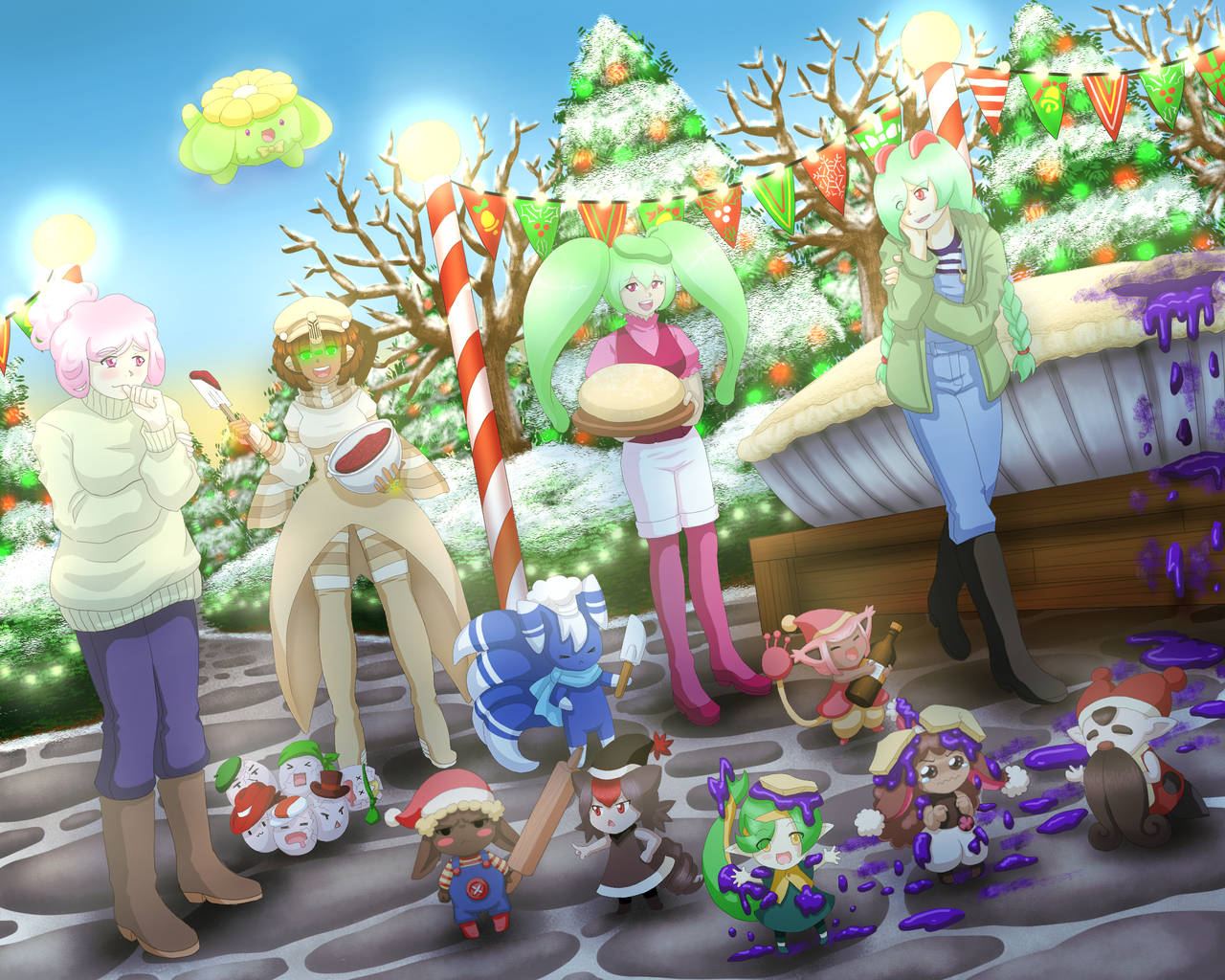 Watch

B.B. and Ana walking towards the town square with B.B.'s pet pokemon. They see that the sprites are having trouble make a gigantic pie. B.B. runs home to get a few baking supplies and runs into Peggy and Naeva on the way back. After B.B. explains to them what is going on they both join her to see what they can do to help. Unfortunately, while they were gone Ahirst and Puck fell into the pie. Ana tried to help them buy they climbed out before she could making a mess. B.B. confidently says that they can fix this and hands out baking supplies to Creeper (Meowstic), Naeva, and Loam so they can help her repair the pie. (Creeper isn't really going to help with the pie, he just want to try to be useful so B.B. puts a little chief hat on his head.) B.B. mixes a jam together to add to the pie to help with it's... unique flavor. Naeva also being a good cook helps remake some pie dough. Peggy is trying her best not to laugh at the two sprites covered in pie. Ana is trying to convince Peaches that maybe adding soda to the pie wouldn't be a good idea. Lulu is loudly telling everyone what to do, although no one is really listening to her. Ahirst is still happy despite the fact that she is covered in pie. Puck is trying hard not to cry about the mess they made. Trill is trying to comfort his fellow sprites. Mr.Masks (Exeggcute) and Belome (Skiploom) are just enjoying the festival.
I have to say that this is the longest and largest character list I've had in one drawing for HL. Winter is on us and like the Harvest Moon games I loved to play... with the changing of the season came changes in the scenery. I added Christmas lights and holiday themed stuff to the bg. Since there was so much going on I decided to add a cloudless sky for the first time so the piece wouldn't be overwhelmed with details.
I tried to create each character based on descriptions that each artist created for them. I hope I captured you character alright. Lady I tried to capture Peggy's appearance to the best of my ability. I kind of free-styled her hair, I hope that's okay. Sorry I didn't use your winter design for Neava, Champ, but I had already finished her pen work when you noted me. I use it next time if I get around to it this winter. Smooth! You know I always enjoy drawing Ana. I hope you like how she came out. I know you gave me a lot of freedom to do whatever I wanted with Ana and I really appreciate the artistic freedom.
I loved the detailed description of the Harvest Festival on our HL event board so I decided instead of one sprite falling in the pie I choose two. Loam being the most reliable of the sprites, I figured he would try to help with the hole. Lulu being the loud one made me think of her as telling everyone what to do. Trill I thought would offer some words of encouragement to Puck and Ahirst after they fell into the pie. I figured Peaches love of sweets would make her offer up soda to put into the pie. Finally since Ahirst friendly
optimist I figured she would be so excited that she would have been the one to accidentally fall into the pie taking an unsuspecting Puck with her. Puck would try to be tough and not cry, but who likes to be covered in pie.

I really hope I did your characters well and I hope you enjoy this gift even if I didn't ask if I could use your character. I figured it would be okay considering the festival.


I had tons of fun with this piece! Happy Holidays everyone!
I am also done with all of the gift art I promised others. I am still open for collabs and art trades if your interested and are a part of HL
CREDITS!

The ART; B.B., Creeper, Belome, and Mr.Masks belong to me.


Anastacia belongs to
smootht4lker

Peggy belongs to
LadyDarkChylde

Naeva
belongs to
PCChamp053

Trill belongs to
ElfSama

Puck belongs to
RockyDee

Ahirst belongs to
Wiree

Peaches belongs to
HikariAlien

Lulu belongs to
LindsayPanes

Loam belongs to
Flansy

Pokemon belong to Nintendo

OH MY GODS I LOVE IT!
SORRY ABOUT THE DELAY IN REPLYING AND STUFF I ONLY JUST NOTICED THIS IN MY FEED 0TL

AHHHHHHHHHHH
I LOVE HOW CUTE SHE LOOKS IN THAT SWEATER!
SHE LOOKS SO CUTE IN YOUR STYLE!
-Calms down and giggles.-
This is lovely.

Reply

This is so cute! I love seeing all the sprites' interactions!
(Loam, please don't hit anyone).
Reply

Ah it's adorable! She looks amazing!!!!!!
Reply

Im absolutely wheezing from laughter. Everyone's expressions, the massive pie- your backgrounds and art always have such attention to detail to them and overflow with seasonal charm! Aaaaa My heart is so happy. I hope you enjoyed drawing this as much as I am enjoying the final artwork bwaha!
Reply

Thank you so much! It was a ton of fun and I love adding little details. Thank you so much for liking my piece and taking the time to comment.
Reply