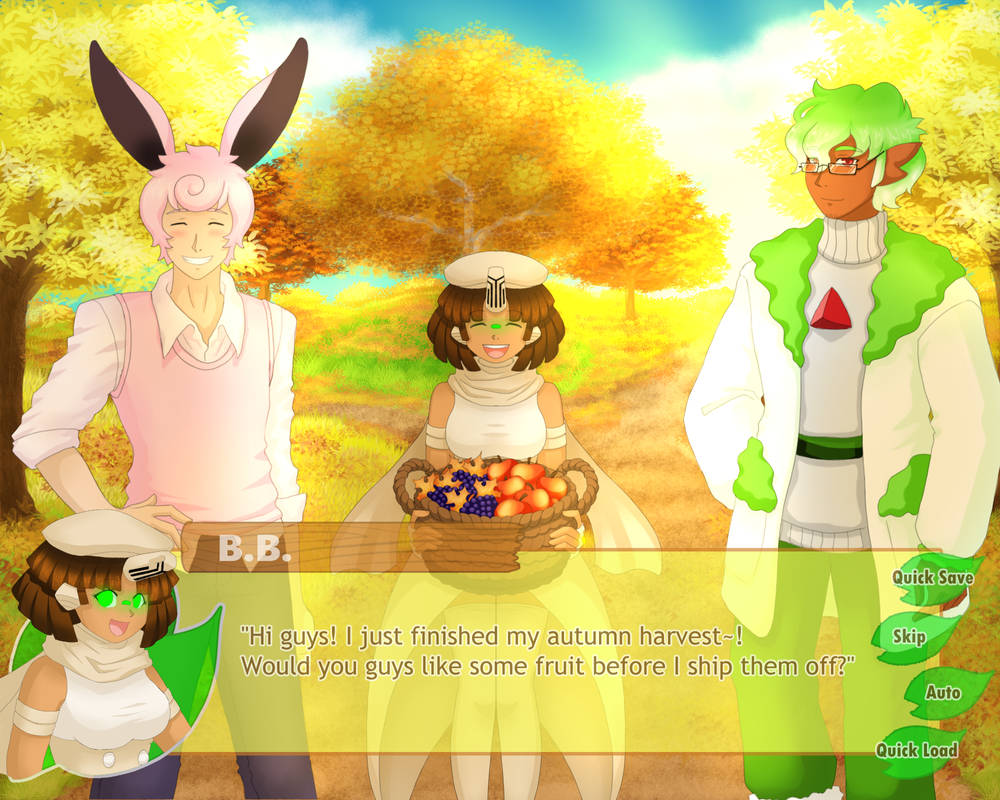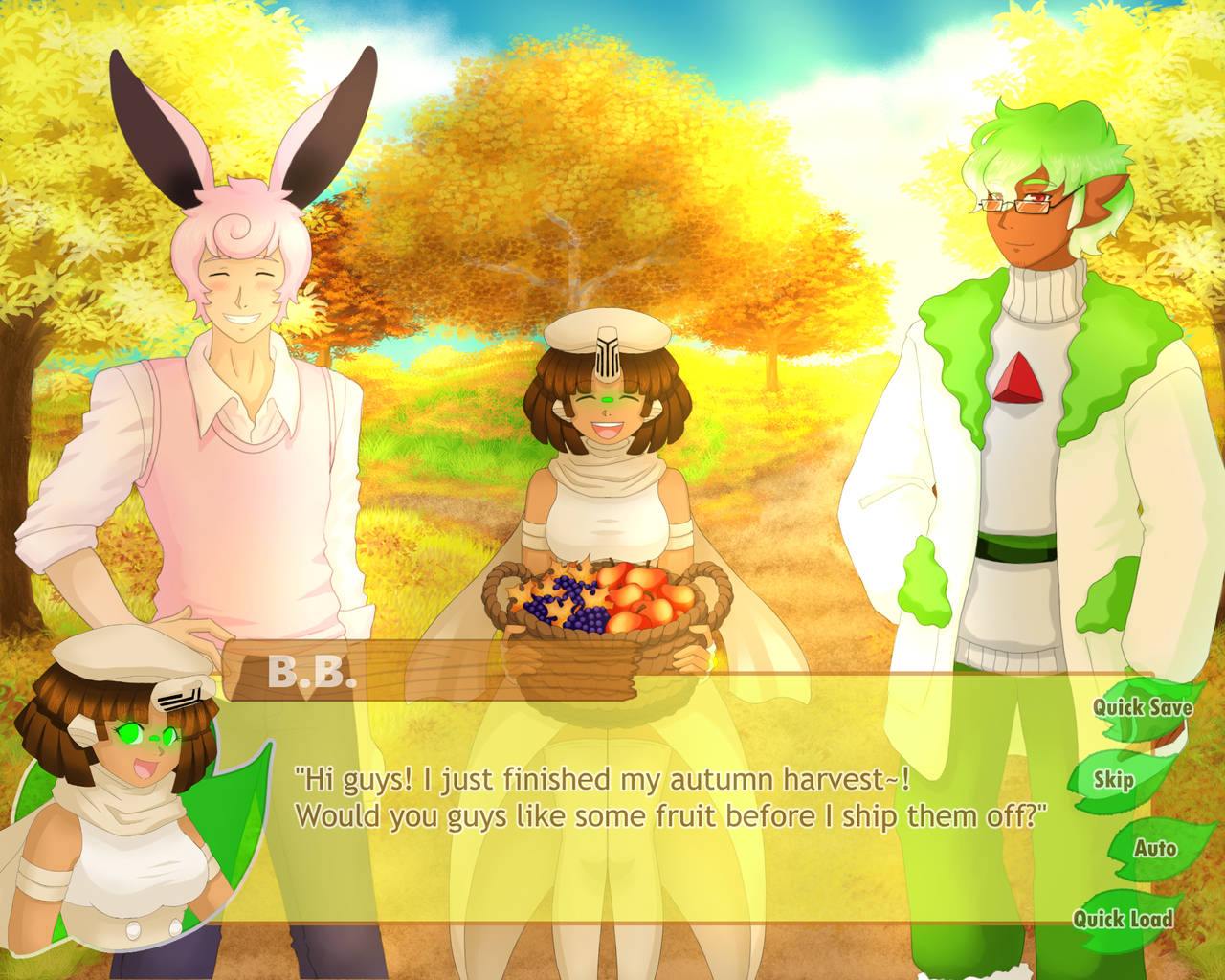 Watch

Apple and Grape: Part 2/2
I came up with another game themed idea... Harvest-Lunatone as a graphic novel game! Not really though. This is just a mock screenshot idea of that concept. I hope you guys like it! I went to one of my otome games on steam to research the lay out of these types of games.
Also thank you to Creative and Pyra for letting me use your characters. Creative I had no idea
Raoul was so tall at 6'3, B.B. is only 5"0 LOL! Pyra I love the design of Nathan.... Is it weird that I think he's kind of hot with that dad cup in his app? Seriously though, B.B. is so much shorter than you guys I was worried that the text box was going to cover her up. Hahahah.

I think this is the first drawing where I didn't draw B.B.'s Pokemon... </b>


CREDITS

Art and B.B. belongs to ME.


Raoul belongs to
CreativeBomb
, Nathan belongs to
Pyracanthii

Pokemon belongs to Nintendo

Gosh I'm bad at leaving comments on pepole's things and stuff, but I love your art style and your creativity with making work submissions. ;3;
Reply

AHHH oh my goodness, I love this so much!! Look at my boy, so handsome in your style, thank you so much

also the background is to die for, it's so lovely~ and gosh I adore the graphic novel style too, that would be so cute and I love the style you gave it!
Reply

Holy moly how did you make my boy look hot? XD
Reply

Hahah, I don't know... I always tend to make the guys I draw bishounen! XD
Reply

Well he looks GREAT. Thanks so much for including him!
Reply

and now I want to see Kyle as Bishounen! X3
Reply

Reply

Since I haven't been member for too long...
Can you give me quick run down on art trade
Reply

No worries! Oh it's simple, basically we draw something for each other. So I can a bishie
Kyle, but I would like you to draw B.B. in return if we decide to art trade.
Reply

Okay thanks. Tho If we do that, I warn you... I'm terrible at drawing women... sad as it is
Reply

Honestly, it's about having fun. As long as you put some effort in it, I know I will like it. So don't stress on making some amazing art piece. We are all improving as we go. Years ago I had an issue where all my men looked like women, so I can relate. I have a few drawings in my cue atm, but once I finish those I'll get to our art trade.

Note: B.B. is all happiness and smiles. She is like a golden retriever, always happy to meet new people or have fun with the people she does know.
Reply
(1 Reply)

Your style is just beautiful, nightmare! I always love to see your backgrounds at work!
Reply

Thank you! I just received my new graphic tablet! This is my first time using it and the BG came out better than I expected...
Reply

Keep this up and soon we have full Harvestlunatone game in our hand.
Reply