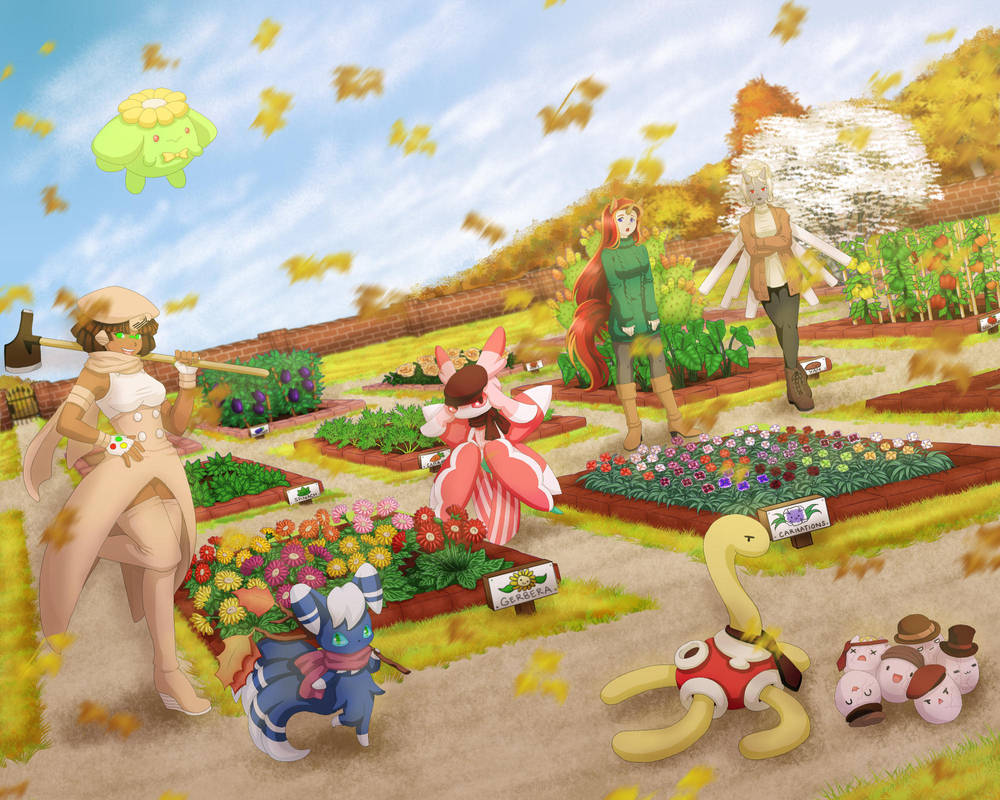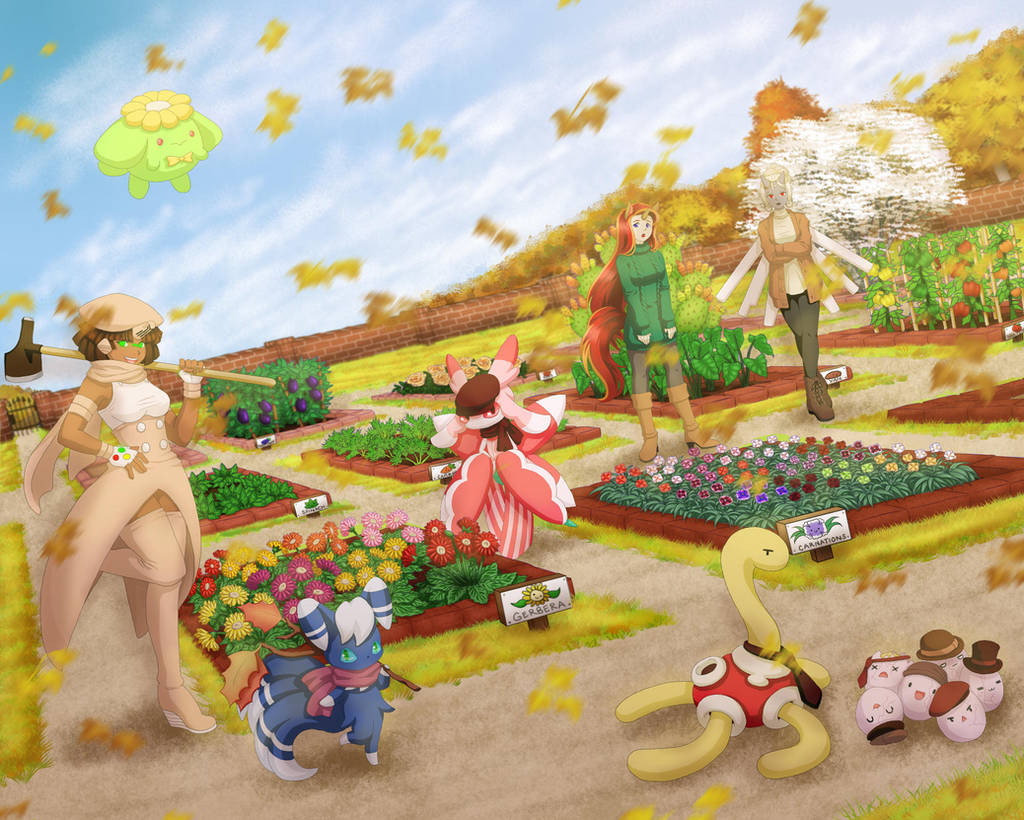 Watch

Crops:

Eggplant,

Spinach,

Carrot,

Yam,

Bell Peppers,

Carnation, Gerbera
Crops (Part1/2): Cactus, Rose, Berry Bush (It's that white bush, I referenced a service berry tree/bush in bloom) Autumn has been well underway and B.B. has been working hard on growing and selling her crops. She has been so busy with work she hasn't been able to participate in several fall events that she was interested in. Not wanted to be left out in the autumn fun she invited two of her friends over. Both Amaranta (Mara) and Nwaoma visit B.B. in their fall outfits. Creeper (Meowstic) mimicked B.B.'s movements with a stick. Belome (Skiploom) floats among the autumn leaves. Mr.Blossom is helping B.B. tend to her garden. Mr. Squiggle (Shuckle) is looking after the newest member to the family Mr. Masks (Exeggcute).

I wanted to take my time with this piece since I was in no rush to get things done. However, I didn't realize how many fall crops there were until I ordered one seed of everything... I liked how my first Spring crop art piece turned out, so I drew ever plant individually. I think they turned out better than me just panting them in haste. I also designed autumn outfits for B.B. and all of her pokemon. B.B. now has a large farm so I made the planters and fences surrounding her property nicer (They are brick now instead of wood).

I also want to thank the couple of members who RPed with me on Discord. My health has been going in and out lately so I am not able to RP at regular intervals anymore when I did when I first joined the group. So I decided to HOLD OPEN ART TRADES OR COLLABS! As long as you are in the group, if you doodle B.B. interacting with your character I will add you to one of my future drawings. I am work slowly, so if your okay with that feel free to note or message me below. (Also if you have autumn or winter clothes for your character let me know.)

SheikahThalassa

and

KayVeeDee

I hope I did your characters justice based on the references / descriptions you've given me. Sorry I am not well enough to RP in written form anymore with you guys!

Credits

The ART; B.B., Mr.Creeper, Belome, Mr. Blossom, Mr.Masks, Mr. Squiggle belong to me.

Amaranta and her fall outfit design belongs to
SheikahThalassa

Nwaoma and her fall outfit idea bleongs to
KayVeeDee

Pokemon belong to Nintendo

Woah woah woah!
What brilliant and vibrant work!
This is one gorgeous piece~
Reply

omg, look at all the hats on the Exeggcute XD
Reply

AH OMG this is so nice?? I'm always wowed by how beautiful and detailed your work pieces are! I really adore looking through all of them, and this one is no exception! Also thank you so much for including my grumpy bug in here~ She's probably never going to admit it but she really respects a good garden xD And there is no need to apologize for prioritizing your health! Keep yourself well, whatever that entails~
Reply

Holy Father Arceus! This is BEAUTIFUL!!

Amazing work!
Reply