:bademoticon: 3/13/15 UPDATE:
Don't forget - tonight's the last night you have to get your entry in! Lots of prizes, thanks to all the wonderful entries, so if you have an entry, get it to me in a note! I'll have a contest ended journal tomorrow and once that goes up, that's it. Also - I changed the day I'll announce the winners. Winners will be announced next Saturday, due to Friday can be a very hard night for me to get anything done due to work.


:bademoticon: 3/10/15 UPDATE:
New entry added. We now have a third place prize guys!

Check it out at the bottom. Also: only a few days left~!


:bademoticon: 3/7/15 UPDATE:
One week left! (I meant to do this last night but I was so tired I ended up collapsing in bed the moment I got home) So, if anyone has any entries they're working on, make sure to get them in by next Friday at midnight. And, it still stands that if I get a seventh entry, I'll add a third place prize to the contest.


A small side note - This week, my Brothers Apart series officially hit over 100K words!



Thanks to everyone along for the ride!
:bademoticon: 2/23/15 UPDATE:
I know, it's only been like, three days since my last entry. But big news!


First off: The end date of the contest has been extended. It now ends on
Friday the 13th!
Reasons for this include giving people more time (I know I hate to be rushed with art) and the really cool fact that the supernatural contest now ends on Friday the 13
th
And: Two more entries are in! Both are now at the bottom of the journal with the rest of the entries (just so you know, they are in order as I received them. So the newest entries are at the top, oldest at the bottom. This results in me now being able to have a second place prize!

So, check out the prizes portion of the journal. It HAS changed for the First Place Prize as well as adding the Second Place Prize. Last thing is, if I get one more entry, I'm going to have a Third Place Prize (Cause I'm having such an awesome month
(and my car cost less than I thought it would to fix for the third time this month)
) One more entry!
:bademoticon: 2/20/15 UPDATE:
A little over a week left and I feel it's time to ask:
Does anyone need more time?
If you need more time to finish your entry, send me a note. I'll see if I should extend the end of the contest. Added the second part of
Phoenix-FireMage's entry as well during the week, so if you haven't already seen it, check it out! Remember we're at four entries, if I get up to six there'll be a second place prize added and the first place prize will have another little sneak peak added to it! Love you guys!



:bademoticon: 2/13/15 UPDATE:
Two more entries in, and posted at the bottom! Just a reminder - If I get six entries, I add a second place prize to the contest. As a bonus, I'm also going to add a second fic preview to the first place prize. First place would see both sneak peeks and the second place prize would choose one. And there will be a third place prize if I get up to eight entries.


:bademoticon: 2/6/15 UPDATE:
First entries are in!!!!! I've created an entry part of the journal, directly below the Prizes portion. Check them out, they're both awesome! I just realized how hard it'll be to judge this contest XD


:bademoticon: 2/1/15 UPDATE:
One month left! (And it's such a short little month

)


:bademoticon: 1/16/15 UPDATE:
No entries yet, but I wanted to make sure to tell everyone that I put bios up for Walt and Mallory on my charahub account, so anyone who's interested, check it out.
This week I ran through and did some conversions for the story. So, now I have a basic idea of sizes for the characters.
At Sam's scale, one inch is equal to 1.604 feet.
So, if Dean got shrank down, he'd stand 3.8 inches in height. Switching it around, Sam's adopted dad, who is 3.8 inches in height is as tall as Dean! On the other hand, Mallory stands a very petite 4'10 with her 3 inches.
Dean compared to Sam as they are comes out to 117 feet tall from Sam's point of view. So he really needs to watch his step when Sam's around.
:bademoticon: 1/10/15 UPDATE:
Sorry for the multiple updates this week! I made a charahub account for my characters in Brothers Apart, so it might be a useful reference for anyone interested in that story. Plus, I've put down all the little easter eggs that haven't made it into the stories yet or at all.
For anyone interested:
charahub.com/user/nightmares06
More characters will be added, including Sam's adopted parents. Expect it to be updated often as the story progresses. It's a great way to keep track of what is slowly turning into a completely separate AU!Verse. Trust me - if you write it's an amazing website to use!
Also: Doodle of what the setup of Dean's motel room is:
Dean's room
:bademoticon: 1/7/15 UPDATE: Rules editedFor the next two months I'm running a contest based on the stories I wrote:
Brothers Apart 1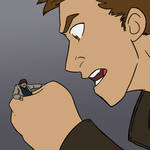 Background: In this fic, Sam was hit with a witch's curse when he was 10 and Dean was 14. Unable to find him or his attacker anywhere when the dust settled, John and Dean Winchester were eventually forced to give him up for dead. Unbeknownst to them, Sam was saved from the witch and adopted into a new family, and they've trained him to take care of himself as best he can in the world, and protected him from the witch's gaze all these years. And now...
August, 2005
Sam stood at the entrance to the motel room, surreptitiously scanning to make sure he was alone. The last thing he needed was to get captured by a human on one of his morning forays. Neither of his adopted parents approved of his choice to explore the motel during the day. But he'd found that when a room was vacant, humans weren't likely to 'check in' in the morning or early afternoon. For the most part, people would start to arrive in the early evening and night. It was incredibly rare to see anyone sooner. So,
The Golden Touch 1A/N: This is the second part of the Brothers Apart series, if you want to read the first part, there is a link to my stories below.
After being separated for over a decade, Sam and Dean are still trying to get used to living with each other again. Four inch tall Sam is just starting to adjust to living with a gigantic human when they find something in Dean's pocket that sets them on the road with a new case.
She flew through the dark forest, dodging scraggly branches that reached for her, claw like tips scratching her wings if she brushed too close. Her quarry was running still, long legs trying to outdistance her with an unexpected determination. Gritting her teeth, she pushed herself to the limit. She couldn't let him escape, not with what he'd taken. Not with what was at risk.
She and her sisters were bound by birthright to protect it, sacred vows taken that chained her to her purpose. It was as natural to her as blood. And now it had been stolen.
Brothers Apart: First InterludeA/N: This is the third part of the Brothers Apart series, if you want to read the first two parts, there is a link to my stories below.

After a routine salt and burn the boys decide to take the night off. Drinking with a four inch tall brother ends with some interesting times.
Sam Winchester shivered in the chill night air, pulling his little green jacket tighter around him.
He was standing at the edge of a grave his brother was digging up, well protected in a thick circle of salt along with the rest of their belongings. Because he couldn't exactly help Dean dig up the grave, he'd become the posted lookout, keeping his eyes peeled for any dangers. Whether it be the spirit they were putting to rest or cops come to stop them, Sam waited to give the alarm. While Sam kept watch Dean did all the digging. Since, ya know, digging up a corpse was a federal offense and it wasn't easy to keep watch at the same time as digging.
So far, the case had passed unev
Home 1A/N: This is the fourth part of the Brothers Apart series, if you want to read the first three parts, there is a link to my stories below.
A disturbing dream drives the brothers back to the one place they never thought they'd go again... home.

Once again, he sees his adopted family, going through their nightly routine. His mother smiles, giving his father a peck on the cheek as he leaves for the bedroom. A small candle burns behind her for light. She gets a cup of water and puts out the candle. She goes to follow him into their small room.
She stops. Reaches up to brush the hair from her eyes.
For a moment, Sam is sure he feels the house as it shakes.
And then, it comes again.
Dust shakes down through the cracks in the ceiling. Only darkness beckons beyond the gaps. His mother grabs at the thimble of water they keep on their 'counter.' It is a small counter made from several child's building blocks and covered with a tablecloth she'd made from a
Reversal of Fate 1Jersey Shore, PA  
The door to the rundown house creaked open slowly. Dean peered around the edge of the door, gun at the ready. Once he decided the coast was clear he motioned for his brother to follow. Sam slipped in and glanced over to Dean, arching his eyebrows. "So, you're sure that this was the last house the vic was seen in?" he whispered.  
"Yeah, of course I am, Sammy!" Dean snapped. "I know how to do my damn job. Friends had him out here on a dare. House has been abandoned for about 15 years. Last owners moved out real fast when they lost their father. Craig here is lucky victim number three to disappear in the house this month."
"So, possible angry spirit?" Sam stepped over fallen chairs in the entryway. "Did their story make it sound like the father died ugly?"
"Not sure yet, couldn't get a clear story from the family. They didn't seem to take kindly to any questions about him, so there's a good chance something happened there that no one wants to rememb
Rules

All entries must be completed and received by
March 13th, 2015

Must be based on the stories I wrote in some fashion - whether it be a direct scene, inspired by them... ect.

All forms of art are accepted. Drawings, digital art, literature, photo manips... go nuts. If you can dream it, you can do it. If you can come up with a fractal based on my stories, go for it. Honestly, I'd love to see what kind of fractal you'd come up with ><

Please send me a
note
with a link to your entry.

In the notes for your deviation/entry, please put a link to this journal.

Each week I'll update this journal entry with the current entries at the bottom of the journal. If you don't see yours there, note me again!

One entry per person - You
MAY
change your entry if you decide you like something else better - just send me another note explaining the situation. I have no problem with that.

Your entry may have more than one part, just make sure to send me the note with all parts.

Any
Supernatural stories I write are eligible - so if a new story starts before the end (and one will) you may do a scene from that.

Everyone is welcome to participate.

If you do anything for the
Brothers Apart
series, I only ask that you stay away from any other canon characters (i.e. John and Bobby) I have very specific plans / ideas for them that will hopefully be brought to life soon.

Winner will be announced
Saturday, March 21st
. If this day changes at any time, I'll announce it here.



Any questions feel free to ask in comments or send me a note!




1st Place

1 year premium membership to dA


500 deviantArt points


An exclusive sneak peek at two different excerpts from my fics! (One angsty, one fluffy)


2nd Place

6 months premium membership to dA


250 deviantArt points


An exclusive sneak peek at one excerpt from my fics! (You choose if you want angst or fluff)


3rd Place

3 months premium membership to dA


100 deviantArt points


An exclusive sneak peek at one excerpt from my fics! (You choose if you want angst or fluff)


Who knows, if this goes over well enough I may do this again next year!
ENTRIES
Heroofthe13thDay
Contest Entry: We're A Normal Family"Wake up!"
Dean groaned and turned to the other side. He was allowed about five more minutes of sleep before the voice turned to the other side and spoke again.
"Uncle Dean, wake up! You promised!"
He blearily opened one eye and the tiny blur in front of him slowly cleared into his frowning tiny niece. Closing his eye again, Dean heard tiny protests coming from his pillow.
"No Uncle Dean! Don't you fall back asleep! YOU PROMISED!"
Suddenly, he felt tiny hands gripped into his eyelashes and pulling them with all their might.
"OW!"
Dean pulled back and rubbed his eyes. It was useless to go back to sleep now that he was too awake to even doze off, so he gave up on that idea.
On his pillow, Sonny stood with her hands on her hips. How she could stand on a pillow was beyond him. Gently, he picked her up in a loose fist, a tiny yelp coming from inside it.
"I'm up, I'm up." Yawning and stretching, he left his
InotNedloh
Gizmo824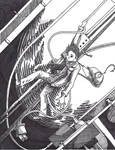 PL1
Pizza and Hexbags Part 1 (Contest Entry)Author's Note: Supernatural/GT fanfic. Contest entry for Nightmares06, more info below. Enjoy!
~~~~~
They had been in that motel room for three days now. At first, Oscar thought it was just one guy. The really tall human that stomped around with a confident swagger. And who appeared to have more than a few weapons in that huge duffel bag he'd brought in. Oscar had checked it out one time, just to see if the guy kept any snacks in there.
He had looked like just another one of those rugged road-tripper types that came through all the time.
The revelation of the guns and a lot of salt (seriously, the guy was going to have serious blood pressure issues if he actually used that much salt) had been both horrifying and intriguing. So, in spite of himself, Oscar had gone back to scope out the room a few more times. That's when he had seen him. Another tiny person, just like him. Though … he was pretty t
Pizza and Hexbags Part 2Sam waited in the bottom of Dean's pocket.  He'd gotten used to the general pitch and sway of his brother's steps, though Dean seemed to be in a hurry.  He walked more briskly than usual from the car to the motel room door.  Sam barely had time to register the sound of the key fumbling into the lock before the door was slammed behind them.  He might have griped about the noise, but Sam knew that Dean would probably just slam the door next time anyway.
The shoebox of Belinda's old pictures and things made a soft scraping noise when Dean set it on the table.  Sam looked up when Dean's fingers entered the pocket, and he prepared himself to be lifted out.  But, before the action could be completed, Dean's hand disappeared abruptly.  Sam could feel his brother's stance change almost immediately.  Even Dean's pulse quickened, and Sam knew he was on the hunt.  "What's wrong, Dean?" h
Pizza and Hexbags Part 3 (final)Oscar peeked through his fingers and saw some shock fighting for space on Dean's face.  Before the human could recover from his revelation, Oscar decided to spill the explanation he'd been waiting for a chance to give.  "There were some maids in here earlier that weren't really maids and they were talking about hexbags and they said you were a hunter and they wanted to boil your blood and they put one of those things behind your bed and I was just in here to get some pizza and I overheard them that's all I swear please don't kill me!"  He took a deep breath after all of that, and then some tears leaked out of his brown eyes as his body began to shake again.  Oscar curled up as much as he could with someone suspending him by his shirt like that.
Dean didn't speak right away, but stuttered a few times as if trying to decide what question he wanted to ask.  Oscar kept his face covered, awaiting the worst.
Phoenix-FireMage
Convergence Chapter 1Ah, research. Not Dean's favorite thing. He usually got Sammy to do it, if he could. But this time it was personal. Nothing like getting hit with a curse himself to get a fellow interested in that despicable thing, research. Settling into a more comfortable position, Dean peered at the laptop screen. Nothing useful yet. Drat. Dean wanted this curse broken, and he wanted it broken soon.
Sam, who was of course helping with the research, shifted to click another link. The motion startled Dean a little, and he fidgeted. There was no getting used to this! Not that he WANTED to get used to it, not really. It was just that if he did, it wouldn't be so startling seeing an arm the size of a truck moving in his peripherals. Yes, the size of a truck. Maybe bigger. A semi? He wasn't sure, not that it actually mattered. Sam was just way too big.
But of course, Sam WASN'T huge. No more so than normal, anyway. Dean was just small. And not just dwarf sized or anything. No, Dean was small enough to fit
Convergence Chapter 2Dean put the jar back down on the table, ignoring the way Warren almost fell over when the jar met the table hard. "Sammy?" Could it be true? The portal-thingy, whatever it was, had brought his brother back, not made things worse? Of course, Sam was still small. He was standing on the table, not beside it. But he was BACK. Dean grinned at him. The grin faded somewhat when little Sam backed away from him with distrust showing clearly on his face. Of course. That fairy spell had knocked out his memories, and now he didn't know Dean. With a sigh, Dean crouched to be about eye level with his shrunken brother. "Sam, it's me, Dean. Your brother."
"You're not my brother," Sam told him, looking at something over Dean's shoulder. Dean turned to see what it was just in time to get jumped.
Sam and Nixie watched the two humans fighting. Sam, in particular, hoped that his brother Dean would win. If that other man, who had claimed to be Dean, but wasn't, won, he didn't know what would happen to him.
Obsess-Confess
helloootricksterr
For Nightmate06, AKA: Presents For SamIt had been two months since Dean was reunited with his brother. Two months of learning how to live with a tiny person. Well to be fair, Sam was also learning how to live with a giant.
Dean knew that Sam took a while to voice what he wanted.
What he needed was a different matter. Sam made sure to remind Dean about food or water, or soap when he needed it. Dean happily supplied his brother with whatever he asked for.
But Dean realized that Sam rarely ever voiced what he wanted but didn't need. Like he'd ask for food, but not really any specific kind.
Dean knew he had preferences by now, but it took a good amount of coaxing for Sam to admit anything. So when Sam had voiced a want to try a dip that he saw on a commercial a few days ago, who was Dean to say no to him?
They were close enough to the east coast to find the hummus that Sam wanted to try. Dean found a smaller snack version with pretzels in the container to dip it in to. He also picked up a red pepper (because that