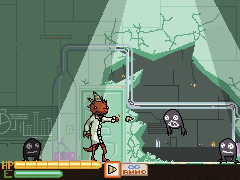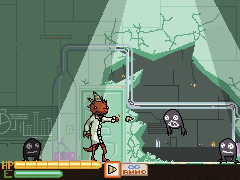 Watch
What if humans and bacterium swapped places in the dominance role? Probably something like this would happen. Mainly, this was just a fun little thing that took like 15 hours at least, but I did make up a background sortof to go along with this: Germs are predominant species, they look weirdish when personified etc., a group of scientists end up creating a mixture that ends up destructicating the lab and turning it to ruins, and right now they are just trying to get the fuck out of there without getting killed by the creatures (which are known as Hoomans, get it?) or buried or some shit.

Oh, and that main dude isn't bleeding/amputated/whatever, that's just a weapon mechanism (bacterium have cilia to move around and junk, but I just decided to turn them into spikes because it looks cooler.

I might decide to at least continue with this and at least make a full-blown story for it, maybe later. My vocabulary is starting to resemble an 11-year-old's, that's my cue to sleep now I guess.