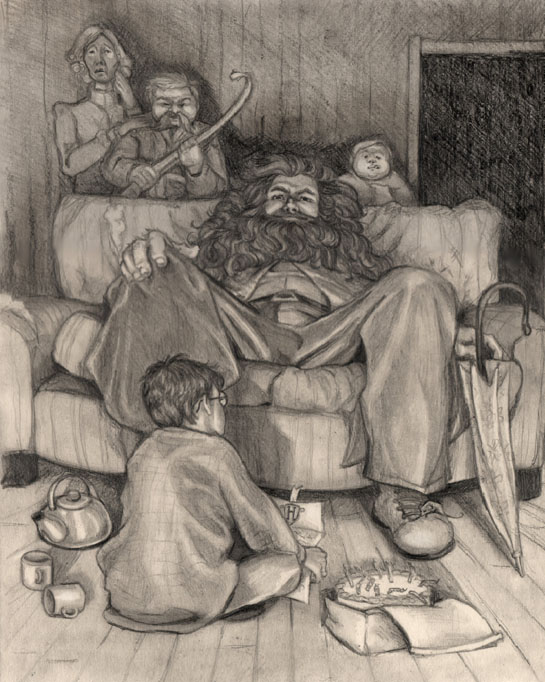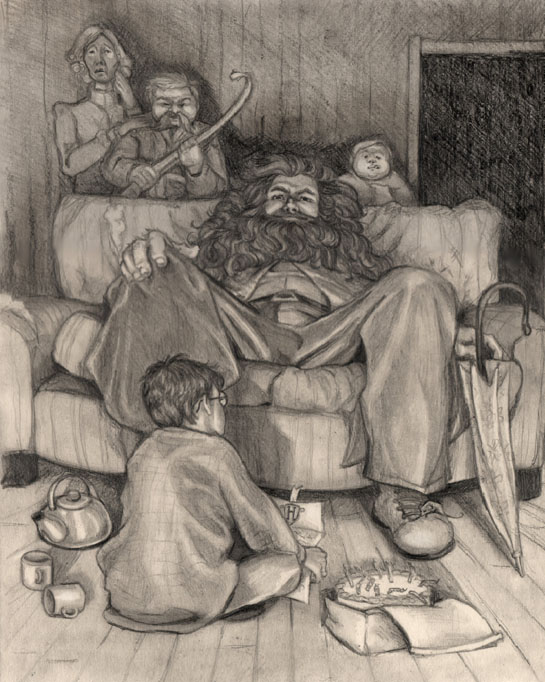 Watch
Two submissions in one day!? Well, yah, OK, I have no life, all right! (it IS my day off, so who are you to judge me on how I spend it! i have guilt issues...)

Technically I finished Happy Birthday Harry last night, so this is actually the effort of today. This is from the chapter Keeper of the Keys, where Harry meets Hagrid for the first time. I think it's also to be noted that this is my first drawing of Hagrid, too! I'd never drawn him before, cause I thought the movies did such a good job of casting him (JKR's idea), why improve on perfection? You just can't bring anything new to Hagrid, but I tried. I'd also never drawn Dudley or Vernon before, but who cares about them.

This is pencil on 11 x 14" matboard. I titled it just for Nate, and used his high school year book picture for inspiration (no, i didn't really, just kidding nate...but then, Hagrid DOES drive a motorcycle too...hm, coincidence? I thinkest not).

SPEAKING of motorcycles...I think Hagrid left Sirius' flying bike here on this little island. When Harry asks Hagrid how he got to the island, as he didn't take a boat, Hagrid responded that he FLEW. And I doubt Hagrid flew on a broomstick. So if you were wondering where Sirius' bike was, marvel at my brilliance, I have found it. Now, how can we steal it before Harry finds out where it is?