Pricing Guide: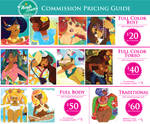 Rules
---

Please order your commission via note. I check my DA notes frequently and can get back to you swiftly that way.

Once the details are finalized, payment needs to be swift.

Give me a clear and accurate representation of your character upfront. Their clothing style, favorite colors, likes/dislikes, things they wouldn't wear, etc. The more detailed you are, the more accurate my drawing will be.

If for some reason, you do not want me to use any artistic license within your commission, please state upfront.

I do not offer WIPs or 'do overs'. I work a full-time 9-5 job. With that said, I don't have time to get your input on my sketches or draw it over again if you hate it. Consider my commission to be like a Secret Santa trade. Outside of your initial input, the end result will be a fun surprise!

What Can You Order?
---
Things I will draw:


Original Characters
Fanart Characters
Portraits
Anthro/furries


Things I will Not Draw:


Porn
Gore
Mecha/Gundam/Machines


Payment
---

I only accept paypal commissions. No deviantart points, no pro-bono & no trades. Sorry, I've learned my lessons, and I don't have "freebies" left in me anymore.

You will get a payment window of one day. If payment is not receieved I will send a note letting you know that I am dropping your commission.



When sending payment, please include your Deviantart Username in the notes section (so I can keep everything in order).



Once I receive your payment I will send you a note acknowledging payment and the start of the commission.